The last stretch, that last tenth of a 3.1-mile race, can be the best part. In Oak Bluffs it's when you turn the corner around the harbor at Our Market. At Katama it's when you make the turn down the dirt road back to the Farm Institute. With any luck you've got a killer song with a strong beat helping to propel you to the finish line. If you do — look up and take the headphones off. The last yards of a race are filled with true fans: runners who have finished. They're cheering for you, even if they don't know you.
There was a time when I couldn't run a mile. That changed about 10 years ago when a good friend and mentor told me it wasn't that I couldn't — I just hadn't yet.
That's what got me started. I still hear my friend's voice when I run today. It's a voice I've heard during many 5Ks, a few 10Ks and a half marathon.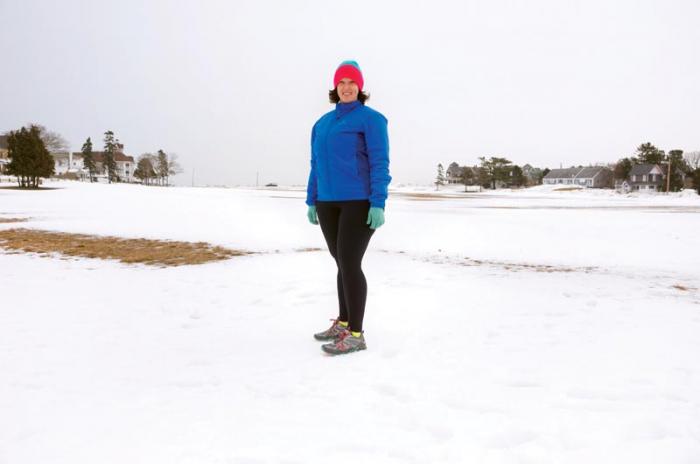 I started small, taking it one mile at a time. One mile, then two, then more, working up to 13.1 miles (and never again returning to that far distance).
You could start even smaller. Run to the mailbox. Walk to the next telephone pole. Run to the third mailbox.
I found friends who ran and asked them to join me. Friends (including the friends you haven't met yet on race day) make running better, even when they are way ahead and it feels like you're chasing them.
But even training with baby steps poses difficulties. Winter training can be hard. It's icy and cold and generally miserable out there. I'm pretty chicken about icy roads, so this winter I took my running inside to the treadmill. It's about the most boring way to run three miles, but the gym gives me an added opportunity to get some weight training along with squats, lunges, pushups and crunches — all of which help me become a better runner.
There is something special about getting together with a community of like-minded people to run a 5K, from the hardy crowd that shows up to run the Thanksgiving race in Oak Bluffs to the summer races like the Jabberwocky and Scoops 5Ks out at the Farm Institute. From race to race you begin to see the same faces. Maybe you only recognize these new friends in their running gear.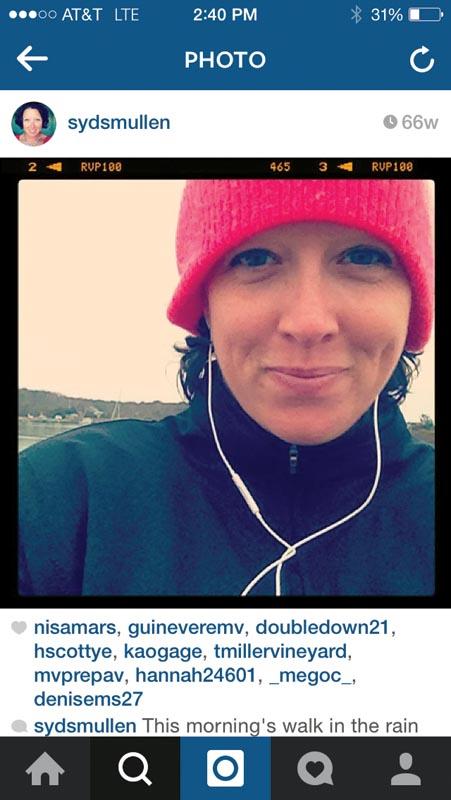 At the starting line we are all a jumble of nerves and excitement. We joke about the seven-year-olds in khakis who sprint and walk and sprint and walk the whole race and somehow still beat you. We kid about the VTA staff who get their passengers in strict, orderly lines so as not to be swept off into the race instead of the number 13 bus to Edgartown. I look around to see what other runners are doing to get ready for their race. Should I be stretching like that? Sometimes it's a disorganized start; was that the gun? Shoot, get going!
I lack a serious competitive streak, but I never want to finish last and I want to get better with each race. In the beginning, I just wanted to complete the race. Now better means finishing with a faster time. Sometimes I'll see an accomplished runner and just try to keep her in sight.
Last summer at the Scoops 5K race I had a mother-daughter team in my sight at the start. I knew they were both accomplished runners. I kept them in my sight all along Katama Road and onto Edgartown Bay Road. As we got to the stretch past the Katama boat landing they were gaining ground; I wasn't keeping up as well, had to slow my pace and catch my breath. I kept them in sight until the water station across from the Winnetu. By the time we followed the curve of the road back to the Katama Road straightaway to Aero Drive, they were mostly out of sight.
A few weeks later, we were all at the Jabberwocky 5K; same course, new goal. This time I was armed with the right playlist and the right pep in my step. I may not have kept up even with that duo but I held my own and crossed the finish line with them still in sight. I found them in the post-race snack line (this race hands out popsicles afterward!) and thanked them for their unknowing inspiration.
I've been lucky to have friends and family, especially my ever-proud parents, waiting and cheering for me at the end of many races. Sometimes you look to your right and that guy who you've been struggling to keep up with is right there. Or that kid in the khakis! Dig in. Pass him. Don't let him win.
Sometimes the running gets really tough. Last fall's Gay Head Lighthouse 10K was an example. I started off well, running and talking with a guy with a similar pace. Neither of us were looking to win, place or show. We were really helping each other along through a course that feels like it is all uphill. As we approached sections that were actual inclines he'd start cheering and chanting "we got this, we're doing this." He and I were together for the first 3.1 miles and my time was looking great. I was keeping up with my typical 5K pace. The next two miles went pretty well on my own. Rather than looking too far ahead and getting frustrated by the uphill feeling of it all, I kept my head down with one foot ahead of the other.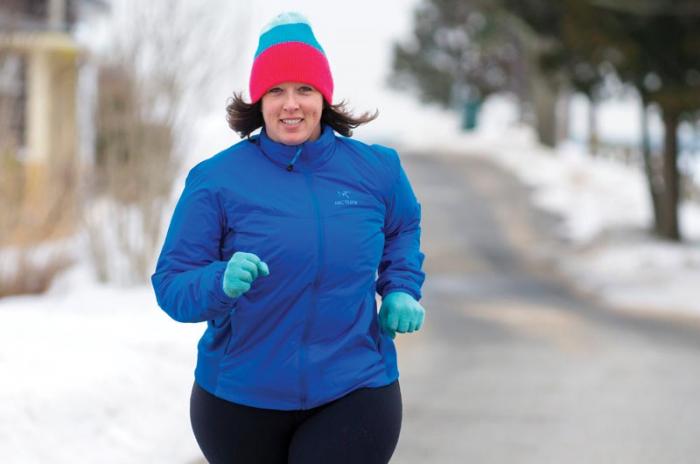 With the whitecaps of the Atlantic to my left and windswept beach grass to my right, there are few more beautiful places to run. But that lighthouse was just so far away. Luckily, I had another friend's voice in my head for this race: just keep running.
When I felt like I needed to walk, I just kept running, maybe slowing down to a really, really slow pace but I maintained that running gait. Mile six up Moshup Trail felt like it was straight uphill with a driving wind right in my face, the cold air blasting my already cold face, turning my cheeks a deeper shade of pink. I tried to just keep running but it felt like I was traveling backwards. No harm in walking just a little to get me to the top of the circle so that I could run down to the finish line.
When I finished and we were all gathered for water and Orange Peel Bakery cookies, a woman came up to thank me. She was training for a marathon and was working on her pace. My steady strides kept her going, she said.
I've got another 10K coming up at the end of March. Thankfully this one is on a super flat course along Monument avenue in Richmond, Va. The course will be a relatively easy one compared to Gay Head, and unlike the mostly spectator-free roadsides of Aquinnah, this race will be lined with onlookers and bands cheering us runners along. About 25,000 people from all over the world enter this race.
Chances are the winner will already be finished before I even get started, but I think you win just by showing up.
This story also appears in the most recent issue of The Vine, a redesigned monthly publication launched by the Gazette media group that was in Island mailboxes last week.