W hen Molly Finkelstein and her husband David built their house in West Tisbury more than 40 years ago, they weren't exactly building with their forever home in mind. "We had nothing," Molly remembered of the time when after meeting on the Island in 1970, they returned to live here full-time with their six-month-old daughter, Ellie. "We knew nothing."
Now, with two grown children, five young grandchildren and a number of successful businesses under their belts (David is an optometrist and Molly is co-owner of Nocchi, a Vineyard Haven boutique), they could have their pick of Island residences. But instead of starting from scratch, they have decided to help the home they've grown to love grow with them, along the way upgrading and reimagining the space to suit the needs of their family.
This is due in no small part to the fact that Molly loves a project. During the interview at her home, the dining room table was covered in neat piles of boxes, file folders and giftwrapping supplies. "I'm working on a 40th birthday present for my son, Alex," she explained. The gift was actually 40 gifts, carefully curated and artfully accessorized with memorabilia she had saved and collected over the years: newspaper clippings, childhood artwork, old family photos.
It's this same attention to detail that gives the Finkelstein home its comfortably tidy feel; though clearly lived in, it's apparent that every stylistic decision and decorative touch has been thoroughly and thoughtfully considered.
Molly has a clean, sparse aesthetic, familiar to anyone who has ever been in her shop. The walls are subtly different shades of white, the furniture a study in beige. "Beige is harder than color," she said of the tans and taupes that spread across the space from carpet to wall to upholstery. "It's constantly changed by the light. I like that exercise."
About the carpet: Molly noted that wall-to-wall plush carpet isn't a popular choice in most Vineyard homes. But as Molly and David began to notice how much time their family spent stretching out on the living room floor, they wondered how to make the experience more inviting. "The house is designed to make the way that it's lived in comfortable," she said.
She keeps nothing on coffee tables or shelves because she knows that when people sit on the couch, their feet will go up, and more often than not food will be involved. "Instead of moving things around all of the time, it's easier to keep the surfaces bare," she said. "It was great when we had grandchildren, the house was already childproofed!"
Another challenge Molly and David faced while gradually getting to know the home they'd built was the lack of natural light. Originally closed in by an acre of woods on all sides, they've cleared space for vegetable and flower gardens, bordering stone walls, a south-facing deck and an open field where her grandchildren now play soccer.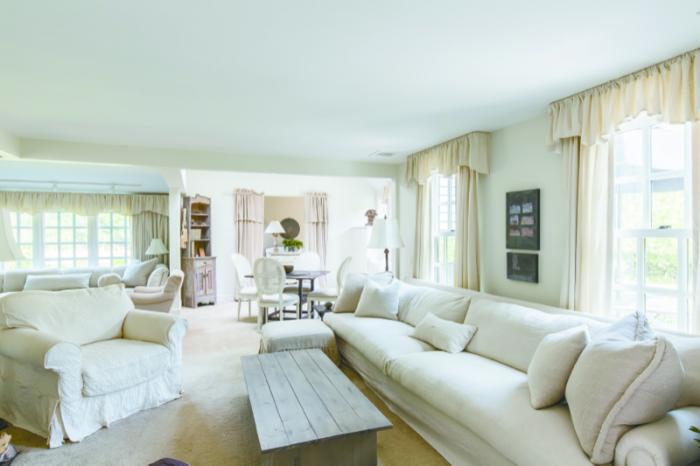 After Hurricane Bob, when the power went out for days on the Island, while hauling in buckets of water and struggling to flush the toilet in the dark, Molly recalled that she and David realized something needed to change in the upstairs bathroom. A skylight was quickly installed.
Aside from the clean lines, soft light and neutral tones, the most striking feature of the Finkelstein home is the sprawling, accordion-like first-floor layout, with rooms opening and closing off from the central living space in a carefully designed formation. At under 2,000 square feet, the house is not large, but the network of connected rooms make it feel easy to get lost in.
The house is also good for hiding — messes, in particular — another byproduct of cohabitation that Molly hadn't prepared for as a newlywed many years ago. "David is messy," she said of her husband, gesturing to his more lived-in looking corners of their bedroom, hidden behind a corner wall. "But this way I don't have to see it."
Paying close attention to the sight lines from each living space, Molly organizes the hubs of David's clutter — his home office, his closet — by tucking them into corners not visible from gathering areas in the house like the living room sofa or entryway hall.
According to Molly, the psychology of interior decorating can go a long way toward sustaining personal relationships. "If somebody is messy, don't yell at them," she said. "Hide the mess."
In other words, when it comes to home decorating, much like the art of giving gifts, the answer is in the details.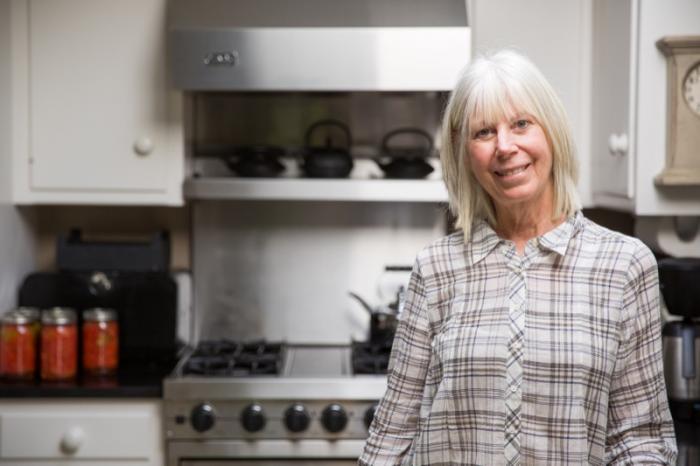 "If there's a chair that people are throwing all of their coats on, don't tell them to stop. Remove the chair."