Over forty years ago, the Vineyard Gazette fashioned its very first holiday gift guide. An honest-to-goodness mail-order catalogue, the inaugural publication served as a way for Island vendors to advertise special sales and promotions, and connected local goods and services with off-Island consumers leading up to the holiday season.
From the 1975 Vineyard Christmas Catalogue: "Many of the gifts displayed in the catalogue are hand-made with care. Others come from Vineyard stores and merchants with a solid reputation for excellence and responsibility. All gifts are in the best tradition of Martha's Vineyard, a tradition long associated with quality and the special life of an Island at sea. The catalogue is meant to provide off-Islanders with Island ideas for Christmas gift-giving. Its message is of the talents and energies of an Island community."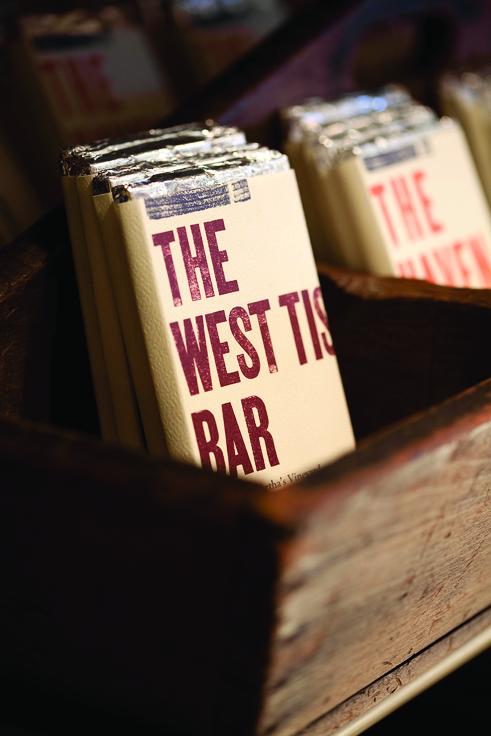 CHOCOLATE
From healthy sweets to decadent treats, the following confectioners have you covered, with many boasting Vineyard-inspired names to keep the Island close to our hearts (and bellies) this holiday season. Bonus: most vendors offer online shopping options and prepackaged mailers, all the easier to send a little sweetness to love ones near and far.
Chilmark Chocolates
19 State Road, Chilmark • 508-645-3013
Crafted up-Island in a tiny house off State Road, these iconic, high-quality chocolates come in a variety of Island-inspired flavors like Cranberry Clusters, Scallop Shells and Tashmoo Truffles. It's definitely worth the drive.
Murdick's Fudge
21 N. Water Street, Edgartown; Corner of Union and Main Street
Vineyard Haven; 5 Circuit Avenue, Oak Bluffs • murdicks.com • 888-553-8343
The recipe hasn't changed in 125 years; that's how you know it's a classic. The melt-in-your-mouth fudge of Murdick's is all made in-store at their various Island locations and comes in fifteen flavors, from vanilla and chocolate to butter pecan and s'mores. Toss in an order of brittle, and your stockings are as good as stuffed.
New Moon Magick
4 Chapman Avenue, Oak Bluffs • newmoonmagick.net •
508-693-8331
This family run business prides itself in using 70 per cent cocoa or more in their daily-made, homemade treats. Choose from three different flavors of bark (peppermint, cranberry or almond) and grab some love spell chocolate, too, to woo your mate.
Not Your Sugar Mamas
79 Beach Road, Vineyard Haven • notyoursugarmamas.com • 508-338-2018
The mission is simple: "To Spread the Love through Kickass Chocolate Creations." And oh, do they deliver. The organic superfood chocolate bars (and cookies!) boast feel-good ingredients like maca, pomegranate and coconut nectar. Order online for delicious and guilt-free giving this holiday season.
Robin's Homemade Fudge of Martha's Vineyard
robinshomemadefudge.com • 508-693-5366
Made with real cream and butter and offering almost 30 different options, from chocolate peanut butter and mint chocolate swirl to tiger butter, Robin's Homemade Fudge is an Island institution. Easy online ordering makes the holiday shopping process sweeter than ever.
State Road Restaurant
688 State Road, West Tisbury • stateroadrestaurant.com • 508-693-8582
Bursting with local pride, each four-ounce slab of chocolate represents the Island. With names like The Vineyard Bar (milk chocolate and toffee) or The Oak Bar (dark chocolate and caramelized pistachios), each one offers its own unique flavor combination and an Island tidbit on the back.
Rosewater Market's
Camp Ground Chocolate
20 S. Summer Street, Edgartown • rosewatermv.com • 508-627-1270
The owners took their homemade granola and spicy maple pepita recipes and did us all a favor by combining them with chocolate. The granola one boasts oats, seeds, nuts and honey (one with a dark chocolate base and another with milk chocolate) while the pepita bar combines dried cranberries and dark chocolate to make the perfect treat.
ISLAND EDIBLES
For foodie friends with sophisticated palettes, look no further than the following Island vendors. From local bakers and brewers to farmers and foragers, many of these merchants offer their tasty treats at the Winter Farmers' Market, Saturdays, 10 a.m. to 1 p.m., through December 17 at the Agricultural Hall.
Chilmark Coffee Company
chilmarkcoffeeco.com • 508-560-1061
Roasted to perfection by up-Island couple Todd and Jennifer Christy, this "craft relationship coffee" is sourced worldwide from producers and farmers who pay fair wages and offer the highest in quality caffeinated products. They've got nine bags of beans to choose from — perfect for cold brew, espresso or drip mix action.

Monica's Artisan Raw Honey
etsy.com/shop/skyebotanicals • 508-696-6644
Local apiary offering specialty-flavored honey made by Island-raised bees. Their flavors include lemon-ginger, wildflower or cinnamon to make your honey even sweeter. Not in the mood for honey? They make tea too.
Martha's Vineyard Sea Salt
508-560-3315 • mvseasalt.com
Mining what is perhaps the Island's greatest natural resource, this husband and wife team made harvesting salt their business, using the water in their back yard, South Beach. With unique flavors like Lemon Dill or Naughty (a blend of salt and charcoal) give the gift of never using boring old table salt again.
New Lane Sundries
newlanesundries.com • 508-693-9561
Featuring native fruits and berries like beach plums and chokecherries, Linda Lee Alley has been making local jams and preserves since 1987. Choose between fifteen different jams in either sweet or savory flavors, then pick a 4-oz. or 8-oz. jar and your gift recipients' morning toast will never be the same!
Vineyard Herbs, Tea & Apothecary
vineyardherbs.com • 508-687-6900
Katama Chamomile, Aquinnah Cliffs Licorice and Up Island Herbal Tea are all hand-blended on the Vineyard and packaged in biodegradable sachets — good for you and for the environment. Hot or iced, your tea-loving troops will be grateful.
Vineyard Sunshine Granola
littlerockfarmmv.com • 508-693-5651
Created by the folks at Little Rock Farm, this granola with clusters of cinnamon maple oats and other natural fixings is the perfect addition to yogurt in the morning. Grab a 12-oz. container at various Island stores or order in bulk online.
Pie Chicks
2 Eliakim's Way, Vineyard Haven • piechicks.com • 774-563-8562
These hand-crafted, artisanal pies are made daily and sold at select Island locations or can be ordered online. And they go fast. With over fifteen flavors, and some gluten-free options too, there's a pie for any palate.
Shepherd's Provisions
395 State Road, Vineyard Haven • shepherdsprovisions.com •
This new, specialty food shop in Vineyard Haven takes familyrecipes and packages them for you to take home — or send to a loved one to help prep for that holiday party. Choose from baked goods, sauces, spice mixes, dips or check out their specials of the day. Your foodie friends will love you.
JEWELRY
If you think Island jewelry means wampum or seaglass, or that it's all the same, think again. These Vineyard-based jewelers and designers each put their own, unique spin on the traditional, seaside-inspired designs. Want to browse a bunch at one time? Head to Driftwood Jewelry on Circuit Avenue in Oak Bluffs or Citrine on Main Street in Vineyard Haven, stalwart champions of local makers and design.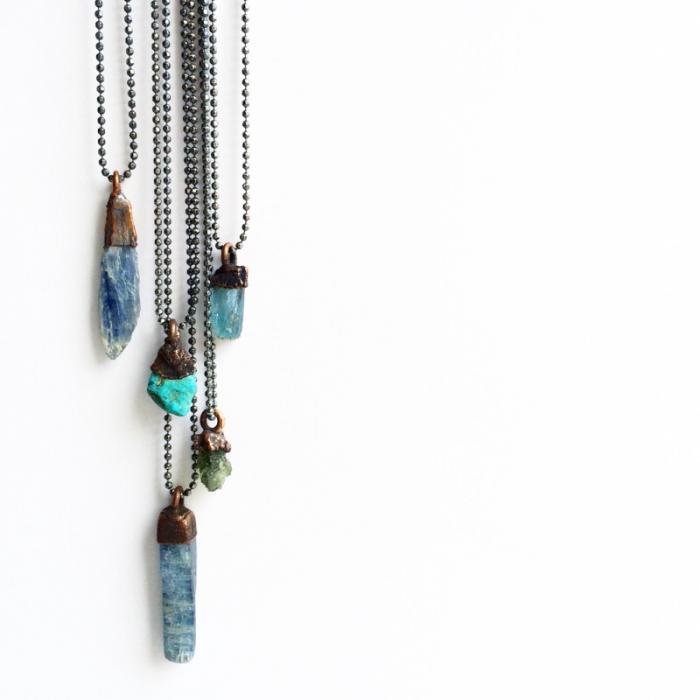 The Vineyard Rocks
etsy.com/shop/theVineyardRocks
This new company was born when owner Stephanie Thibert couldn't stop bringing so many beautiful treasures home from the beach. Crafted in her home, the rocks are sorted by size, color and shape before being turned into intricate, multi-tiered necklaces with silver accents. The slogan says it all: "Take a piece of the Island with you everywhere!"
HAWKHOUSE
hawkhouse.etsy.com
Hailing from Nebraska, jeweler Jessica Kramer now calls the Island home. This self-taught mixed metal artist specializes in rings, necklaces, earrings and more using raw crystals and an oxidization process to create unique pieces that will wow any jewelry lover on your list. Head to Citrine on Novemeber 10 - 13 for a trunkshow featuring HAWKHOUSE designs.
Laura Artru Designs
Head to Driftwood Jewelry to check out these one-of-a-kind pieces from Laura Artru. Using the beautiful wampum that is easily found on Martha's Vineyard beaches, she transforms the shells into fun designs like fish, starfish, or hearts for either earrings, necklaces or bracelets. Grab a full set to complete the look.
HowWassWeeWampum
etsy.com/shop/HowWassWeeWampum
Aquinnah Wampanoag craftsman Donald Widdiss takes items inspired by his heritage and crafts them into perfect-sized pendants. With over twenty years of experience he can easily create intricate designs like an outline of the Island, striped bass, great white sharks and other sea creatures! Looking for something all your own? He takes custom orders too.
Vineyard Time
76 Main Street, Vineyard Haven • vineyardtime.com
This premier Island brand specializes in handmade scrimshaw watches, pocket knives, lighters, cufflinks and money clips - perfect for the hard to shop for guy in your life. With each individually engraved and assembled on-Island, you get the perfect one-of-a-kind gift.
Island Roots: Jewelry & Design
cminnehan.wixsite.com/island-roots
Courtney Minnehan learned how to make jewelry at a young age thanks to her mother, Cecilia, who also owns her own jewelry business. In high school her company became a reality and she now creates bracelets, earrings, rings and necklaces in multiple designs, as well as colorful, Island-inspired prints. Check out her latest pieces at Citrine.
Letitbe Jewelry Design
sara-thompson-metalsmith.com
Sara Thompson is twenty-years-old, a full-time college student, and still maintains an Etsy shop of her handmade designs on the side. Using sterling silver, 18 and 24 karat gold and unique, natural stones her online store has over 100 pieces for you to choose from.
CLOTHING AND TEXTILES
The natural beauty of the Island calls to many textile artists, and the following designers are inspired by all facets of Vineyard life. The fashionistas (or fashionistos) on your gift list will appreciate a handmade product, not to mention the bragging rights of owning an Island exclusive.
Noepe Design
noepedesign.com
Kate Fournier, the one-woman workforce behind Noepe Designs, illustrates, scans, prints and hand-sews each canvas bag, wristlet, tote, backpack and even a few pillows. Featuring nature-based textiles, Noepe items are available for purchase online or on Island, at Citrine in Vineyard Haven and Driftwood in Oak Bluffs.
Althea Designs
altheadesigns.com
Islander Althea Freeman-Miller specializes in block prints to create exclusive designs in pretty much any category you can think of: from 'under the sea' and 'for the kitchen' to 'country life' and everything in between, there is a unique print for anyone. Grab a T-shirt, a pullover, a hat or even a baby's onesie for the littlest style stars in your life.
The Allen Farm Sheep and Wool Company
421 South Road, Chilmark • allenfarm.com • 508-645-9064
Nothing beats slipping into something cozy on a long, winter's night. Allen Farm woolens are made with love, with support from the Island's happiest sheep. Pick from sweaters, hats, throws, blankets and even vests to help your loved ones stay warm this holiday season.
Austin Designs
austindesignsmv.com • 508-693-2301
Summer kid turned year-rounder Rachel Austin Baumrim takes herbs from her garden to help create her unique eye pillows and heat packs for those in need of organic pain relief. Or choose from her selection of knit hats, cotton shawls, scarves, or purses. Yes, she really does it all!
Humane Imperfection
238 State Road, Vineyard Haven • humaneimperfection.com •508-939-0591
Featuring wax cotton and Woolrich wool fabric, owner Noava Knight conceptualizes bags that are like her: clean and organized. Choose from backpacks, duffle bags, purses and more, which are displayed on her website, then head to Citrine in VH or Slip 77 in OB to make your purchase.
Norton Point
48 Teaberry Lane, Edgartown • nortonpoint.com
One man's trash is this company's treasure. Norton Point specializes in creating seventies-style sunglasses from sustainable ocean plastic that deserves to be rocked on any Island beach. Head to a handful of Island retailers to pick out the perfect pair.
HOME GOODS
Materials sourced from local farms and gardens inspire some of the following companies in their quest to create natural home goods, while the Island's natural beauty inspires others. Whether you're searching for stocking stuffers or the perfect hostess gift, go the all-natural route while supporting Island artisans.
Flat Point Farm Goat Milk Soap
flatpointfarm.com • 508-693-2057
Thanks to the family goats, Emily Fischer takes two ounces of raw goat's milk to create each round of her popular, fragrant soap. Available in a variety of scents, including lemon verbena, oatmeal honey or lavender, the raw milk adds a rich, moisturizing quality. Help your friends and loved ones say goodbye to dry skin this winter.
Sashabelle Skin Care Products
sashabelleskincare.com • 508-560-1193
Using Sea Buckthorn Berry as the essential ingredient, these products are designed with sensitive skin in mind. Whether it's the Ultra Healing Facial Oil and Primer or the Sashabelle Facial Hydrant, your skin will look and feel incredible after every use.
Bluewave Body Company
bluewavebodycompany.com • 508-939-0073
Gwyneth Wallace's main goal is to bring her love of all things fresh, natural and beautiful to her clients. Using only natural ingredients she creates everything in her studio - from facial products to spa essentials and even a few dude-friendly items - her perfectly sized products are great for stuffing a stocking.
Gwen Nichols - Stained Glass Mosaics
Artist and Islander Gwen Nichols started out creating wampum jewelry, but has transitioned into also creating beautiful, stained glass mosaics with an Island twist. Using seaglass she has collected from walks by the water she designs images like the shape of the Vineyard or the ferry Islander. Head to Driftwood or various Island artisan markets to see her mosaics.
Vineyard Magic
taylorstoneillustration.com
Inspired by walks in the woods, Islander Taylor Stone has created her first book of poems coupled with colorful, detailed flower silhouettes. Bonus: everything is done locally to produce this book. It's the perfect coffee table find for nature-loving readers on your list.
Martha's Vineyard Glassworks
683 State Road, West Tisbury • mvglassworks.com • 508-693-6026
The art of glassblowing is beautiful and unique - and you can watch it happen up-Island. Originally just a studio, the MV Glassworks building now houses a gallery as well and offers classes to those who are interested. Pick out the perfect vase, pitcher, bowl and more for a truly one-of-a-kind gift this holiday season.
Up-Island Pottery
upislandpottery.com
Candy Shweder created her business more than 30 years ago, and isn't slowing down. Working in her home studio she crafts dinnerware, servingware, and vases out of clay. And everything is oven, microwave and dishwasher safe. Check out her website or catch her at a Vineyard Artisans show.
Lainey Fink Scott Ceramics
laineyfink.com
The ocean and the land are inspirations for this RISD-trained artist. From Lainey Fink Scott's pottery wheel comes one-of-a-kind ceramic pieces or sets that are then glazed before they are ready to brighten up the homes of those on your nice-list this season.
GIFT BASKETS GALORE!
With so many locally-crafted gift options to choose from this holiday season, you may feel overwhelmed. Wouldn't it be nice if there were a curated selection of Vineyard-made goods to send off to your loved ones, near and far? The following Island elves are busy making your last-minute shopping dreams come true:
Tisbury Turkey
tisburyturkey.com
Susan Ciatto of Tisbury Turkey offers a subscription-based service that supports Island artisans and nonprofits at the same time. Ciatto crafts Goodboxes stocked with selections of handmade Island products, tailored to the season by Vineyard artisans. Proceeds from this season's purchases will go to Vineyard House Sober Living.
Morning Glory Farm
morninggloryfarm.com •508-627-9003
For the health nuts on your list, order up a Morning Glory Farm custom gift basket, featuring farm-fresh produce and other goodies sold at their Edgartown farm stand. Good Ship Lollipop 508-693-0326 Inside this family-owned shop is a wonderland of gifts and candy - perfect for assembling a basket. Grab some of their homemade fudge, chocolates (with gluten-free options) and tons of old-fashioned candy, and top it off with a game or toy.
Vineyard Tastebuds
508-687-3010 vineyardtastebuds.com
Owners Ty and Trish Romijn give holiday shoopers a break this season by offering a local delivery service, spreading seasonal creations that businesses have to offer. Choose between specific businesses or mix it up with a customized collection.