Beth Kehoe, a lively 86 year old, lives in the Oak Bluffs house built by her late husband. She relies on a variety of local services to assist her each day, from Meals on Wheels lunches to the Vineyard Village volunteers who bring her grocery shopping and to the YMCA, where she swims laps in the pool. Her backstroke is the envy of far younger swimmers.
Lynn and Bill Thorp have lived for 15 years at Woodside Village in Oak Bluffs. Their second-floor apartment looks out over acres of scrub oak forest; Lynn calls it their tree house. Like all Island Elderly Housing tenants, 70 per cent of their sliding scale rent is picked up by the federal government. Downstairs, community dinners are crafted by chef Kevin McFarland, who doubles as a driver of the handicapped-equipped Blueberry Van. Both avid gardeners, Lynn and Bill grow their own vegetables in the Woodside community garden and work out at the nearby Y.
Aging in place – defined by the Centers for Disease Control as the ability to live in one's own home and community safely, independently, and comfortably, regardless of age, income, or ability level — is the focus of a number of organizations addressing the needs of elders on the Island. Vineyard agencies and programs have been enabling the CDC criteria for years, but with aging baby boomers now between 53 and 71 washing ashore on the Vineyard in increasing numbers, the limited scope of present resources suggests a looming crisis in housing and health care for the elderly.
The Donahue Institute at University of Massachusetts projects a dramatic increase in the Island's senior population over the next 20 years: in 2010, one in six Islanders was over 65, but by 2030 that number is expected double to one in three. Oak Bluffs selectman Gail Barmakian claims her town has the highest percentage of seniors of any community in the commonwealth.
Healthy Aging MV, a collaborative grassroots initiative launched in 2013, has as its mission the creation of an aging-friendly Island, one that meets the needs of the rapidly growing 65-and-over population, and those who care for them. In 2015 Healthy Aging MV distributed a 50-question needs assessment survey and identified priority areas, including health care, housing, transportation and caregiver support.
For all too many Island residents, especially low-income seniors, housing is not guaranteed. Island Elderly Housing has built and maintains 165 government-subsidized apartments on four campuses in Oak Bluffs and Vineyard Haven, each an oasis of affordability and safety on an Island known for pricey real estate and rickety old houses.
"IEH, with the assistance of a tenant's family, has always tried to allow its residents to stay put," IEH founder Carol Lashnits said. IEH waitlists are long; new tenants report a two-year wait between application and admission, and HUD reports a two to five-year wait nationally to obtain similar housing.
IEH grounds look more like college campuses than public housing, with well-tended lawns and lush plantings. The plantings are the work of the Berg Watch, a tenant organization led by Lynn Thorp. "I want this whole place looking like a French garden," she said on a recent late autumn day, pushing a wheelbarrow full of flowering shrubs.
While Lynn enjoys some aspects of building upkeep, she is just as happy to have the professional maintenance staff take care of the rest. "It feels most reassuring to have the luxury of a maintenance department that responds so quickly, understandingly and cheerfully to take care of malfunctions as they arise," she said. "While Islanders can wait weeks for handyman services, the maintenance staff at IEH usually shows up the same day a request is made."
New tenant Claudia Wales, who moved into a Woodside apartment four months ago after a three-year wait, echoes Lynn's sentiments: "I feel very well taken care of here," she said. Asked what she would have done had the option not been available, her face changed. "I don't know," she stammered. "I just don't know."
Low-income elders are not the only ones challenged by the Island's lack of affordable housing; the Island's aging middle class is also hurting. Healthy Aging MV organizer Peter Temple remembered a Chilmark couple who sold their large up-Island house with a plan to rent a down-Island ranch. Then vision collided with reality. "Just this week they announced they have given up on finding a suitable, affordable place to live on the Vineyard and will be moving back to Boston," he said. "As seniors in the middle-income category, they discovered that there is hardly anything here for them."
And when it comes to aging in place, not just any home will do. Many people who had hoped to grow old in their own home are now finding those houses too large, too isolated (research from a University of Chicago study found that extreme loneliness can increase an older person's risk of early death by 14 per cent), too unmanageable (costly maintenance and heating bills) and in many cases downright unsafe.
"Home modifications are of extreme importance to help people age in place," said Victoria Haeselbarth, outreach worker at the Edgartown Council on Aging. "We maintain a handyman's list with the names of a few local tradesmen who are willing to help seniors in need. Some of the individuals on the list will work for a reduced cost."
The health and safety of the senior community is a major concern. According to the National Council on Aging, falls are the number one cause of death in the elderly. As a result of the Healthy Aging MV survey last year, fall prevention has become a top priority for Island organizations that cater to the elderly. The Martha's Vineyard Partnership for Health, a free initiative of the Island Health Care Community Health Center, offers a program called Matter of Balance, an eight-session series designed to manage falls and increase activity levels in elders.
"Taking control of your health does not take place in the doctor's office," Kathleen Samways of the partnership recently explained to an audience at the Vineyard Haven Library. "It doesn't start when the pharmacist hands you a bottle of pills. It starts when you make some changes in yourself, when you change your behavior."
When Ray Whitaker came to the YMCA as director of senior fitness activities and services, he had a vision that the Y would become a center of all around fitness, social engagement and self empowerment for Island elders. Today this dream has come true. The YMCA of Martha's Vineyard currently has over 700 senior members (62 and over) and 17 classes in the pool and gym specifically targeted for seniors. Y classes accommodate every level of elder, from wheelchair bound to the physically fit.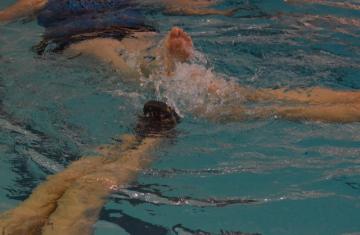 Like many elders, Kathy Poehler initially came to water aerobics to prepare for surgical replacement of her knee; six years later she is still coming to class five mornings a week. "That's kept me from needing to replace the other knee. I love the laughter and camaraderie in the pool," she said.
Former school teacher Anne Berry had big travel plans when she retired. "But I was too out of shape to go anywhere," she said. Today she is trim and muscular, as a result of 14 years of water aerobics with Leslie Craven, first at the Mansion House, and now the Y.
While the efforts of organizations like the YMCA and Healthy Aging MV have allowed a growing number of seniors to stay comfortable at home or in assisted living environments, there are those who believe there is more work to be done. An intriguing idea for a different kind of housing comes from sustainable living expert and Island author Anna Edey. "Everybody seems to be working on only two options," she said. "Help for those who want to stay in their own homes, or assisted living for those of advanced age disability," Instead, she imagines a third option, "a vibrant elder community for those who no longer want to live alone and be responsible for keeping up their own property."
"I want the very best for the last decade or two of my life," Edey said. "Comfort, fun, creativity and security." Her vision, outlined in a commentary in the Vineyard Gazette last year, includes private cottages, locally-sourced meals and on-site opportunities for culture and yoga. She is currently seeking appropriate land, at least 10 acres, ideally close to a paved road and with full solar exposure. "It would be an elder community of our dreams," Ms. Edey said. "The best for the rest of our lives."