A kitchen can make or break a house. Even if it's a lovely house in a great neighborhood, if the kitchen isn't well designed, something feels off—particularly if the space is dark and hard to navigate.
Sometimes it's hard to put a finger on exactly what's wrong, but often we know what we like when we see it. Ask a friend to tell you about a kitchen she loves or has admired in a magazine, and she can instantly describe it. Julie Flanders, principal broker for Flanders Up-Island Real Estate, explains, "Kitchens are psychological. They are tied up in memory and possibility. People's faces change when they walk into a clean, light-filled kitchen with great flow. They are inexplicably happy. They can envision themselves in the space, cooking and spending time with their families and friends." Flanders pauses and then adds, "A great kitchen makes a huge difference."
Russell Maloney, principal broker for Russell Maloney Real Estate, concurs. "A house can be sold because of a particularly wonderful kitchen," he says.
So what makes a kitchen great? Are there universal key elements? Is it counter space? Storage? Do appliances matter? The Vine set out to find out. And who would know better than private chefs and cooks about their preferences for their home kitchens?
We talked to and looked in nearly all the drawers of Molly and Eric Glasgow's stunningly beautiful kitchen. (The Glasgows own and operate The Grey Barn in Chilmark.)
We visited Edible Vineyard's Test Kitchen Manager Gina Solon's kitchen, which is in the process of getting a facelift and reveals the power of windows and a well-designed island.
Finally, we visited professional chef and Demolition Revival Furniture proprietor Laura Silber in her magical kitchen, which she built (along with her entire home) by herself.
These cooks all made it clear that delicious food begins with a well-planned kitchen. While you may not want to sell your home or even renovate your kitchen, we hope their wisdom inspires you with fresh ideas– from a new way to store knives to the possibility of open (or closed) shelves.
More light, bigger islands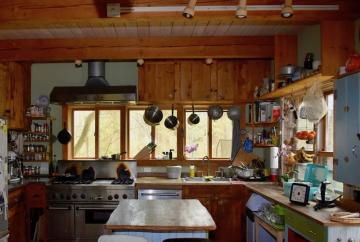 What was most striking in our conversations was that all the cooks universally agreed that their first priority for their kitchens was light! "Light is essential," 
said Laura Silber who, beyond cooking for a living for more than 20 years, now also helps clients design kitchens. "Light just makes everything better," she says. Silber even went so far as to give her stove light. After a serious amount of research, she found a hood that would work with her large commercial range and allow for her to have a window above it so she could look out as she worked. She said, "I spend so much time in front of a stove. I didn't want to be staring at a wall all the time."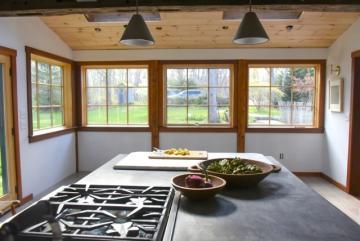 Likewise, the motivation for the Solon's family's entire kitchen renovation was to bring more light into the room. "Seeing it now, I can't believe how dark it used to be. It feels so much better," she says. With the addition of a wall of windows and a few skylights, the kitchen feels spacious and engaging. And the Glasgows' kitchen is flooded with soft, warm light.
Molly Glasgow expands on their initial goals for their kitchen. "When we were designing our house, the first priority was to have the kitchen be the actual, physical center of the house because it is where everything happens," she says. She points to the dry island (no sink, no stove) in her kitchen (she has another facing it that has a sink) and says, "That is where my kids do their homework. That is where I'm working on farm stuff today.[This year The Grey Barn is going to sell vegetables in addition to their milk and award winning cheeses.] The kitchen is where we talk, spend time with friends, and have our family meals. We even have Thanksgiving in here even though we have a dining room. It is the most used, most important room in the house."
Silber agrees, "My son Isaac does all his homework at the kitchen island as well. I want him there because I can see what he is doing while I cook. We can talk. I can offer help if he needs it. It just works so well." When asked if her kids do their homework in the kitchen as well, Solon says, "That's so interesting; since we increased the size of the kitchen and the island in particular (it was 58" x60 " and is now 4 ½ 'x8 ½'), I've noticed that my daughter Isla has started doing her homework here."
Molly Glasgow laughs, "It's funny because when we were talking about our kitchen, I really didn't want an island. I loved my kitchen in New York — it was a galley kitchen, but it was the best kitchen to cook in. So when we designed this, we designed it with that galley and its dimensions in mind, but they gave me two islands! And we use them all the time."
Solon chimes in, "Other than light, the main thing driving our renovation was making a bigger island. Our old one was too cramped." There was just not enough room for both the stove (which is now set into the concrete counter top) and a large baking/chopping board. She says, "Now, I can take something out of the oven and turn around and I have a surface to put it on. Last night, I was making pizzas, and I can't tell you what a pleasure it was to be able to do just that." When Silber hears this story, she says, "Exactly. You want to turn around from your stove and have a wide, clean counter to work with."
The cooks did choose different materials for their countertops. The Glasgows opted for black granite. Silber has a combination of stone and wood. All seem happy with their materials, but stress the priority that their surfaces be kept clean. At all times. Laura Silber says, "I have a very low tolerance for dirty dishes. No dishes can be left in the sink. Knives never go in the dishwasher. And spatulas must be hand washed and put away immediately." Molly Glasgow agrees. She does not even have a dish rack on her counter. Dishes are either put in the dishwasher or washed and put away.
The great sink divide
What do these chefs wash their pots and pans in? Well, it's divided. Two—Solon and Silber—prefer a divided (two-basin) sink. And the Glasgows opted for one big basin. Of her porcelain Franke sink, Molly Glasgow says, "I love this sink. I can fit anything in here." Silber, on the other hand, says "I must have a two-basin sink. It's my training. I need to always have one clean sink. No matter what." That said, she added a separate kitchenette onto her house and it does have a large sink in it for pans that need a good overnight soak.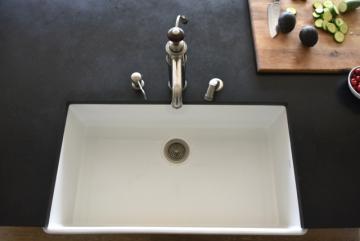 Everyone but the Glasgows have stainless steel. But Solon bemoans the fact that her sink has hard right angles at the bottom, making it more difficult to clean. While we're on the subject of dishes, all four cooks concur that the dishwasher make and model does not matter. "You just want one that is a workhorse," says Silber. The Glasgows have one regular dishwasher, but also installed a dishwasher drawer, which Molly Glasgow says she never uses and is planning on turning into a drawer for more dishes or pots. They all also agreed that refrigerators should be seen as a utility item. Not one had a fancy model Sub-Zero or Liebherr. They chose KitchenAid, Miele, Amana, etc., preferring models with deep shelves that can hold platters and salad bowls. Silber and Glasgow prefer bottom-drawer freezers, because freezers in a side-by-side unit can be too narrow.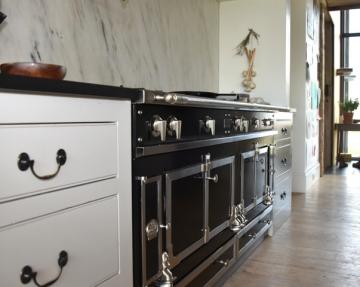 And about that stove…
Of course, each cook's stove was the most personal appliance. All the cooks talked about their particular stove as though it were a dear friend. And indeed, since all three cooks spend hours with their stove every day, the stove is truly a companion. Molly's husband Eric Glasgow finally got his dream stove: a Cornue. Molly Glasgow says, "I had to learn how to cook in it. It has a stone in the oven that takes quite a bit of time to warm up, but then it is absolutely amazing. The heat is so even. It cooks everything beautifully." Silber has had a 48" Thermador stove for 19 years and has recently had to jury rig it to keep it going. She said there's no way she could afford to replace one like it these days and is dreading the day when she will have to "downgrade."
Gina has a Thermador gas cooktop that includes a griddle, plus double wall ovens. One of her biggest complaints about her old kitchen was that she had a stove with a downdraft vent. "It never worked." And Molly Glasgow is thrilled with their overhead ventilation. "I have a grill on my stove and I never have smoke; the kitchen never smells. It's amazing."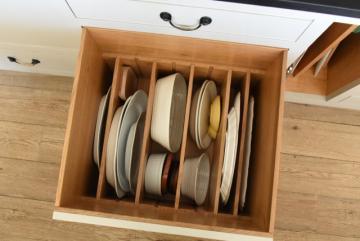 Open or closed shelves?
Ventilation takes the conversation to storage. Silber says, "I need to have as much closed off as possible. I have a big stove that gives off a lot of heat and I want to keep everything as clean as possible. I don't want dust or grease getting on my dishes." Silber uses a 1920's hutch that she got from her grandfather (he used to store his plumbing supplies in it) and transformed into a Victorian pantry for her nice dishes. Solon's kitchen has glass overhead cabinets to store their glasses and dishes. The Glasgows have closed cabinets. All talked about how people feel more at ease grabbing a glass or plate from an open shelf rather than opening someone's door. Solon said, "When you open a cabinet door—even if it is glass—It feels like you are going into someone's personal space." This is why she is considering taking her cabinet doors off. Regardless of a preference for open or closed shelves, all agreed that plenty of accessible floor-to-ceiling storage was ideal.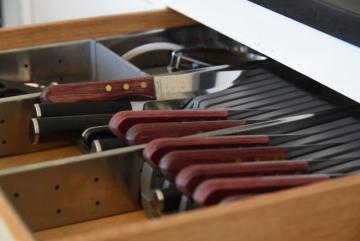 As they continued to wander around and show us their kitchens, the cooks discussed key appliances (coffee makers), the pots they use most (cast iron pans and Le Creuset Dutch ovens), the utensils they like standing by the stove, ready for action, spice storage—dark, cool and near the stove were priorities —and knife placement (near the stove or near the main cutting board). All three had specific knife storage: wall, butcher block, drawer.
As for other kinds of storage, no one was completely satisfied. The Glasgows have a clever drawer for platters with dividers that allows them to rest on their side, which Molly loves. But her drawer for dishes in the island with the sink is too shallow because of the plumbing for the sink. Silber speaks to the sink in the island issue. "I always discourage clients from putting sinks in their islands as it does two things: It takes up valuable counter space and the plumbing takes up valuable storage. Sinks should always go near a corner."
As each continued to share their experience, expertise and space, it sounded like they were talking through a recipe, tweaking it to make it better, which is what any good cook would do.
Mollie Doyle is a Chilmark-based free lance writer and yoga instructor.