My love affair with pie didn't start at the dinner table, but in the kitchen with my mother. We spent many a night before Thanksgiving together, cutting chilled butter into flour with crisscrossed butter knives, breathing in cinnamon and nutmeg as I mixed apples that my mother had peeled and cored, standing on a chair so I could roll the dough, the rhythmic click of our wooden rolling pins lulling me into a euphoric pre-holiday baking trance.
When, years later, I attempted my own pie for the first time, the filling escaped from the crust, bubbling over and burning, resulting in the least appetizing dessert I've ever witnessed. I called my mother and we speculated over what had gone wrong. She alleged it was simply because she wasn't there, overseeing it all. Once I begrudgingly agreed, she encouraged me to scoop out the unscathed middle and serve it over ice cream. It worked, of course. Pie is forgiving like that.
I promised my mother that I would never attempt another pie without her, so I have been proudly buying pies ever since. Over the years, I've found that the Vineyard is home to a variety of talented bakers who work their culinary magic for the benefit of Islanders and visitors alike.
At Morning Glory Farm, farm stand chef Robert Lionette and baker Korilee Connelly are constantly adjusting their menu to showcase the flavors of the season. In the summer, pies feature their own strawberries and raspberries and rhubarb, as well as fruits brought in from New England orchards. Their peach pie, with its lusciously ripe peach fruit and buttery crumb topping, had me licking the last morsels from my plate. As autumn's frosts settle over the plains of Edgartown, it's all about the pumpkins. Morning Glory grows three different types of pie pumpkins—Hubbard, Sugar, and Long Island Cheese—chosen for their vibrant flavor, smooth texture, and rich cinnamon color. And fall also brings the famous Harvest Pie, filled with apples, cranberries, raisins and walnuts.
At the Black Dog Bakery, Sue Sondern has pie baking down to a science. She can whip out 22 pies at a time, with uniformly sumptuous results in both flavor and presentation. There is comfort in this wholesome predictability, especially when it comes to pie, and especially on Thanksgiving, when food and tradition are so closely intertwined. The classic double crust apple is her most popular holiday pie, and I think it's the closest to my mother's recipe the Island has to offer—no complicated lattice or cutouts, no unique fruit combinations, just perfectly balanced and deliciously comforting. There are, of course, plenty of other pie options at Black Dog for the holidays—including apple crumb, pecan, pumpkin, and blueberry.
As lifelong gardeners and foodies, Peter and Debby Koines of Little Rock Farm in Vineyard Haven know the importance of quality ingredients. The distinct flakiness of their crust comes from Peter's own secret blend of flours; he uses a different ratio for the top shell and the bottom. It took him nine years to perfect these ratios. Peter lights up when talking about the tender pecans and crisp apples he gets in the fall, and attributes the deep flavor of his award-winning blueberry pie to tiny wild fruit, each bite an explosion of berry flavor. His obsession with the minute details of the process result in what he considers the ultimate goal of pie baking— consistency. "Anyone can make one great pie," he says, "The tricky part is making them all great."
When Juli Vanderhoop fires up Orange Peel Bakery's outdoor oven early each morning, her sleepy Aquinnah neighborhood wakes up to alluring aromas, and customers line up to buy the still-warm pies. The even heat from her wood-fired oven makes her crusts impossibly light and tasty, and almost smoky, in the most wonderfully unexpected way. Sure, it's a long ride to Aquinnah for us down-Islanders, but traveling over the river (or ponds!) and through the woods to her cottage bakery evokes the charm of an old-fashioned holiday—just like the fragrant notes of nutmeg and brown sugar in her cranberry apple walnut pie.
Pie Chicks founder and self-proclaimed "piestress," Chrissy Kinsman, loves to combine seasonal flavors. The results are bold and complex, with just enough sweetness. The triple berry, with its blueberries, blackberries and raspberries, is a lively medley of tart and sweet and late summer brightness. As the seasons change, the addition of cranberries transforms it into four-berry, bringing a touch of autumn to the popular pie. For Thanksgiving, Chrissy offers jazzy alternatives to the traditional, like apple cranberry and the highly coveted, rich and gooey chocolate bourbon pecan.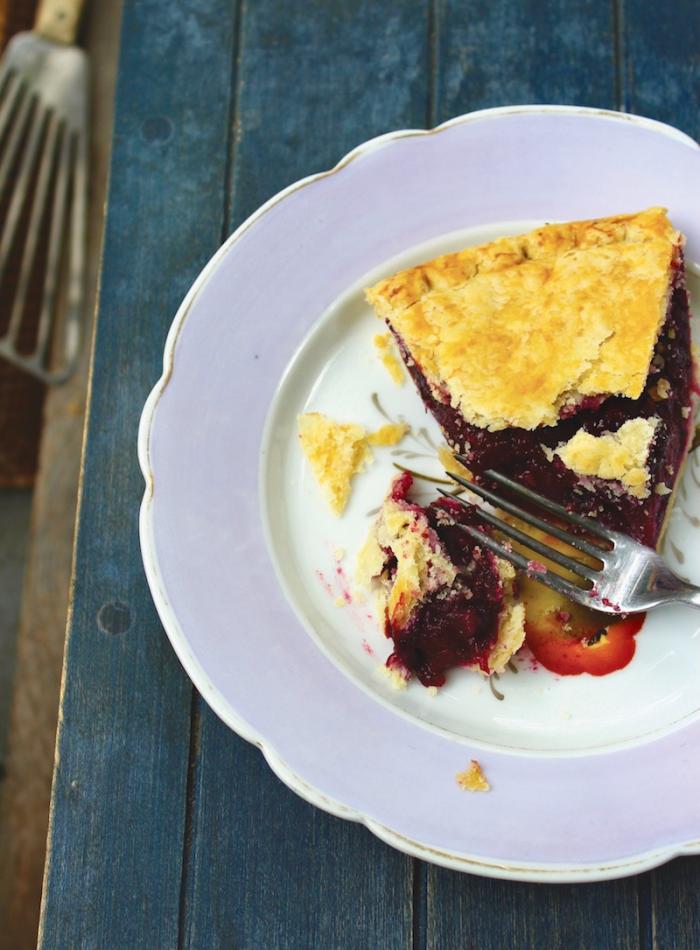 Chrissy is passionate about her product and her mission to "save the world, one pie at a time." It sounds a little ambitious, until I think back on my most memorable pie experiences. It isn't the sweetest filling I remember, or even the flakiest crust. It's midnight snacking with my sister, rekindling friendships by the fire pit, that time I salvaged an unsightly disaster with a pint of Häagen-Daz and an overdue phone call to my mother. These are moments when pie has saved me from the frantic pace of modern life, from being too busy or stressed or preoccupied, and given me a reason to linger until the candles burn low. I'm grateful we have so many dedicated pie bakers on this Island. Filled with optimism, they bestow us all with their culinary gifts, and make it look as easy as pie.
Holiday Pie Alert:
Holiday pies can be purchased or ordered from Pie Chicks, The Black Dog Bakery, Morning Glory Farm, Little Rock Farm, Orange Peel Bakery, the Back Porch Larder, Rosewater Take Away and Market, Behind the Bookstore, Scottish Bakehouse, Reliable Market, Stop 'n Shop, and Cronig's Markets.