Years ago, as a young commercial and fine art photographer living on Dupont Circle in Washington, D.C., Mariko Kawaguchi had a problem. 
"I was killing house plants, right, left and sideways. And this was the era when, you know, houseplants were your friends…everybody had houseplants," she remembers. "So I went to the library and got a book to learn about houseplants."
And then, evidently, she filed the entire contents of the book in some part of her brain she knew she could get back to someday.
Then came the 105-degree August day in Washington when she decided she needed to just get out of Dodge (or D.C., more accurately). She wound up on a bike pedaling around Martha's Vineyard—and decided to stay.
"I thought, well, I'll just do something basic. I looked around for jobs and wound up talking to the manager of the nursery, who asked me if I knew anything about houseplants. I resourced the young brain and came up with that information I had stashed."
But clearly this was meant to be. With the exception of a few years in Boston writing a book on rare orchids, Mariko has been crafting beauty out of nature for Donaroma's for more than 35 years.
"I always knew somehow that art and nature and plants would all be in my basket," she says now.  
Mariko prefers to credit everyone around her, saying, "I'm just a set of hands." And there is indeed a talented (and friendly) crew working in the floral department of Donaroma's. But it's Mariko's warm and wise disposition—in addition to her sharp eye and her graceful familiarity with the plants—that makes her the perfect teacher.
And this time of year, that means Donoroma's wreath making workshop—a day-long event held during Christmas in Edgartown (this year, Saturday, December 9, 10 a.m. to 4 p.m.). Participants can make a "wet" wreath (the base is moistened sphagnum moss, so the wreath will last) or a small boxwood tree.
But it's a busy season and not everyone can make the workshop, so we asked Mariko if she would go over the basics with us and let us take a few photos. She kindly obliged, taking the time to make us a complete wreath for the final "beauty" shot ahead of time, and then gathering all the materials to walk us through putting one of our own together.
How to Make a Holiday Wreath
For a holiday wreath that will stay looking good for weeks, make a "wet" wreath that begins with moistened sphagnum moss. Craft stores will carry the supplies you need, but as a shortcut, you can also get the stuffed and wrapped wire frame from Donaroma's this year.
Supplies Needed
Wire wreath frame
Sphagnum moss
Florist's plastic tape (or other strips of plastic)
Small sticks or small pointed scissors for poking holes
Greens: sprigs of white pine, boxwood, cypress, andromeda
Accessories: pine cones, sea shells, ribbons, glass balls, lichen, ornaments
1. Begin by gathering your supplies and arranging them on an ample work surface.Moisten the sphagnum moss thoroughly in warm water.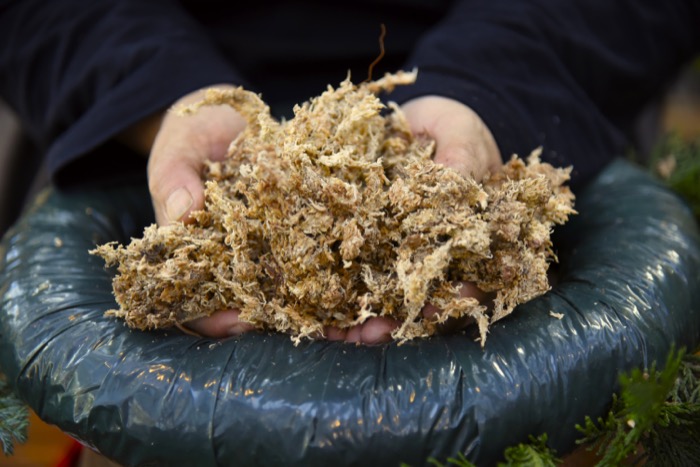 2. Pack the moss into and around the wreath frame. Wrap the moss and frame tightly with the tape (or even strips of plastic garbage bag will do, Mariko says.) Secure the tape with a pin.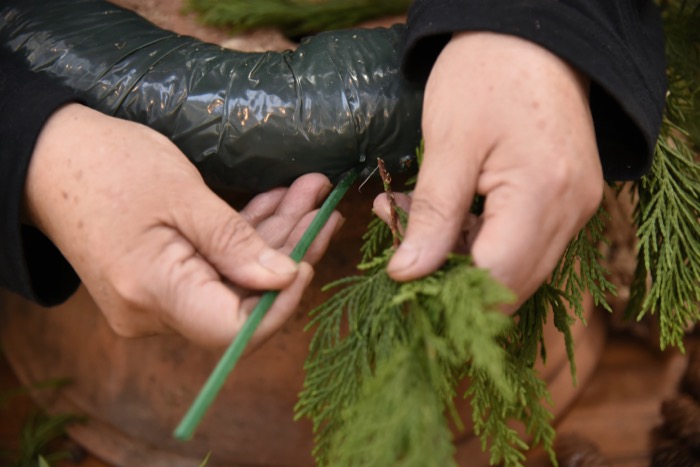 3. Using a stick or the point of a small, sharp pair of scissors, poke holes along the "equator" all the way around the wreath.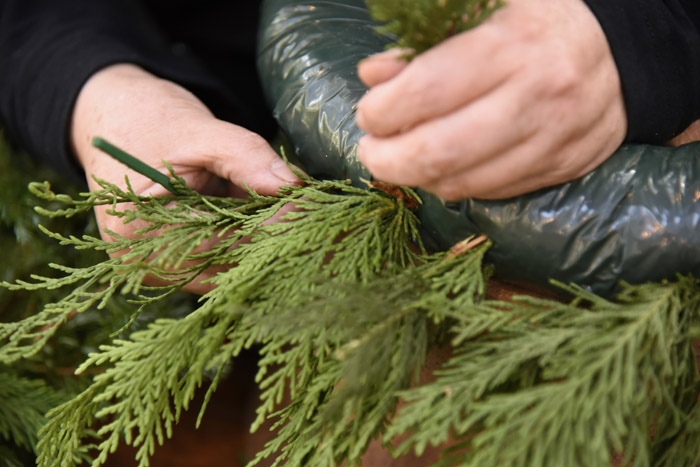 4. Insert sprigs of greens into that first row of holes. Use all of one type of basic green (white pine or cypress) for this row.
5. Moving toward the center of the ring, poke more holes to insert specialty greens and accessories. You can use greens like cypress or andromeda or boxwood to make a snowflake pattern on the wreath, spacing the greens out equally. 
Or you can create a cluster design, where each green is grouped together next to another different green. (If easier, you can put your wreath on an upturned pot while you're working.)

6. Ribbons, fruit and roses are the last to go on this beautiful wreath, but you can customize your own a million different ways. 
Red roses, andromeda, pomegranates and cypress make a stunning combination.