Socks, hand-knitted mittens and hats, pajamas, snow pants, snow boots, winter coats, art supplies, board games, chapter books, puzzles, Legos, dolls, action figures, bicycles, blankets.
Come Christmastime, those items and other childhood essentials would be hard to come by for some of Martha's Vineyard's neediest families, if not for the Red Stocking Fund.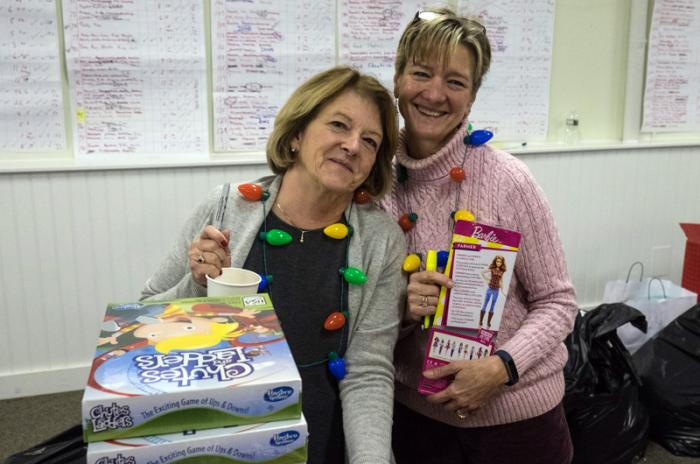 "I think every year, we're reminded that living here is wonderful, and living here can be very hard," said fund co-chairman Sandy Joyce in an interview this week.
Applications to receive gifts were available in schools, health clinics and banks around the island starting in October. ​This year, the group will serve more than 300 children. ​"Many people have a misconception of the Vineyard and the people that live here. Certainly not everybody here is affluent and has summer homes," Ms. Joyce said.
Ms. ​Joyce and co-chairman Susie Wallo will be sorting donations all week to prepare for families to pick up their Christmas packages Friday. At St. Augustine's Church in Vineyard Haven, there'll be a lot of sorting and wrapping.
"It's a full-time job from the middle of October until the 15th — or a little bit beyond that — in December," Ms. Wallo said.
But they're not working alone. Beyond the Red Stocking Fund's board of 10, the women say they've had so much help it's almost impossible to keep track of who's been involved.
The Martha's Vineyard Modern Quilt Guild donated 13 children's quilts this year. "It's something to drag along the floor, something to cuddle up with. It's something warm, something cheerful," said guild president Katherine Long. Much of the fabric in those 13 quilts comes from the collection of Linda Chapman, a founding member of the guild who died unexpectedly this year. Ms. Long says guild members work on the Red Stocking quilts year round.
The Martha's Vineyard Harley Riders have done their part too, rounding up more than $11,000 during their Veterans Day run and lots of toys, including 13 brand-new bicycles and helmets from one donor.
During Red Stocking season, motorcycle association president Rene Mathieu said he visits businesses four or five days per week to ask for monetary donations, and the group leaves donation boxes in stores to collect more toys. Mr. Mathieu declined to estimate exactly how many toys they've collected. "Nobody could tell you that. Not even the Marines can tell you that. It's just a ton of toys," he said.
"Susie and I have said almost daily that literally angels are everywhere, and they help us each and every day," said Ms. Joyce. Also among those angels are organizers and the people who attend the annual Great Chowder contest and the Big Chili Contest, both of which benefit the fund. Other angels? The stores, schools, and businesses that put out collection boxes and sent checks.
The Red Stocking Fund is an it's-that-time-of-year-again tradition on the Island, quiet and enduring. When asked if there's anything new this year, organizers paused.
"Our charter is to make Christmas for children on Martha's Vineyard in need who would otherwise not have a Christmas," Ms. Wallo said. "That's what we've done since 1938, and that's what we will continue to do."
Checks made payable to Red Stocking can be sent year-round to Box 600 Edgartown, MA 02539. Telephone inquiries can be made to Susie Wallo at 508-776-6050.