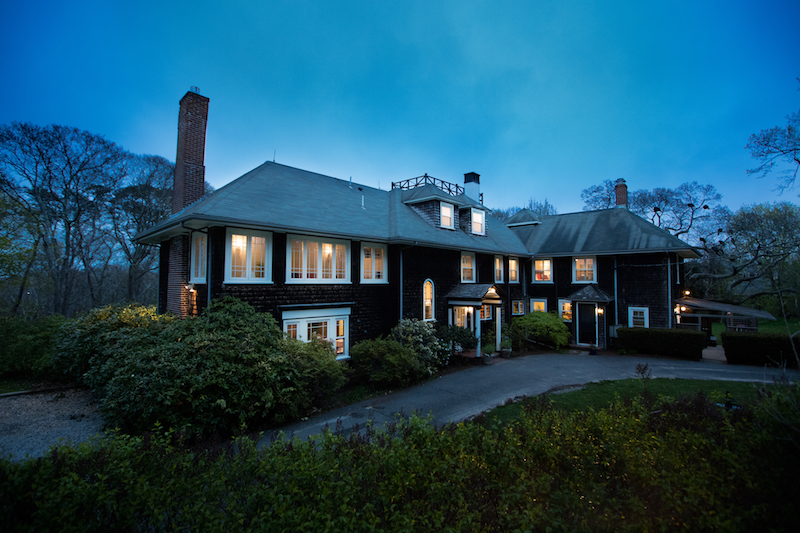 Annabelle and Simon Hunton had to act quickly. In January of 2016, they settled on the purchase of the old Doctor's House on Mt. Aldworth Road in Vineyard Haven. The beautiful 1908 building had been operating as an inn since 1989, but it needed a makeover. And it had to happen by Memorial Day, when the Huntons planned to reopen as the Nobnocket Boutique Inn.
Fortunately, this wasn't the Huntons' first rodeo, so to speak. After living and working in Europe for many years (both Annabelle and Simon grew up in England), they decided to open an inn on Cape Cod. The Platinum Pebble Boutique Inn in West Harwich worked so well that when someone knocked on the door and offered to buy it outright, the Huntons agreed to sell and set off to explore a new location.
The new owners of the Platinum Pebble bought most of the furnishings, too, so Annabelle and Simon would need to start mostly from scratch with Nobnocket.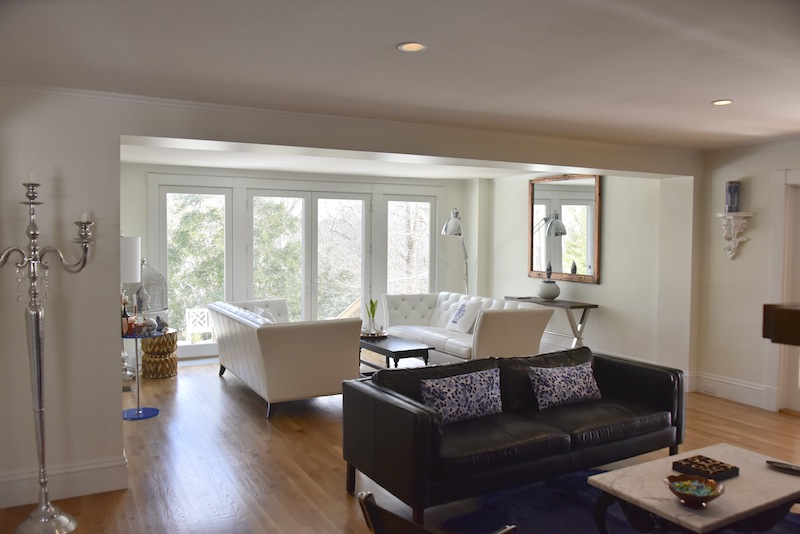 But with a passion for art and a design sense influenced by years living in Belgium, France, Germany, Italy (Milan), and the Netherlands, the Huntons had developed a contemporary style that was the perfect antidote to the Doctor's House woes. Time was short, but they were game.
The first order of business was opening up transitions to the outdoors. In the living room, there was an exterior wall with only one small window, and no way to get outside. The Huntons replaced that wall with French doors opening onto a brand new patio. The doors brought in much needed light while improving flow at the same time. "This is what people come to the Vineyard for, to enjoy the outdoors," Annabelle said. Ironically that new view, now mostly of trees beyond the patio, was a view (albeit somewhat distant) of the water when the Doctor's House was first built 110 years earlier.
A second priority was increasing the size of bedrooms. Upstairs, instead of many small individual rooms, there are now good-sized bedrooms and suites that include sitting areas. Bathrooms are as modern and sleek as any in a grand hotel.
But the third priority—refreshing the Inn's décor—was perhaps the most challenging. In fact "refreshing" would be an understatement. While many of us would be overwhelmed with the sheer number of details involved in replacing everything from linens to artwork to furniture, in choosing paint colors, and in editing and arranging pieces for both comfort and aesthetics, Annabelle and Simon had a plan and tapped into some guiding principles that we could all use when faced with renovations.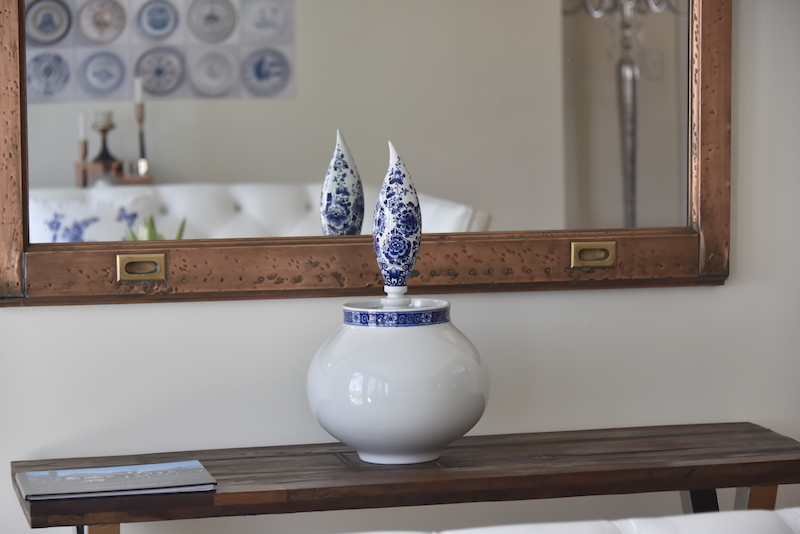 "Start with something you love," Annabelle said. "And figure out what you love about it." For the Huntons, the piece that inspired their entire makeover was a curvy blue and white vase designed by postmodern Dutch designer Marcel Wanders for the Delft company, which has been in continuous operation since 1653. The clean but playful lines and simple crisp color theme would carry them through the update of the old building with confidence and clarity.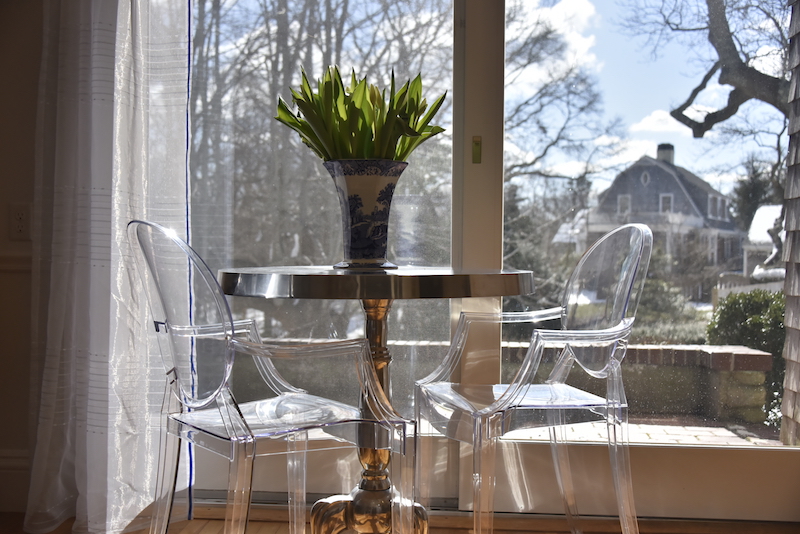 And the Wanders vase introduced another theme Annabelle and Simon used quite effectively throughout the inn—classic pieces with modern interpretations. In the bar area, two Phillippe Starck Ghost Chairs—translucent polycarbonate chairs in a classic Louis XV style—are another great example of this.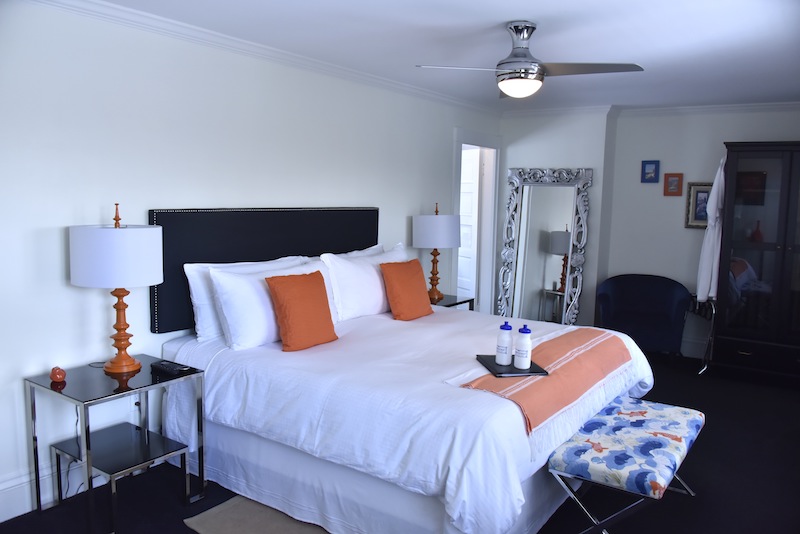 Other design choices—a mostly monochromatic color palette with bright punches of clean color, a subtle but definite touch of whimsy, the introduction of unexpected texture and alluring shapes, the elimination of fussy curtains and fabrics—give the inn something more than just the calming elegance that comes with a fresh reboot. There is warmth and a sense of humor; there's a feeling that you're being invited to engage in a smart conversation—an idea that begins of course, with the owners themselves.