Eunice Youmans dreamed herself to Martha's Vineyard. "I willed this job into being," she says with a laugh. Living in Falmouth and working for the Woods Hole Research Center as Director of External Affairs, she and her three children often visited the Island.
"We'd come over and bike, we'd go to the beaches and just relax here," she said.
But even though Eunice had spent a lot of time on the Island, it took a trip to a much larger island for her to realize the Vineyard was where she wanted to be. "I went to a conference in Iceland," she recalls. "I had never been to Iceland before. It was grey, it was moody, it was pastoral—and had the sea at the same time. I felt so at home in the landscape and I realized it was just like the Cape, and even more like Martha's Vineyard."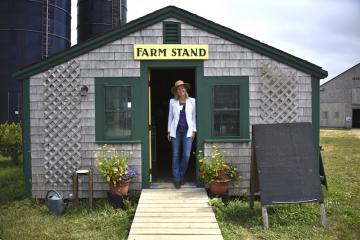 Two-and-a-half years ago, she and her family were enjoying the peaceful vista at Wasque Point and she said aloud, "If only I could find a really meaningful job here…" Six months later a recruiter called with an opportunity.
Since November, Eunice has been General Manager of The Trustees of Reservations properties on the Islands. These include seven sites on the Vineyard: the FARM Institute, Cape Poge Wildlife Refuge, Long Point Wildlife Refuge, Menemsha Hills, Mytoi, Norton Point Beach, and, ironically, Wasque Point. She also oversees one large property, Coskata-Coatue Wildlife Refuge, on Nantucket. Her office, a small, sparsely furnished near-cubbyhole, shares space with what will soon be a completely renovated teaching kitchen at the FARM Institute.
The daughter of a social worker and an Episcopal priest who met at the civil rights marches in Birmingham, Alabama, Eunice grew up in New Jersey but developed her love of the outdoors at her grandparents' farm in Alabama and her love of culture at her other grandparents' home in New York City. She received a bachelor's degree in religion at the University of Georgia and a Masters in Islamic Studies from Vanderbilt University. She spent the next several years consulting and working at think tanks at Vanderbilt and in Washington, D.C., before settling in Falmouth, and now Chappaquiddick.
Of all her charges for the Trustees, the FARM Institute seems to be her favorite — and probably the most time consuming. "The farm is what I'm most intimately involved in," she says. "I probably spend forty percent of my time on it." She rattles off a long list of responsibilities: accounting, meat sales, events, summer camp, overseeing the kitchen renovation, strategic planning for the future and more.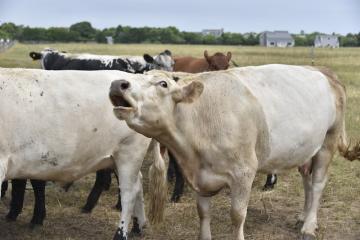 "It needs to be a real farm," she explains, "Not a one-dimensional image of a farm."
The primary goal of the FARM Institute is education, but the farm itself, unlike the summer camp, is not self-supporting. "It's an expensive operation," she says. "We need to figure out how to do this better."
Another aspect of her work on the Islands is to liase with other organizations with like-minded goals—and with neighbors of the farm. "A lot of staff and farm trucks come down our road," she says. "They create dust and traffic. We try to be as mindful as we can. But it's a problem for some people."
"And there's manure," she says with a chuckle. "Sometimes the wind blows the wrong way. Who wants to smell manure in his living room?"
But the farm is a critical part of VIneyard history. It's located on the historic Katama Farm, dating back to the early 1900s. In the late 1970s, it was saved from becoming a subdivision and preserved as farmland.
"I have yet to meet anyone who's unhappy that the farm is here," says Eunice.
Being somewhat new at the job and responsible for so much, Eunice needs to be focused and organized. "It's like drinking from a fire hose," she jokes. "You're just trying to understand the pieces separately. Now I have a blurry image of how these pieces connect. I think I'm pointed in the right direction."
Despite the demands of the job, Eunice still makes spending outdoor time with her kids—18-year-old Isabella, 15-year-old Madeleine, and 11-year-old Eli—a big priority. "We ride bikes, swim, paddleboard, kayak. I get them to come with me on as many adventures as I can."
"And," she adds, "I'm renovating my house." Her home on Chappaquiddick, the Pole House, is famously supported by telephone poles. "When I have a bad day, I just rip stuff out." When she bought it in December, it hadn't been updated since 1973.
Eunice is so taken with Chappy that even the winters don't bother her. "In the winter, it's the perfect little nest," she claims. Speaking of last winter's freeze and snowfall, she recalls, "We were socked in, the ferries weren't running for four days, and I loved it. I don't know why everyone can't live on Chappy."
Her son Eli seems to agree. "He thinks I'm the best mother ever for moving him here," she explains. "He's like Tom Sawyer. There's lots of freedom. It's like the 1940's on Chappy. Everyone's paying attention. If he's riding his bicycle without his helmet, I hear about it."