It's February on the Vineyard. Coffee shops are shuttered. Scallops cost $35 a pound. And the tumbleweeds on Circuit avenue dance to the Ritz's wispy winter riffs. In other words, it's the off season.
Just don't tell that to the MV Ice Arena.
While the rest of Martha's Vineyard hunkers down, the coldest indoor facility on the Island ironically becomes one of the best places to stay warm – if not for the temperature, than for the camaraderie.
"It's a very tight-knit community," program coordinator Matt Hasenfuss said. "Everybody knows each other. That's the arena."
By the time February rolls around, youth hockey, which services Island children from ages six through 14, is in full swing. Figure skaters are spinning their axels. Public skates look more like Central Park before Christmas than Martha's Vineyard after it. And the high school teams pack the rink's bleachers with standing-room only crowds.
"When we have high school games, as they say, it's the best two hours of live entertainment you're going to find on the Island," said long-time rink employee and Zamboni maestro Mike Hathaway. "This place is three deep on the glass. It's so fun."
The MV Ice Arena is a nonprofit organization founded in 1974 and established six years later as an outdoor skating rink. In 1992, local businesses and generous donors teamed up to help the arena complete a capital improvement plan to enclose the rink and provide year-round skating for Islanders. Ever since, nearly two generations of Vineyard children have had the chance to grow up with the privilege of ice time, regardless of the season.
"My goal about this place is the kids," Mike said. "It's really what's kept me coming here every year. Watching them grow. Seeing their attitudes, seeing their smiles, and watching their performance, and seeing how they accelerate from nothing to high school players and beyond."
Mike has been smoothing ice and stretching smiles at the rink for upwards of 20 years. He's a beloved figure, instantly recognizable to hockey players and figure skaters alike. Even though he's got a demanding day job as the assistant Edgartown harbormaster, Mike can't stay away from the rink. It's the community that keeps bringing him back.
"I had a kid the other day who's all grown up come in and say, 'Mike, you're still here?' And I said, 'Where else am I going to go?'"
Mike's son grew up on the Vineyard ice, and now he has a four-year-old grandson who looks poised to do the same.
"Once he gets the knack of it, I'm not going to be able to get him out of here," Mike said. "A lot of kids are like that. They just come, and they don't leave. It's like a teen center. They say, 'Let's meet at the rink.'"
The ice arena isn't only for youngsters. Along with youth hockey, the rink holds multiple levels of open skates and two adult leagues, ranging from the formidable competition in the John Gibson Memorial Hockey League to the less formidable, but equally sweaty Sunday morning "never-too-lates."
In the summer, the rink hosts a tournament called the East Coast Classic, bringing top-level players from college programs all over the country for a three-day event on the Island.
This past summer, participants ranged from NHL center Adam Gaudette to former rink employee and regional high-school goalie Nick Kent to current rink employee Garri Saganenko.
"To be able to have something like this on the Island, it's a great thing," said Matt, a former Bridgewater State hockey player himself. "If some of those kids didn't have hockey, who knows where they'd be."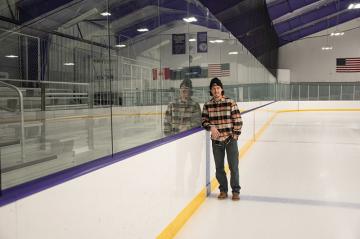 As program coordinator for the rink, Matt has the ever-difficult job of coordinating ice time between "major user groups," like youth hockey and figure skating, and everyone else. And by everyone else, he means literally everyone else.
Every year, The Yard – a Chilmark dance center – co-hosts an event on the rink with ice dancers from a group called Le Patin Libre. The rink also plays host to public skates, birthday parties, holiday parties, and, just last month, a wedding.
"We're trying to broaden our horizons," Mike said.
Part of that broadening comes literally, as the rink recently merged with its neighbor, the YMCA of MV. Although the merger is mainly administrative, it gives the rink the financial security to continue its hockey, figure-skating, and public skating programs long into the future.
It's not always smooth skating to keep the rink afloat and ice a-frozen, but there's nowhere the employees of the MV Ice Arena would rather be.
"The biggest excitement for me is that I get to call a hockey rink my office," Matt said. "Not walking into a cubicle. Not trudging into Boston. I get to be here."
Noah Asimow is a reporter for the Vineyard Gazette.