Don't laugh, but it's true – sitting around a fire can actually reduce your blood pressure. Scientists have long known that fire promotes relaxation. With its flickering light, radiant warmth and captivating aroma, fire invites calm and stillness. But some studies go so far as to credit fire with evolutionary changes, one theory asserting that over the course of time, the ritual of sitting around a fire increased man's capacity to be social. And certainly, while you can enjoy the benefits of a fire by sitting across from a fireplace, there's something inherently communal about sitting around an open fire.
So let's assume that your capacity to be social is highly evolved, but your relaxation instincts are somewhat stunted.
You need a fire pit. Not that we're saying you should have one because every one else on the block does. (Or in the case of the Vineyard, everyone else on your dirt road.) That would be social pressure, a disagreeable trait in homo sapiens.
No, we're just saying it might be time to honor those happy campfire memories, whether they were all about the marshmallows and Hershey bars or more about the beer and raucous singing.
Decisions, Decisions: 
Portable or Fixed? Wood or Gas?
If you go shopping for a fire pit, you will quickly learn that the term "fire pit" can cover everything from a metal fire ring to a bowl-shaped vessel to a fire "table" to a permanent masonry structure.
A fire ring is designed to contain a wood fire and often features decorative metal work; a metal (steel or copper) fire pit cradles a wood fire and comes in many shapes and sizes (photo top).
A fire "table" is a piece of furniture that has a propane-fueled gas burner inset into the top of it. Sometimes the base of the table hides space for a portable propane tank; other fire tables should be hooked up to a gas line. Fire tables can be coffee table height, dining table height or bar height.
Permanent stone fire pits can go in two directions. The first is a structure that is designed and built around a propane burner. Propane burners come in a variety of shapes, so the fire pit can be round or rectangular. These types of masonry fire pits are usually built on a patio as part of a formally designed outdoor living space.
The second type of permanent stone fire pit is designed to hold a wood fire.
Often it is a rustic structure with boulders and other stones used to shape not only the pit but a seating area as well; this type of structure feels particularly at home in a natural landscape.
If you're already overwhelmed with the choices, a visit to Vineyard Hearth, Patio & Spa in Vineyard Haven can be a helpful place to start. Owner Patricia Parker has been in business for 22 years and has seen the popularity of outdoor products grow exponentially over the last five years. She carries dozens of different varieties of both wood and gas fire pits (which can be delivered, fully assembled), and she works with landscapers and designers on bigger installations.
"People use fire pits for everything now," she said. "Camping, ambience, entertaining, the beach."
A good-quality wood-burning fire pit with a 28-inch diameter begins at about $250, while a larger (40- to 54-inch diameter) copper vessel can range from around $1,500 to $3,000. While you can buy a lightweight metal fire pit for as low as about $100, it will likely rust out after one season. Before buying a metal fire pit, check the measurement of the steel's thickness: 1/8-inch is very thin, 1 / 4- or 3/8-inch thickness will be longer lasting. To keep rust at bay, buy a cover for your fire pit or move it to a covered location when not in use.
With all wood-fueled fire pits, Patricia recommends putting a layer of playground sand in the bottom for a bit of heat insulation. She also points out that Dukes County fire regulations require that a fire pit be used with a cooking grate over the fire. Many of the fire pits come with screened lids as well, though some may be optional purchases. Other common-sense fire safety precautions should be followed, such as positioning the fire pit a safe distance from the house or other structures and putting it on a non-flammable surface like blue stone, gravel or pea stone.
The range of gas-fueled fire options is astounding, beginning with the smallest option: Vineyard Hearth carries the very cool Intrigue gas table-top fire pit that screws into the umbrella hole of any patio table. Above the table, a glass lantern shields a gas flame that glows in a spiral formation, while below the table, a one-pound propane tank with a battery ignition switch powers the flame.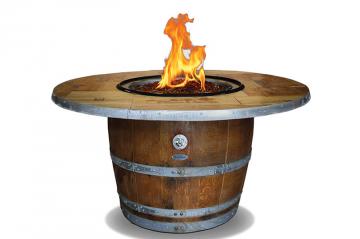 You can also buy a small gas burner "in a bag" that is basically a small portable fire pit to take to the beach. It must be hooked up to a portable propane tank.
Moving up in size, Vineyard Hearth has a selection of popular fire tables. The good-looking Vin de Flame fire tables are made from retired California wine barrels and come in "hi-lo" height and "chat" height. They're also on casters so they can be easily moved around. The tallest are able to conceal a propane tank inside the barrel. Patricia noted that Tilton Tents and Party Rentals also rents out Vin de Flame fire pits if you need one (or more) for a special occasion.
The Big Build: Custom or 
Semi-Custom Fire Pits
Fred Fournier, who's been in the landscape design and construction business for over 40 years as owner of Landscope in Edgartown, has, like Patricia Parker, watched the interest in outdoor living mushroom over the years.
"First it was pools, then outdoor showers, then built-in barbecues and grills, then outdoor kitchens. Then fire pits started to get popular, and now you see kind of a combination of all of these," he said. There's also an overall feeling of wanting to tie the indoors and outdoors together so that one flows into the other.
Fred thinks the popularity of fire pits, like outdoor showers, has a lot to do with extending the time you can spend outdoors. In a place as beautiful as Martha's Vineyard, why not be outside as much as possible?
If clients come to Landscope wanting to incorporate a fire pit into their landscape design, Fred asks them first whether they want a wood-fueled pit or a gas fire pit. Next, his questions will center on what the clients' lifestyle is like and what kind of style feels right for them. Are they older? Do a lot of entertaining? Formal or casual? Do they have young kids or even grandkids around? Do they want the experience of being surrounded by nature? Do they want the fire pit to be on the patio, closer to the house?
And, um, will one fire pit be enough? Though he doesn't seriously ask that question, he did recount a funny story. He built a fire pit for one client and then, after a dinner party when the men all gathered around the pit with their cigars and glasses of red wine, the client returned and asked, under pressure from the female half of the household, for a second fire pit so the women could have their own.
Now that Landscope has done a number of custom fire pits, they've settled into a process for building them. First the site is excavated and graded, then a concrete base is poured. A supply line for the gas is set up. (All gas work is done by a licensed gas plumber).
The right-sized burner is ordered and installed, and an initial structural surround of fire brick is constructed, leaving room for the burner to be connected to the gas line and for the proper venting to be installed.
Then the structure is veneered, or faced with the client's choice of stone or brick.
Finally, the fire glass or lava rocks are installed over the burner and the coping (or stone cap) is installed. And the fire pit is good to go.
A fire pit like this can be constructed for $7,000 to $9,000 (depending on size and materials) but is most often done in conjunction with other landscaping and stone work for a total higher cost.
Don't Forget the Garden
A total landscaping plan is something you want to think about if you're going to spend the money constructing a masonry fire pit. Will there be a path leading to the fire pit? Will there be built-in seating or a simple ring of Adirondack chairs? Will it be near a water source, or near an outdoor kitchen or cooking area? Does an existing deck need to be renovated to lead to a patio surface?
A fire pit is an enjoyable space in the daytime as well as at night (and many can be covered when not in use to double as a cocktail or coffee table) so you'll want to take advantage of its location and surround it with beautiful or fragrant plants, or even clear a view if necessary. While a company like Landscope can work with you on a master design for the garden and the masonry, you can also work with a garden designer who collaborates with a stone mason, as Renee Clermont of Second Nature Designs did when she and Jesse Fuller of Fullers Landscaping designed a gas-fueled fire pit (and later a second one for a wood fire) on her client's property (plan and photo below).
Beautiful surroundings, comfortable seating, the warmth and comfort of a fire, the company of good friends – lower blood pressure and a higher pursuit of relaxation seem practically guaranteed with a fire pit.