If you live on Martha's Vineyard, chances are good that at least one of your neighbors has a home craft workshop or art studio. It might even be you: tying flies, making jewelry, painting or playing music in a dedicated corner of the house or garage.
As a kid in Edgartown, I remember visiting Joe Serpa's glass-blowing studio behind his house on Mill Street, where generations of twentieth-century schoolchildren watched him breathe air into impossibly thin bubbles of shining glass, swirled with colors that started off as brittle sticks and melted into transparency.
That was the old Edgartown, of course. Today's glass-blowers are located up-Island, where many other Island artists and artisans have made room in their homes to pursue their crafts.
With real estate prices what they are all over the Island, it's hard to imagine your average year-round Vineyarder being able to afford much more than living space these days. But in fact we discovered three local artists – a potter, a painter and a composer – who found houses with room for their work in just the past few years. One of the latest to set up a studio at home is Micah Thanhauser, a West Tisbury boy who grew up to become an accomplished potter and moved back to the Island last year.
Painter Elizabeth Whelan and her partner, boatbuilder Bill Benns, bought their Chappaquiddick home two years ago – it has room for both their careers.
And directly beneath my feet, Paul Marotta is working on his latest rock music composition in the recording studio he built in my mother's dusty, nineteenth-century Edgartown basement.
Visiting the studios with photographer Jeanna Shepard, I saw that all three had the same basic requirements: heat, light and enough space to use the equipment. But each artist has very different needs for the space, beyond simply creating new work. Micah is planning to sell his ceramics on site, Elizabeth has to organize multiple shows, lessons and commissions and Paul licenses his twentieth-century recordings to music companies while working on new compositions. Louisa Hufstader is an Edgartown-based writer.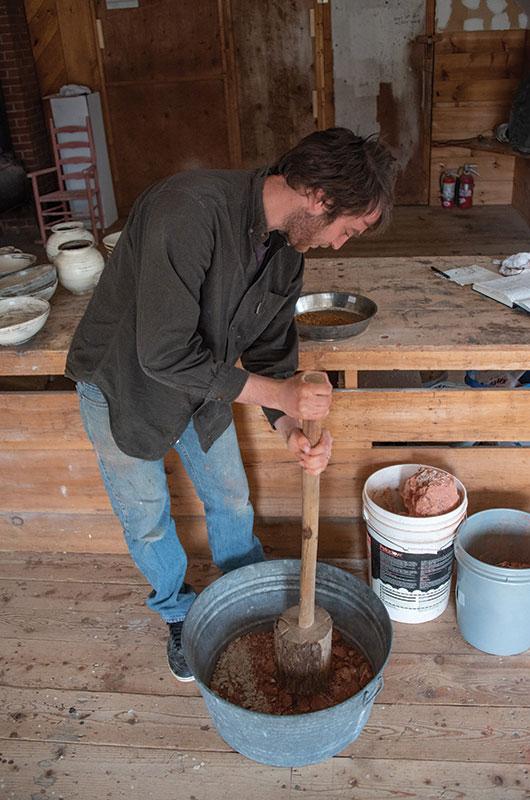 Paradise for a Potter
Micah Thanhauser
The year 2018 was a big one for Micah Thanhauser: He got married, moved back to the Vineyard, bought a house with his wife Emily and started both a business and a family.
A professional potter who studied at Brown University and the Rhode Island School of Design before apprenticing in North Carolina for the past few years, Micah knew he wanted a home ceramics shop. What he and Emily didn't expect was that they would find one.
"We thought we were going to buy a piece of land and build things slowly over time, a workshop and a little house," Micah said.
After all, he had already spent many years studying pottery, not only in college and art school but in a three-year apprenticeship with the Osaka-born clay artist Akira Satake. For her part, Emily was nearing the end of a four-year training in acupuncture. They were willing to put in the time it was going to take to find – or build – a home with a studio on Martha's Vineyard.
"Then this one came up, and we just kind of looked at it on a whim," Micah said.
Although it was priced somewhat higher than their house-buying budget, the home on Merry Farm Road in West Tisbury came with a spacious, wood-stove-heated workshop and was "just perfect." With Emily's share of the proceeds from her grandmother's Vineyard house, the Thanhausers were able to make the down payment.
The house and workshop were built in the 1980s by the versatile Frank Rapoza, a carpenter, shipwright and ship's caulker who worked on the restoration of the whaler Charles W. Morgan and helped build the Freedom schooner Amistad.
Frank, who also used his workshop to craft wampum mosaics, had no shortage of offers for the property when it went on the market last year. Only one, however, came from an artist who wanted to use the shop instead of converting it to more living space.
"He told us the reason he wanted to accept our offer was because we were going to maintain the workshop as a workshop," Micah said.
The transition from wood and wampum shop to ceramic studio didn't take much effort. Once Frank's tools and materials were moved out, there was plenty of room for the potter's wheel and firing kiln.
"Getting the kiln in is a big deal," Micah said. "This is my first small one, and I'm hoping within the year to build my bigger kiln."
Apart from that, all he's had to do so far is add some shelving near the wheel and name his business: Merry Farm Pottery.
The next project is to turn the front part of the workshop into a show room for Micah's nature-inspired dishware and vases, which got their Island preview last year: Before he and Emily tied the knot at Flat Point Farm in June, he hand-made, glazed and fired 150 clay cocktail cups for the wedding guests and helpers, as well as vases for the floral decorations.
Micah also makes mugs, bowls, plates, teapots and hand-carved candle holders using minimally processed clay from North Carolina that he fires without glaze, making each piece unique. When his larger kiln is up and running, he said, he expects to make some sculptural pieces as well.
The West Tisbury zoning board has already approved Merry Farm Pottery to invite the public by appointment seven days a week between 10 a.m. and 6 p.m., with special weekend events up to three times a year, Micah said.
"My plan is to have a couple of events a year when I really try and make a time out of it, with food and live music," he said.
Micah also plans to sell his work in this summer's Vineyard Artisans Festivals and Chilmark Flea Market, he said. He'd be glad to do more wedding favors, and to create dish lines for restaurants.
But first, he (and dog Rue) will be welcoming his wife into their home – to stay: Emily finishes her acupuncture program in North Carolina May 17, and the couple are expecting their first child, a boy, a few weeks later.
To make an appointment with Micah, see some of his work online and read his blog, visit merryfarmpottery.com.
Portrait of an Artist
Elizabeth Whelan
After seven years on Nashawena Island, where they worked as caretakers for the property owner, Elizabeth Whelan and her partner Bill Benns were ready for a home of their own. But unlike Micah and Emily, Elizabeth and Bill were intent on buying a place where she could start painting right away.
"I always had to have a studio on land," said Elizabeth, who met Bill when both were living aboard their sailboats.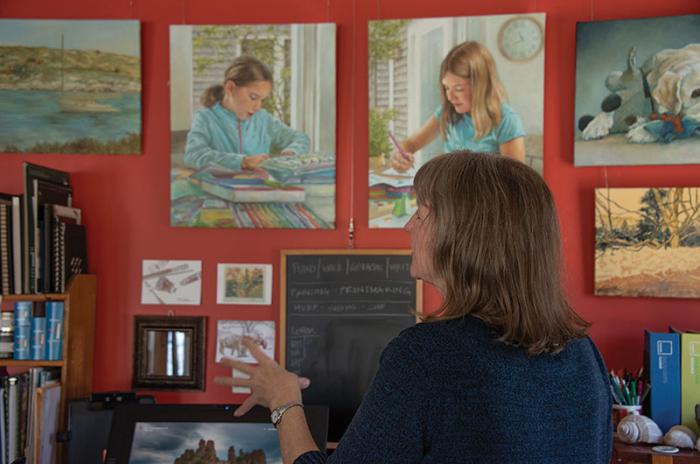 On Nashawena, she painted in a borrowed workshop so drafty, "the canvas would be vibrating from the northwest wind blowing in." Elizabeth wanted a real studio – one big enough to fit her "Cadillac of easels," a towering, counterweighted Hughes model 3000 that expands both vertically and horizontally to accommodate larger canvases.
Buying that easel "was a huge deal for me," said Elizabeth, a self-taught artist who began her career as a graphic designer and now paints portraits, landscapes, still lifes and marine subjects. "I waited until I had my first professional commission before I bought it."
Their real estate agent knew the easel needed its own room when she invited the couple to see a 1980s home in Chappaquiddick's Enos Lots neighborhood two winters ago. Like any serious Island home-hunters, Elizabeth and Bill got there as soon as they could, borrowing the Nashawena tender to make the trip.
"We came in a blizzard, in a lobster boat," Elizabeth recalled with a laugh. At first, she didn't see anything remarkable about the recently-renovated, 1980s home – although it did have an outbuilding where Bill could (and does) work on the wooden boats he crafts by hand.
But then, Elizabeth recalled, the agent said, "And this will be your studio," leading the way into a wide room with one wall of floor-to-ceiling glass and the rest painted a passionate red against a bright white ceiling.
That's all it took, as Elizabeth tells the tale. "The pictures online had not done it justice," she said. Two years later, she's barely changed a thing.
The room had begun its life as a two-car garage, which the previous owners had thoroughly converted into a living room with a finished wood floor, sliding glass doors to the yard, fresh paint, and a pellet stove for warmth. A wood cabinet discreetly encloses the house's mechanical equipment.
Elizabeth's easel now takes pride of place in the room, with paintbrushes arrayed in jars on a nearby table. (She stores her loaded palette in the freezer, to keep the pigments fresh.)
"The northwest light is pretty neutral until the end of the day," she said. At her back when she's painting, a mirror hangs on what had been the wall mount for the previous owners' flat-screen TV.
The mirror is not there to reflect more light, Elizabeth said. Instead, she uses it to change her perspective on a piece that she senses is flawed. Turning around and looking at the mirror image of the work allows her to pinpoint what's wrong.
Elizabeth also has a wall-mounted easel, one of the only fixtures she's added to the room itself. The other: picture rails along the tops of the walls, so she can hang portrait studies and other works in progress.
"It's my nature to work on a lot of things at once," she said. "I needed not to have paintings stashed on the floor."
A printmaking press on caster wheels stands near a broad drafting table with paper and pencils at hand, for when Elizabeth is making block prints or drawing instead of painting.
The wall facing the glass doors is lined with shelf cases holding everything from sketchbooks to still-life subjects: A vase, a car hood ornament, some shells. In between the cases are Elizabeth's desk and filing drawers. Everything is neatly stacked, sorted and displayed, as befits a former live-aboard sailor. A pet bed belongs to Yin, the couple's shy cat.
The vibrantly blushing wall paint may have been a bold choice on the part of the previous owners, but Elizabeth has embraced it. Not only does it remain her room color, but she uses one "sacrificial wall" as a vivid chalkboard for the framing notes she makes when planning a show of her work or getting ready for the recent reopening of Night Heron Gallery, where she is one of the member artists.
"It's wonderful to have a place to think visually," said Elizabeth, who is prepping for a June Art in the Stacks show at the Vineyard Haven library as well as a one-woman show at Featherstone Center for the Arts later in the year. She also teaches and works by commission.
"There's very little I don't like to paint," she said.
To see Elizabeth's artwork, learn about commissions and classes and read her blog, visit elizabeth-whelan.com.
Keys to the Cellar
Paul Marotta
D.I.Y. could be my partner Paul Marotta's middle name. Beginning in 1970s Cleveland, where he recorded with underground bands that still turn up on "pre-punk" playlists, Paul has built his own music studios out of whatever was available.
When we first moved in together, in California, he partitioned off a studio in the garage and spent many hours playing the keyboards. Sometimes other musicians would come by to jam: He had a complete drum set and P.A. system out there too. Our cat Frankie used to sleep on the cushion inside the bass drum.
Our first couple of years on the Vineyard were spent in apartments, but once my mother invited us to share the Edgartown house she'd bought in 1967 – my enduring childhood home – I knew he'd find a way to fit the studio in. The basement, large and seldom frequented, was the logical choice.
With her blessing, he picked a corner and began what to me was the Herculean task of reclaiming habitable space from a musty, cobwebbed cellar, made even more demanding because he had to go in and out through an outdoor bulkhead and steep concrete stairs and thread his way through a half-century's accumulation of basement stuff.
He framed wood panels and covered them with burlap to wall off the studio from the dusty jumble of the main basement, and built a raised wooden floor to keep feet and equipment above the chill of the concrete. Bright white waterproof paint now covers the old stone and brick of the foundation, and mellow illumination comes from an assortment of table lamps, standing lamps, high-lux therapy lights and decorative string lights.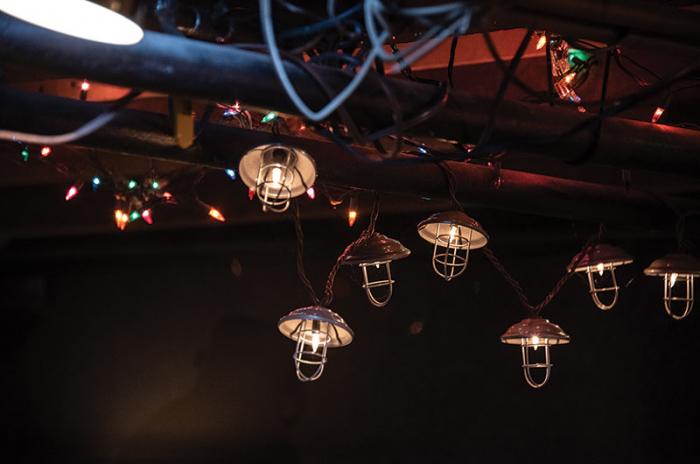 Paul's keyboards, guitars and laptop computer are the only equipment. The minimal set-up is more than enough for him to get new music ready for his next recording, though he said "it's no substitute for a professional studio."
While he did use some sound insulation board – "the studio builder's best friend," he called it – Paul has not soundproofed the studio, and that hasn't been a problem so far. He tends to work when Mom and I are out, and when we're home he turns down the volume.
It also helps that he plays the piano and writes melodically. If you want to hear what that sounds like, try YouTube for The Styrenes: One Fanzine Reader Writes or Paul Marotta: Ignore Alien Orders.