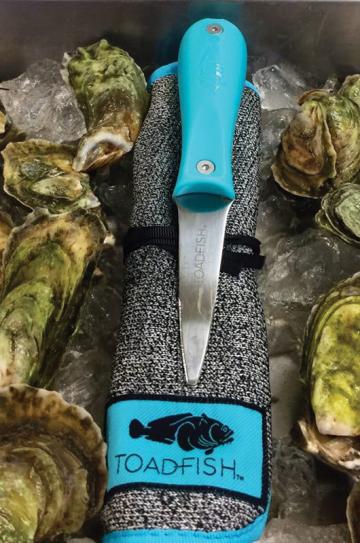 Right now it seems like warm weather may never arrive, but if history repeats, we'll soon be spending more time cooking and eating outside. Feeling hopeful, we paid a visit to LeRoux at Home in Vineyard Haven to check out new tools and fun equipment for summer grilling and entertaining.
Everything But the Pearl
Not surprising on the Vineyard, but one of LeRoux's bestsellers is the Toadfish Put 'Em Back Oyster Knife ($38). With an ergonomic no-slip grip, a handle made from recycled materials, a curved blade and pivot point that makes opening the oyster shell much easier, and a company commitment to replanting oyster beds with proceeds from every sale, the oyster knife is both user-friendly and earth-friendly.
Also popular is Toadfish's machine washable, anti-microbial Put 'Em Back Shucking Cloth ($18). Cut-proof and puncture resistant, the cloth is an improvement over bulky gloves and much more sanitary than an old dishtowel.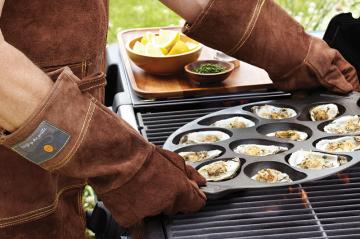 We were also excited to see this Cast Iron Oyster Grill Pan ($40) , made by Outset. (There's a scallop pan, too.). Great for making oysters Rockefeller on the grill or grilling any oysters without losing all the juice, the pan can also be chilled and used to serve oysters cold. Or put the pan into service as a baking dish and make drop biscuits or mini corn muffins.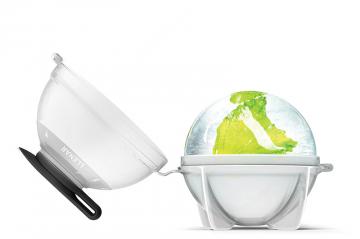 On the Rocks
Looks like we're guaranteed to have cold drinks this summer. If you like your Scotch (or anything) on the rocks, you'll want a Prepara Big Ice Ball ($3.99) to make an orb of ice that won't melt quickly and dilute your drink. You can also add herbs or fruit to the mold to make ice for tea or lemonade.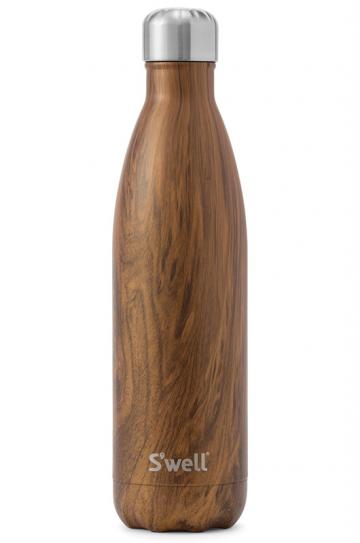 If you're a wine drinker, you'll want the 25-ounce bottle from S'well ($45) since it will hold an entire bottle of wine—and keep it cold for 24 hours. Perfect for a boat ride, outdoor concert or picnic hike. All S'well bottles feature triple-walled vacuum-insulated construction and will also keep hot liquids hot for up to 12 hours. They come in a variety of sizes, shapes and finishes. (This handsome one is called Teakwood.)
You'll want to bring along a pair of 18-ounce stainless steel stemless wine glasses from Endurance ($13 each) to keep the chill going.
Grilling 
Upgrades
LeRoux is stocked with a huge variety of grilling tools; but we saw some items that were especially smart upgrades to old ideas.
We're intrigued by these Nonstick mesh grilling bags ($12) made by Charcoal Companion. They look like they'll be a lot easier to handle than the cumbersome old wire baskets. Made of PTFE nonstick fabric which is heat-safe to 600 degrees, the bags come in a few different sizes and are dishwasher safe. They'd be great for cooking shrimp, small pieces of vegetables, garlic cloves, tomato halves and anything else that might fall through grill grates.
Charcoal Companion has also introduced the Safe Scrape ($16), a wooden grill grate scraper that is a much better option than the old wire bristle brush which left bristles behind. The edge of the hardwood scraper conforms to your grill grates over time and can be used to clean the grill while it is still warm.
And since we are huge fans of grilled pizza, we love this Emile Henry smooth pizza stone ($50). This heat-resistant, high-performance ceramic can tolerate heat up to 932 degrees and can go on your grill or in your oven. You could also use it to grill fish or vegetables or for bread baking. The handles should make it easier to transport. Comes in burgundy or charcoal colors.