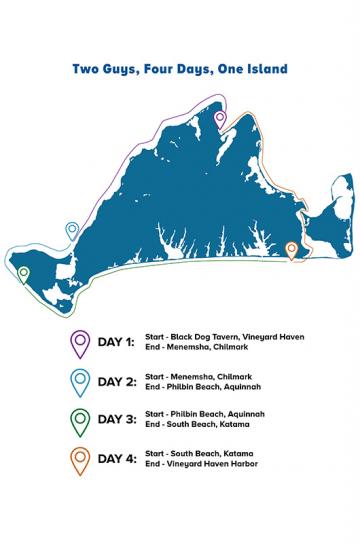 There are many unofficial badges of honor on the Vineyard: One goes to the first person to hear the pinkletinks or see snowdrops in the spring; another goes to those who find an arrowhead or a perfect piece of sea glass on the beach; yet another goes to the fearless few who take the New Year's Day ocean plunge.
Perhaps one of the most impressive feats though is completing a beach walk around the entire perimeter of the Island. Many have attempted it, but it seems all come away with a stronger connection to the Island they thought they knew.
Rob and Elisha's Big Adventure
Rob Myers and Elisha Wiesner made the trip all at once – a four day odyssey that included cooking fresh fish on the beach and very narrowly avoiding an arrest. It was August 1995. Rob was 22 and Elisha was 18, just graduated from the regional high school.
"I seem to remember that somebody was talking about getting a group of people together to do it," Elisha said. "And then everybody backed out."
Everybody except the two of them. They spent the day before the trip burying food and water at three different places: Makonikey, Lucy Vincent, and South Beach. Water and canned tuna were two stowed supplies that stayed in their memories. In the early morning the next day, they set out after breakfast at the Black Dog Tavern in Vineyard Haven and headed toward West Chop.
They hadn't planned how they would get across the first major obstacle of the journey: The deep cut at the opening of Lake Tashmoo. "We were like, 'it'll work itself out,'" Rob said. "And it did work itself out. There was just a guy in a canoe."
After they were conveniently ferried across, their luck held – at least at first. On day one, they walked from Vineyard Haven all the way to Menemsha, stopping for buried refreshments at Makonikey. Rob said the landscape was arresting on that side of the Island.
"The north shore just has so many twists and turns and you never know what's going to happen next," Rob said. "You keep going to the next bump in the beach and then you go around the turn and there's another little cove. And then there's one after the other, after the other."
After they made it to Menemsha, they ate out and slept in a construction site Rob had been working on that summer.
On day two, they went from Menemsha all the way around Aquinnah, but got waylaid when a generous fisherman gave them some of his catch early in the day. They stopped to cook it on the beach near Lobsterville before forging onward, somewhat behind schedule.
As the afternoon progressed into evening, they came upon a private beach. Elisha and Rob had encountered private beaches already, but they had simply explained their mission and were always allowed to pass.
"I can't emphasize enough how many people were like, 'Oh that's so cool!' They could tell we were doing something. We had backpacks. It was the very height of the summer," Rob said.
But now, at the border of Philbin Beach, they were stopped by a security officer on an ATV. They tried to explain their adventure as they had to everyone else, but the security officer was adamant: It was a private beach. No trespassing allowed. Elisha and Rob went back over the border to Philbin, where some friends and onlookers had witnessed the exchange. One man in the group identified himself as an attorney.
"He was egging us on to like stand up for our rights of fishing, fowling and navigating," Rob said. Equipped with borrowed fishing poles, they decided to try again, but the security guy said no dice.
Rob and Elisha weren't ready to give up.
"So now picture a comical second or third approach," Rob said laughing. "This time, I think we waited all the way until it became low-tide and then waded into the water like up to our knees. We had these broken fishing poles," he recalled. "The guy was like, 'Nope.'"
They weren't ready to give up yet, though. They approached the border again.
"Then the police were there," Rob said.
As they realized the situation could land them in jail, they thought better of this plan.
"The lawyer was like, 'You should do it. Get arrested. I will come represent you in court,'" Rob said.
But they admitted defeat. Somehow, they got in touch with their girlfriends for a ride home.
"It just seemed not worth it to push the issue any further," Elisha said.
They slept indoors that night. The next day, they got a ride to the other side of the private beach to continue the journey. Day three took them from there to their campsite on the beach near Katama.
"I remember on the south shore specifically, basically all the way from Lucy Vincent almost to Edgartown, I'd really never spent any time on that beach over there," said Elisha, who grew up on the Island. "So that was really interesting for me.
Then, their final day took them through the down-Island towns, skipping Chappaquiddick. In Edgartown and Oak Bluffs, they walked straight through downtown where the beaches gave way to harbors.
"I remember we stopped at Our Market and got some beer," Elisha said.
Even 24 years later, the details of the trip stick with them.
"It was definitely a really good way to spend four days," Elisha said.
Taking the Walk in Smaller Bites
For those who aren't up to taking the trip in one go, there are other options. Julius Lowe and friends did the trip in two parts: one in 2010 and the other in 2011. Each trip was two days, and they slept on the beach at night.
One trip took the group from Makonikey to Philbin Beach. The other took them from Norton Point beach to Squibnocket.
"Out on the beach you feel like you're away even if you're not that far away from things," Julius said.
Nancy Weaver completed the feat over the course of four years with her friend Patrick, who was 10 when they began. Nancy estimated they did it in about 40 trips, highlighting their progress on a shared Island map.
"We had hiked around Lagoon Pond, and then we got the idea maybe we'd hike the whole Island," Nancy said.
They took the bus home or arranged rides when they got tired. The approach meant they could complete parts of the walk at all times of the year. They found a mammalian fossil on the beach in the winter.
"There aren't many beachcombers at the south shore in February," Nancy said.
Or Try the Cross-Island Hike
And for those in search of another very long walk that doesn't involve hours and hours of trekking across sloped sand, there is the annual cross-Island hike (this year, June 1), organized by the Martha's Vineyard Land Bank. The route changes every year, but always showcases some of the most beautiful Island trails. Last year, more than 100 people participated. The 2019 route is 16.2 miles and starts at Blackwater Pond Reservation and ends at Big Bridge at State Beach, Edgartown. Many hikers elect to walk only a portion of the route.
It may seem daunting, but Nancy has some advice for anyone who wants to make a very long trip on foot:
"Just start."
Editor's Note: Be aware that not all Vineyard beaches are public and plan accordingly.