Since the biennial Martha's Vineyard Book Festival was founded in 2005, its scope and reputation have grown to feature nationally acclaimed authors – and some of the hottest book releases of the year. But despite the wide net it casts, the festival always seems to catch more than a few Vineyard lovers for its star lineup. The 2019 roster is no different, with many authors connected to the Island in some way.* Some live here seasonally, some visit every summer, some lived here once, some live here year-round. Knowing this, we were curious: Do they get inspiration from this place? Where are their favorite spots on the Island? And what does participating in the Martha's Vineyard Book Festival mean to them?
We reached out to three of them to answer our questions. Fans of Pulitzer Prize-winning novelist Richard Russo will be happy to learn that his newest book, Chances Are… (Knopf, July 2019), takes place right here on the Vineyard. And you could probably guess that the Island is at the heart of beloved fisherwoman Janet Messineo's first book, Casting Into the Light: Tales of a Fishing Life (Pantheon, July 2019). And Mark Leibovich, the chief national correspondent for The New York Times Magazine and author of Big Game: The NFL in Dangerous Times (Penguin Press, 2018), has been coming to the Vineyard in August since he was seven years old (though thankfully his new book does not have a Vineyard history, NFL fans notwithstanding).
After hearing from these authors, you may be curious about the rest. The complete list of authors and their new books is listed below, and you can look forward to a robust preview of the 2019 festival in the Vineyard Gazette's special supplement, published just before the event. (The Vineyard Gazette is the media sponsor for the festival.) This year, the free festival runs August 3 and 4 at the Chilmark Community Center.
In the meantime, the festival website is updated regularly, and of course you might want to get a hold of some of the books now so that you can read them before meeting the authors. Bunch of Grapes bookstore in Vineyard Haven is a long-time partner of the book festival and will have all books available as they are published.
---
*Book festival authors with a Vineyard connection include Victoria Riskin (Fay Wray and Robert Riskin: A Hollywood Memoir); Tony Horwitz (Spying on the South); Richard Russo (Chances Are...); Dana, Tracy, Corky and Lori Pollan (Mostly Plants); Nicole (N.D.) Galland (On the Same Page); Mark Leibovich (Big Game); Lisa Taddeo (Three Women); Janet Messineo (Casting Into the Light); Emily Bernard (Black is the Body); Buck Goldstein (with Holden Thorp, Our Higher Calling); Mary Norris (Greek to Me).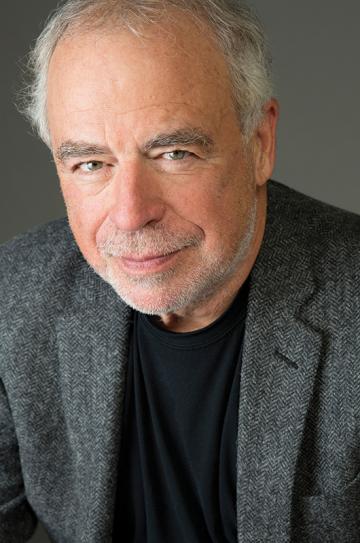 ---
Richard Russo
Richard Russo is the Pulitzer Prize–winning author of Empire Falls, a 2001 novel in which Martha's Vineyard plays a role. He's written many other works of fiction, essays, screenplays and a memoir. Russo's new novel, Chances Are…, is set on the Vineyard and comes out July 30 from Knopf, just before Russo appears at the book festival in August.
What do you remember about your first trip to Martha's Vineyard?
My mother took me to the Island when I was around ten and we were staying out at an inn (Menemsha Inn).
I didn't know what an island was. I thought if everyone went to one side of it, it would tip up. You can see on the map, they're just sitting there like lilypads.
I don't think my mother had any idea where we were going. She seemed to think we would be able to go wherever we wanted to go and do whatever we wanted to do, so I think the week was a little disappointing for her.
I, on the other hand – I loved it. It was a magical place when I was ten and that's the magic that stays, isn't it? The magic from when you're susceptible to magic is the magic that stays.
Why did she take you to the Vineyard?
Where I came from, and where my mother came from, was an upstate New York grungy mill town. I think she wanted me to see there were beautiful places in the world. I think it was her eyes I was seeing through – her desire for me to see something magical and beautiful – and I tend to still see things through those eyes.
There's an aura about the place for me that goes back and I'm sure it has something to do with that first visit. Even things on the Vineyard that are a complete pain in the ass, like the ferry — there's something magical about getting on a ferry still.
When did you begin visiting the Island regularly?
I didn't get a chance to go back until Barbara and I were married. I had never forgotten the place. I don't think we have missed more than one or two summers since our daughters were born. We've got grandchildren now that have been, and I'm sure will continue to go.
What's your chosen Vineyard destination—one of the towns, or up-Island where so many other Pulitzer winners hang out?
(Laughs) It's funny to think of the Vineyard as having so many Pulitzer winners. We rented in Vineyard Haven one year when the kids were little, then we started going out to Katama before the Mattakesett condos were built. We rented a little bitty cottage.
Katama is pretty convenient for us. It seems to have a lot of what we want. We wait for all the politicos and frat boys to go home, then we come in September. For a number of years we were empty-nesters and just the two of us would go. But our daughters, to our surprise, just came home with their husbands and we're all in Portland, Maine, now. Emily is the mother of our two grandchildren and owns a book store, Kate is a painter and writer.
Will the whole family be joining you in August for the book festival?
Probably not. We do like to get back to the Island as much as we can, but Emily won't be able to get away from the store and Kate is in the process of selling her first novel.
How do you spend your September vacation on the Vineyard?
Strangely enough – because I can do it anywhere – what my wife and I love about being on the Island is the number of books we read. Right around now, we'll start a couple of baskets of books.
We don't read a lot for credit or obligation. We tend to read books by writers we love. If there's a new book by Kate Atkinson – and there is – that will be one of the books that will go into my basket. I'm not going to read it now, because I know I'm going to love it.
We try to make it so we don't have a lot of other obligations and we plow though a lot of books while we are there. Barbara is a more voracious reader than I am. Since we're usually there about three weeks and we read on the beach, she probably takes twenty books and reads a dozen. She'll read one every other day.
I will write in the morning and spend the afternoon reading and soaking up what's left of the September sun.
For those who haven't read Empire Falls, what's the Vineyard connection?
The protagonist, Miles Robey – like his creator – went to the Island as a boy. Now he's kind of hitched to the sled in the town where he's living. His wife is divorcing him. He takes daughter Tick to the Island and they go to a bookstore. He's going to buy this used bookstore in his imagination. I pictured it as Book Den East.
You're also an advisor for the Martha's Vineyard Book Festival. Does having a daughter with a bookstore help you in this regard?
I consult with my daughter, and for the last decade or so I have been active in promoting young and emerging writers. We always have our ear to the tracks for good writers with books coming out. It's a kick for me. I love discovering new writers and spreading the news.
---
Janet Messineo
Surfcasting is the story of Janet Messineo's life. "I never thought about fishing from a boat," she writes in her memoir Casting Into the Light: Tales of a Fishing Life, to be published by Pantheon July 2. Messineo arrived on Martha's Vineyard in the days of the big striped bass, settling here in 1966 and working in restaurants while she pursued her passion for fishing from the shore. Her love of fish and fishing also led Messineo first into the art of taxidermy, which allowed her to leave restaurant work and become a surfcasting guide, and then into the craft of writing.
How did you become a writer?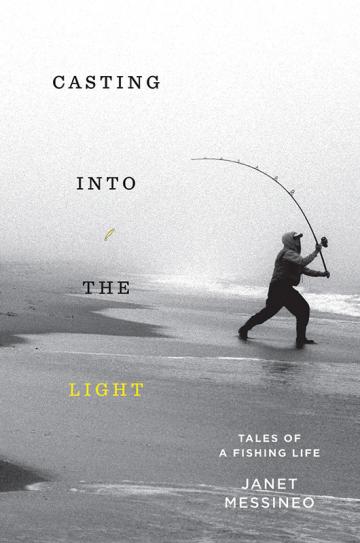 About thirty years ago, I had just become a taxidermist and a magazine out of Boston called New England Outdoors asked if I would write a taxidermy column. I did that for about six months and they went out of business. Then On the Water magazine came to me, and I said, "I'm really not a writer, but I'll give it a stab."
Then I was asked to join Cynthia Riggs' writing group. I had done some work for Martha's Vineyard Magazine and Edible Vineyard. The base of my book became some of my old articles that I had written.
What did it take to get a publishing contract for your book?
In lieu of self-publishing, I wanted to find a publisher, so I was sending it around. Someone knew a senior editor and vice-president at Knopf, Victoria Wilson. She read the first few chapters and now here I am, an author! She already had a love of the Vineyard. And she was one of the first women to be working at Knopf, so I think it rang a bell with her also. I was a woman in a man's world and I stuck to it.
Female fishing authors are rare, aren't they? I can only think of Linda Greenlaw.
Actually, the first sports fishing book ever written, in 1496, is by a woman, a nun, Dame Juliana Berners. It's called The Treatyse of Fysshynge Wyth an Angle. I have a copy. It's not an original!
Did you have to change your book much before it was ready to publish?
Once I signed the contract with the publisher I spent last winter putting more in, more detail, more detail. I was definitely guided. I had been writing for people who knew what it means to "snag some bunker." I had to learn how to explain what I'm doing to people who have never fished before. I had to learn how to describe West Chop, history…how do you do that without getting out of the story? I've learned so much from writing my book.
Are you looking forward to the book festival?
I'm a virgin author. I have no idea what I'm doing. I've never even done book signings before, and to be invited to the festival – that's an honor. I've been speaking to fishing clubs for quite a few years, but that's been on fishing.
I understand that the Martha's Vineyard Museum has purchased one each of every fish you've ever preserved. Does that mean you're retired from taxidermy?
They actually purchased my collection; that's so exciting to me. As the species decline, it will be so nice for people to see these fish first hand. I'm basically retired, I'm not taking any new taxidermy work. It's a chance to finish some things I've started. I want to create what I call the art of taxidermy. I specialize in skin mounts and reproductions.
What's the biggest fish you've ever mounted?
My biggest so far have been two forty-five-pounders. But of all those big trophy fish that I did, the most exciting for me is the kids' first fish.
Are you still working as a surfcasting guide?
I retired from that last year. I'm 71 and I can do it, but I really suffer with leg cramps afterwards, from going back and forth between people on the beach.
Is it okay to ask about your favorite fishing spots?
I have some secret spots. I was out at Quansoo yesterday. I call that Heaven. But my favorite spot is wherever my feet are.
---
Mark Leibovich
Mark Leibovich is the Washington, D.C. – based chief national correspondent for The New York Times Magazine. He got his start in journalism with the Boston Phoenix and went on to work for the San Jose Mercury News and the Washington Post before joining the Times.
Leibovich's books include The New Imperialists (2002), This Town: Two Parties and a Funeral – Plus, Plenty of Valet Parking! – in America's Gilded Capital (2013) and Citizens of the Green Room: Profiles in Courage and Self-Delusion (2014). His latest, Big Game: The NFL in Dangerous Times (Penguin, 2018) comes out in paperback August 27.
What do you remember about your first trip to Martha's Vineyard?
I grew up around Boston and we went for the first time when I was maybe seven years old, around that. There was some event on the Island that they dragged me to. I remember the ferry and eating Drake's Cakes for the first time. That was my first taste of coffee cake.
And now that you have a family with kids of your own, what is your Island connection?
I do love the place. What's not to love, right? Except for getting there and getting back. But we make a day of it. We've been going for a long time. We try to go for a week or two at the beginning of August, which often coincides with the festival. My mother sometimes goes.
One thing I'd love to do is to go some time off-season.
Where and how do you like to spend your time here?
We usually stay in Aquinnah. I try to bike as much as I can. I swim a fair amount every day. I read. This is a completely unexciting version of what people do on the Vineyard! I like to run, I like to walk. I used to do the 5K.
What are your summer touchstones on the Vineyard?
Night swims, early morning swims. Menemsha, Larsen's, the Galley. Alley's. And I have a friend, a lawyer in D.C., who has a house in West Tisbury and we always meet for breakfast at the airport café (Plane View). Love that place! That's become a summer thing too. The farmers' market. We go to Oak Bluffs once a summer. We like the Bunch of Grapes. Shout out for the bookstore!
Do you have any friends who live here year-round?
Shelagh Hackett. We've known each other since we were kids. She's a total genius. I love her to death.
For your latest book, you spent years following the National Football League and spent a significant amount of time with men like Roger Goodell, Robert Kraft and Tom Brady. What's the quarterback like in person?
I found him, within the context of how incredibly ridiculous his level of success is, to be relatively normal and down to earth. He's loved and loathed – it's kind of like a Rorschach test for who you root for – but I wound up liking him more than other people I met around the league, like Kraft and Goodell. I really did enjoy spending time with him. I'm actually friends with his father now.
Are you fielding more questions about Robert Kraft since his arrest in the prostitution and sex trafficking case?
I get a lot of that. Everyone asks if I orchestrated the whole thing to try and goose sales. When something like this happens, you get a new round of free publicity around it.
I don't have any great insight into what he was thinking. There's a fair amount in the book around him, but it's not that fun a story, I think.
Are you working on another book?
No. I love not writing a book. Being done with a book is by far the best part of writing a book. Embrace the doneness!
The 2019 
Martha's Vineyard 
Book Festival Authors
For more information, visit mvbookfestival.com.
Jim Acosta, The Enemy of the People
Nana Kwame Adjei-Brenyah, Friday Black
Mindy Aloff, Dance in America
Emily Bernard, Black is the Body
David Blight, Frederick Douglass
Tina Cassidy, Mr. President, How Long Must We Wait?
Nicole (N.D.) Galland, On the Same Page
Richard Gergel, Unexampled Courage
Juliet Grames, The Seven or Eight Deaths of Stella Fortuna
John Grisham, The Reckoning
Tony Horwitz, Spying on the South
Valerie Jarrett, Finding My Voice
Eric Klinenberg, Palaces For The People
Mark Leibovich, Big Game
Valeria Luiselli, Lost Children Archive
Stephen McCauley, My Ex-Life
Adm. William McRaven, Sea Stories
Suketu Mehta, This Land is Our Land: An Immigrant's Manifesto
Janet Messineo, Casting Into the Light
Mary Norris, Greek to Me
Sigrid Nunez, The Friend
Kwame Onwuachi, Notes From a Young Black Chef
Tracy, Dana, Lori & Corky Pollan, Mostly Plants
Ruth Reichl, Save Me the Plums
Victoria Riskin, Fay Wray and Robert Riskin: A Hollywood Memoir
Richard Russo, Chances Are
Dani Shapiro, Inheritance
Gary Shteyngart, Lake Success
Lisa Taddeo, Three Women
Holden Thorp & Buck Goldstein, Our Higher Calling