Ben and Bill's Chocolate Emporium is a family business, but neither Ben nor Bill is involved. A different kind of family runs this Circuit avenue mainstay. Dona Kruszewski and Jeannette Michaud — friends, not sisters — are co-owners and leaders of an intergenerational and international staff. Summer kids, Islanders and Jamaicans reunite every season to make the award-winning ice cream and handmade chocolates that draw sweet lovers off the street every hot summer night.
In 1998, Dona was working at a bakery in Boston when her mom called from Falmouth to let her know about a job opening at the Ben and Bill's store in town. Jeannette was the manager who interviewed and then hired Dona. The two got along so well that they moved to Martha's Vineyard to run the Oak Bluffs location. Dona became the manager in 2001.
In 2004, Dona and Jeannette bought the store from Ben and Bill Coggins, though by then it was too late to change the shop name. (The original Ben and Bill's is now headquartered in Bar Harbor, Maine, but retains a Falmouth location. Ironically, the business first started in Vineyard Haven in 1956 with the handmade candies Paul and Mary Trahan, Ben and Bill's uncle and aunt, sold first at Ben Franklin's Store and later at their own Trahan's Candies.)
Over time, Dona and Jeannette built the heart of the shop — the staff. "When I first got here, I had a great crew of kids who were all in the ninth grade," Dona remembers. I told them, 'If you have any friends who need a job, bring them in.' And they did, and they all just stayed, coming back for summers all through high school and college. So I had this great group for seven or eight years straight."
Dona introduced the teenagers to the staff members who came from off-Island.
Kenton Hunter, who's now been the head ice cream maker for 19 years, arrived at Ben and Bill's a year before Dona. "He's been here longer than I have, and he teaches me. He comes up with these amazing flavor combinations, like this ginger-pineapple," Dona says.
Kenton originally came to the Island on a temporary visa from Jamaica, working two summer jobs. His work at the Chocolate Emporium was so impressive that Ben and Bill's sponsored his full-time visa.
These days, Kenton makes between 50 and 60 buckets of ice cream a day during the summertime. Each bucket is about two and a half gallons.
Rosalyn Welch has made chocolate and ice cream cakes for 10 years at Ben and Bill's. Before that Rosalyn, or Rose as her friends call her, attended a catering institute in Jamaica.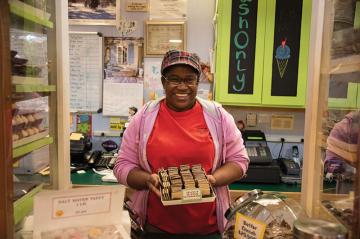 Rose's ice cream cake process is a meticulous one, as it involves freezing each layer in an exceptionally cold freezer called a blast freezer. "I make the first layer — which will actually be the top when you flip it over — and blast it. Then I put in the fresh hot fudge and put on the second layer. And blast it again and do all the decorations. The blast freezer is at –40 degrees," Rose explains.
Rose's phone is filled with photos of her masterpieces, from "Happy Half Birthday" to "Congrats on Retirement!"
Rose makes candy as well. The best-selling buttercrunch toffee is a favorite. "This takes two people to make, so Dona and I do it together. We spread it out on the table. Then we put on the dark chocolate, then the almonds, then we flip it over again. It's addictive." Rivers of dark and milk chocolate simmer in kettles throughout the shop. "I know a chocolate is good when it is shiny and snappy. That's what we look for," says Rose.
Ben and Bill's Chocolate Emporium makes all of its chocolate candy in-store, and sells it alongside a curated selection of classic candies shipped in from off-Island. The chocolate is Dona's pride and joy. "We deliver chocolates all over the Island. We'll get a call saying, 'It's my mom and dad's anniversary, can you put a box together?'" she says. Ben and Bill's recently started accepting mail orders via their website, benandbillsmv.com, and they ship across the country.
Dona, Rose and Kenton work as a unit, creating flavors, executing old favorites and training the next generation of sweet stewards. Rose's three children came to the Island last year from Jamaica, and two of them are already working at Ben and Bill's.
For Dona, that isn't a surprise. "I see all the kids that work here as my kids, and my regulars – well, they're a part of that too."
---
Time to Make the Ice Cream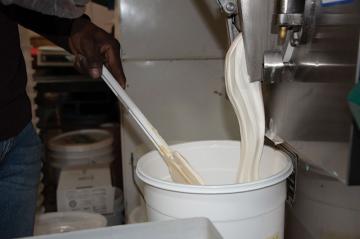 Ben and Bill's makes all of their ice cream on site, starting with a dairy base they purchase from Cape Dairy in Hyannis. Dona calls this a "butter base" which they use as a foundation for the second base of coffee, chocolate or vanilla, which they make onsite. After the bases are combined in the machine, individual flavor components are added. For the sea salt caramel, they swirl caramel sauce into the base. But not just any caramel; they make their own and hand-salt the chunks after they make it.
This attention to handmade details is uncommon, Dona notes.
Another uncommon feature? Ice cream ingredients like lobster.
"Our lobster ice cream is a huge draw. We have our butter base; then we cover cooked lobster meat in more butter, and mix it in. The richness really comes through.
Top Selling Flavors at Island Ice Cream Shops
Bernie's Home Made Ice Cream, Vineyard Haven
Chocolate Peanut Butter
Cookie Monster
Great White
Mad Martha's, Edgartown
Mint Chip
Reese's
Black Raspberry
Ice Cream and Candy Bazaar, Edgartown
Death By Chocolate
Phantom Berry
Sea Salt Caramel
Ben and Bill's Chocolate Emporium, Oak Bluffs
Vanilla
Oreo
Chocolate