Farming took Lydia Fischer by surprise. The plucky Vineyard native left the Island at 18 to pursue a career in music. After four years at the Berklee College of Music in Boston and another four in New York city, she found herself without work in August of 2016.
She thought she'd have more luck finding a job in the city come fall, so she figured she'd spend a month or so back on the Island, maybe find work on a farm.
"I kind of just applied to Morning Glory on a whim after failing to land a part-time job in my Brooklyn neighborhood," she recalled. Three years later, she has farmed on three different plots, collaborated with multiple growers and makers, and started her own farm on the Island. It's called The Garden Farm, and it's been both a return to her roots and a new adventure more exhilarating than anything she found in New York.
"I didn't realize that I loved working outside. That I liked getting up earlier than I was doing in New York," she said on a recent morning while sitting on the front porch of her rented summer shack in West Tisbury. "I was a few days into work at Morning Glory and kind of just had this life epiphany that I knew that I have a community here that supports me."
Indeed, still in its beginnings, The Garden Farm has found countless Island allies: Summer resident Tom Wise stops by a few days a week to help with the weeding. Morning Glory Farm's Dalila Bennett planted flowers on the plot. Tom Hodgson of West Tisbury has offered garden space and advice. Molly Stevens helps out at the West Tisbury Farmers' Market. Ross Lamkin, the baker at 7a, saves eggshells to be ground up for Lydia's tomato plants. Two branches of the Fischer family have thrown their support behind the project. The list, like The Garden Farm itself, continues to grow.
Though she hadn't considered being a farmer before, farming is something that Lydia grew up with. She was raised in Aquinnah, and her grandparents, Rena and Albert (Ozzie) Fischer, Jr. lived at Beetlebung Farm in Chilmark. She said it was always in the background of her childhood.
"My parents had a home-cooked meal on the table every night, and in the summer months it was always something that came from the garden or something that somebody we knew personally had caught," she said. She remembered going to camp at the Chilmark Community Center and then sharing lunch with farm workers and jumping in the pool at Beetlebung Farm.
"I remember being really, really little and when the asparagus would go to flower, there would be these towering bushes that would make these little arches that my sister and I would crawl through," Lydia said.
Returning to the Island, Morning Glory Farm became an anchor for her. She still spends three nights a week there making jam.
"I haven't really left Morning Glory," she said.
In the summer of 2017, she split her time between Morning Glory Farm and Beetlebung Farm, collaborating with her brother, Chris Fischer. In the summer of 2018, she took over Beetlebung Farm herself. It would be the last summer the Fischers farmed on the land they had owned for generations. The family took out a reverse mortgage on the property to pay for the constant care of her grandmother, who died at home at the age of 103 in August of 2018. The farm was sold in December of that year.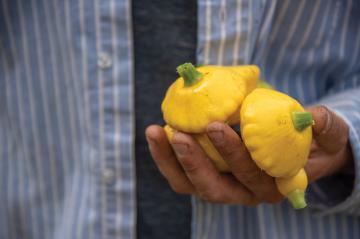 Lydia said farming there, she felt her family's legacy on the land.
"It was so fun, and it was so magical," she said. "I started harvesting my vegetables right onto my grandmother's kitchen table, and I think that's how she would have wanted to see it used, in light of it all. Also walking out the back door, and the pool's in disarray, but you can kind of see the ghosts of people in the backyard. You can hear Poppy laughing, and all the sweets and napkin containers on the table like they used to be. I'd take time to stop and remember things," she said.
When it became clear the farm would be sold, Lydia considered her options for this summer, looking into the possibility of renting land or managing someone else's farm. It was at the fall farmers' market that her cousin Emily Fischer asked if she might be interested in farming at that branch of the family's Flat Point Farm in West Tisbury.
The farm is located on a finger of land extending into Tisbury Great Pond and has been in that branch of the Fischer family since 1939. There, in March, The Garden Farm was born.
On a recent Sunday morning, Lydia walked up and down the rows of squash, romanesco, broccoli rabe, sugar snap peas, shelling peas, tomatillos, mexican sour gherkin cucumbers, heatless habanero peppers, leeks, sunflowers, dahlias, fennel, eggplant, onions, cosmos and 271 tomato plants ("Because 270 just wasn't enough.") She tasted as she went. Her beat-up white pick-up truck was parked by the quarter-acre plot, surrounded by whispering oak trees and her cousins' homes.
A scarecrow with a painted face stood watch, wearing an orange bandana and a flannel shirt.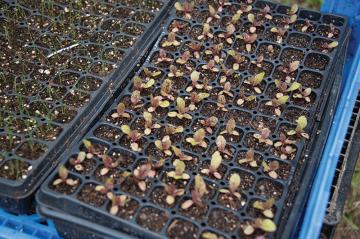 "My mom and dad snuck it onto the farm. My dad said he found it on the side of the road, but that's just his sense ofhumor," she said. Last spring, a devastating fire consumed the barn at Flat Point Farm, claiming the lives of 90 animals. Lydia said she was happy to be part of something generative on the land.
"It was really sad," Lydia said of the fire. "It was all a part of our childhoods. My dad remembers playing there."
That farming is her joy is obvious when she is among the plants. She greets her tomatoes: "Hey girls." She playfully pushes a family goat away from the fence where he has stuck his head in to graze and then immediately pulls him back toward her to extract two dog ticks from his chin. She waves as a cousin drives by. She bounces from task to task, headphones in, clearly in a flow.
There have been challenges: irrigation supplies still haven't arrived, a pea variety hasn't been as tasty as she hoped, but she said the challenges, the constant learning, are what keep it interesting. She also has a resource ingrained in her since before she can remember.
"I learned by observing and maybe not even intentionally observing. I learned from living and growing up here. That's it, really."
Holly Pretsky is a reporter for the Vineyard Gazette.