Working from home is nothing new for Genainna Pereira and her husband, Dhionys Sampaio, who run hers-and-his businesses – hers is Shine Bright Martha's Vineyard Cleaning Services, his is Shine Bright Painting – out of a shared office in their Edgartown house.
"I normally dispatch all the workers from home," Genainna said during a late March telephone conversation that ranged from her early years on the Vineyard and overseas duty with the Marines to expert tips on keeping houses clean.
Both of the couple's Shine Bright businesses won Best of the Vineyard awards in 2019, but the two have very different histories. The cleaning business was originally founded in 1995 by Genainna's mother, Joanna, who taught her to clean houses professionally.
"I used to help her during the summer," said Genainna, who graduated from the Martha's Vineyard Regional High School in 2000 before joining the Marines for eight years of duty in Japan. Returning to the Vineyard in 2012, she took over from her mother the following year and rebranded the company, which now employs up to 20 people in the high season.
Marine discipline and training taught Genainna lessons that have helped her as a businesswoman, she said.
"Once you start something, you have to finish," she said.
Dhionys' Shine Bright Painting is only two years old as an enterprise, but he has more than two decades' worth of professional house painting under his belt.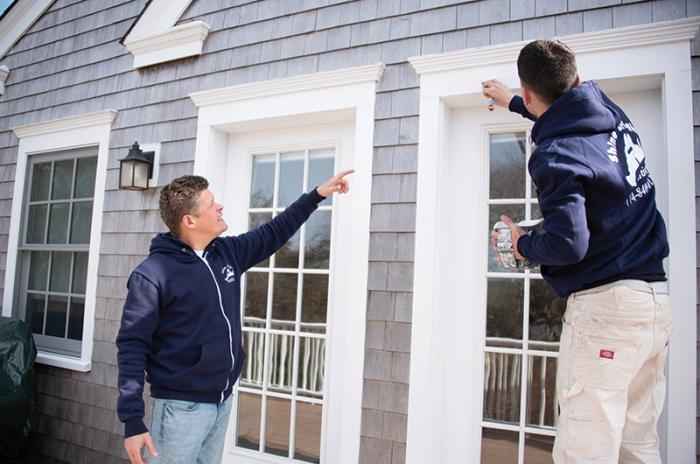 He began during his years at the regional high school and soon discovered an affinity for the work.
"I started liking painting," he said. "It's peaceful."
When Dhionys made his debut as a business owner, Genainna helped pave his way by connecting him with her long-established clientele.
"I actually emailed all my clients and introduced him," she said. Now, the referrals go both ways.
"Every time I see a new client, I ask them if they need painting, and every time he goes to see a painting client, he gives them my card," Genainna said. "He's so good at telling them."
In the high season, Dhionys employs a crew of eight, several of whom work for him year-round. They're adept in the high-quality painting work his clientele requires, he said.
"I have skilled workers, and they have been trained by me," he said. "These guys have been working for me for five to seven years."
High-end Martha's Vineyard homes require high-end paint, and Dhionys sticks to Benjamin Moore, which makes an exterior latex paint preferred by many Island contractors.
"It really stands out, as far as the quality," he said. "Their product actually lasts longer – especially here, where we have the salt everywhere."
While Dhionys's crew can handle the largest captain's house or sprawling mansion, he's also glad to tackle smaller dwellings.
"Nothing is too small or too big for us," he said. "We'll paint 15,000-square-foot houses to 800-square-foot apartments."
House painting and cleaning are two jobs that always need doing, so Dhionys and Genainna – whose paths originally crossed in high school – have taken the recent work shutdowns in stride.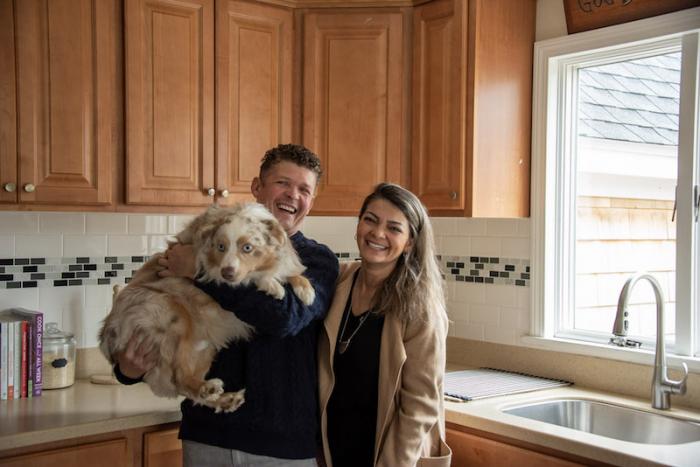 Dhionys has been taking advantage of the time to get some painting and carpentry work done around the recently-married couple's home, which they share with his teenage son and 11-year-old daughter and Genainna's two daughters, 11 and 12. Cleaning gutters and washing windows are also in the plans for down-time.
Although house cleaning visits were put on hold until early May, Genainna's company has been permitted to continue working for its commercial customers, which include all the town post offices. That's still allowed time for her to get some spring-cleaning tasks done at home with her girls.
"We're going through their closets," she said.
Genainna has also been taking online classes on the latest cleaning practices to combat infection and is rewriting the training manual for her employees.
"I don't have my phone ringing all day long," she said, but she is booking summer clients, as is her husband.
For those who must tackle their own spring cleaning, Genainna has a few tips.
"Pick one room at a time, and go through everything one at a time," she said.
"The way I teach my cleaners is to go top to bottom, left to right, and rotate to make sure you didn't miss anything."
Genainna uses a steam cleaner in her own home, and advises to clean well before applying any disinfectants.
"Just a regular clean with water and soap, and then disinfectant," she said. "Otherwise, if you spray disinfectant you're just building up germs."
Another pro tip for disinfectant use: "Make sure that you read the instructions!" Genainna advised.
Louisa Hufstader is a reporter for the Vineyard Gazette.