It was early in the pandemic, not long after we started working from home, when I ran across some origami paper and almost absent-mindedly started to fold a little box I remembered making years ago. Seven weeks and at least four mail orders later, I'm running out of places to put all the things – mostly star-shaped – I've made from colorful, square pieces of paper.
Eight-pointed stars, more than a foot from point to point, line the stairway wall. More stars, in smaller sizes, dangle from the landing rail upstairs, from the edge of the upper bunk in an empty bedroom and even from the larger houseplants.
The littlest stars of all are less than a half-inch across. I fold them from strips of paper during Zoom meetings, then string them onto rainbow-colored thread to make garlands that hang like a bead curtain across a shelving unit displaying – what else? – more origami.
One of the things I like about origami is the achievability of the goal. As long as I follow the directions and don't try anything too avant-garde, like one of the fiendishly complex models developed by mathematicians, the result is pleasing.
The most mathematical model I've made so far is the stellated icosahedron, a spiky ball assembled from 30 identically-folded paper squares. But I'm not beyond whipping up a simple paper box or boat, like the little green sampan currently holding pens on my desk. And I'm working my way up to attempting a T. rex.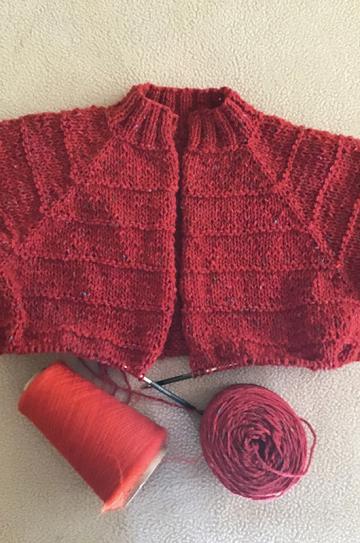 Whatever is driving this desire to make appealing things with my hands, I'm not alone in feeling it. Even the long-established Island crafters I spoke with this month have been working with extra zeal since coronavirus came to town.
"As I've gotten older, I've decided that I do not want to leave unfinished projects around for my daughter to have to deal with," said knitter Barbara Almquist. A regular winner of Agricultural Fair ribbons for her needlework, Barbara recently resumed work on a Norwegian-style sweater she started around 1970 and abandoned a couple of years later. "I had all of the yarn packed away carefully in a cedar chest," she said. That cedar chest holds just part of her extensive collection of knitting yarn and supplies. Called a stash by most crafters, it can sometimes get out of hand because nearly every project has leftover wool or fabric. But these stockpiles of fiber and tools are coming in handy during the shutdown.
"A lot of people are finishing unfinished objects, because even if you can go shopping online, you still don't necessarily want to go to the post office," said Katherine Long, a member of the Martha's Vineyard Modern Quilt Guild who is currently completing two quilts for her great-granddaughters.
My sister Elizabeth Balay, another Fair ribbon winner for her knitting, recently finished a work even older than Barbara Almquist's: an Alice in Wonderland needlepoint, started some 80 years ago by our grandmother Louisa Robinson of Edgartown. With my grandmother's, mother's and sister's initials stitched along the bottom, the Queen of Hearts now adorns a pillow in our family home.
Needlework is a fairly new pursuit for Elizabeth, a mezzo-soprano who took up knitting as a creative outlet after retiring from a professional symphonic chorale.
"It pleases my brain in the same way, and it pleases my yearning to create beauty in the same way," she told me.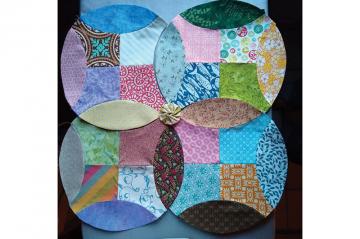 "When you are reading a pattern for the first time, it's like sight reading. Decoding a pattern is like making sense out of a (music) score…at the end of it, you have a beautiful, symphonic thing."
Island jeweler Sarah Young, of Vineyard Sky Beads, has been working on a hand-sewn quilt using the labor-intensive technique called English paper piecing. "I've been using that as a way to kind of soothe myself," she said. "When I sit and start sewing or sit and make jewelry, it kind of cleans the slate of the mind. You just concentrate on the colors, the fabric, where you are going with your tools, whether needle and thread or pliers and some wire," she said.
Jenn Brown, a former book editor now pursuing her own business making accessories from fabric in Vineyard Haven, found refuge in handwork after an anxious start in March.
"I found it really hard to do anything or make anything creative," she said of the early days of the shutdown. "It felt like a very stuck place."
As she grew accustomed to the strangeness, Jenn said, "I felt making, again, to be really helpful.
"What shifted for me was…hand sewing," she said. "It's a little bit slower and a little more meditative."
While some crafters are focusing on single projects, Jenn is exploring new techniques, often through online classes like those offered by Creativebug, available free through Island libraries.
Other Island makers, like Anna Marie D'Addarie, aren't limiting themselves in any way. Home alone during the shutdown, she sent me photos of current works in progress including a knitted sweater, knitted socks and a coiled rag rug, along with basket-weaving supplies.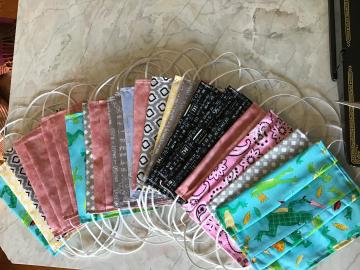 If all this craftiness is making your fingers itch for a project of your own, chances are you already have a stash somewhere with enough to get started on something small. (Origami makers don't even need special materials; though a lot of the fun comes from the colorful paper, you can also cut your own at home.)
The next stop, of course, is the internet, where YouTube tutorials and Zoom gatherings cater to home crafters of all kinds. The Modern Quilt Guild meets regularly on Zoom, and when social gathering resumes, there are multiple stitchery meetups on the Island.
One simple needlecraft to consider is called sashiko ("sash'ko"), an easy Japanese stitching technique I discovered last year in a Slate article that called it "the perfect hobby." All you need is needles, thick thread and sturdy fabric to decorate or mend. I adorned a pair of overalls and my Converse All-Stars, and now have a stash of denim.
Another simple project, recommended by Sarah Young, is making fabric "yo-yos," little gathered circles that can be appliquéd to other materials.
"It's a wonderful sort of portable handcraft," she said. "You can easily put together a little kit with your cut-out circles and your needles and thread, so when you're in the ferry line or the doctor's office you can just pull it out and start working on it."
When you find the craft that's right for you, you'll know it by the way it makes you feel.
"You're handling things of beauty, and when you're done you have something that's either useful or beautiful, or both," Elizabeth Balay said.
"If you can give it away, it's even better, because you are spreading the joy of beauty and usefulness."
Louisa Hufstader is a reporter for the Vineyard Gazette.