If you're an artist seeking a foothold, the Vineyard is your oyster. Maybe it's inspiration and beauty you seek, or space and time to hone your craft. A mentor to guide you, your first solo show. A commission perhaps, or a studio of your own. Regardless, you'll likely find it here. So what happens when the world enters a state of suspended animation? Creativity survives and perhaps even thrives, it turns out. Art somehow becomes more important than ever, especially in a place like this. At least that's what five hopeful artists believe.
---
Lizzy Schule
For Lizzy Schule, even landscapes have a narrative to them. Somewhere among the branches of the orange-tinged scrub oak trees or the glowing beach cliffs she paints in oils, there must be an emotional entry point. Standing outside, painting a scene, she pays as much attention to her own experience of the place as she does to the way the landscape appears to her. "It's important to me to work from observation because it has to do with color, and also capturing the sensations I feel when I'm observing," she said.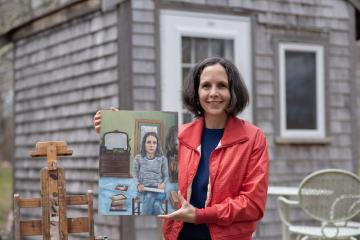 She showed me a recent self portrait inspired by the Scottish myth of the selkie, a creature part human and part seal. From time to time, the myth goes, the selkies shed their seal skins and walk onto land to celebrate and dance on the shore as humans.
"Lots of times, what will happen in the myth is the selkie will place her pelt or seal skin on a rock, and then somebody comes along and steals the skin," Lizzy said. "So they can't go back, and they're stuck as a human."
Lizzy said she had been thinking about identity, about what makes someone feel comfortable in their own skin. Lizzy finished the painting the day the shelter-in-place advisory was issued. She was cleaning up her studio space, which would no longer be available to her for the duration of the shutdown.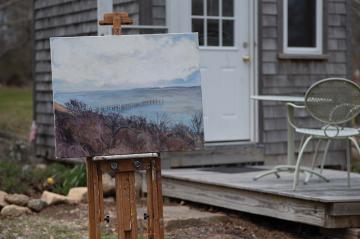 Now, her work – she is scheduled to exhibit at the Old Sculpin Gallery in Edgartown in June – and her gardening at her Chilmark home have become a way for her to process the global crisis. She called this a moment of "worldwide grief."
"That feeling of appreciating nature and the earth, I think it felt somewhat intensified lately. I think it makes sense because a time of grief and mourning is a time when spirituality and art and nature are so vital," she said.
– Holly Pretsky
Follow Lizzy on Instagram 
@Lizzyschule or visit lizzyschule.com
---
Lily Keller
Lily Keller is raising, and now homeschooling, three little boys all under the age of seven by herself in her small Vineyard Haven home. These days, that means she does much of her painting in short increments in her kitchen. The beauty of oil, she said, is that it takes forever to dry.
"In quarantine, I've still been getting lots of painting done," she said. "Even if you just do it in six-minute increments here and there."
Some of her oil and watercolor landscapes are painted with physical materials that she and her sons collect from the Island. She finds colorful dirt, sea-weathered brick fragments, acorn caps or seashells and grinds them up. She mixes them with water or linseed oil to make some of the pinks and grays in her landscapes.
Many of her paintings have a warm orange or pink base over which layers of color make horizontal sweeps: stretches of sand, huge skies, overlapping shrubbery, houses or roads. Lately, she's been drawn to scenes on Chappy and Norton Point, even when she's painting freely from imagination. Since the pandemic arrived, human beings are appearing in her paintings more than usual.
"Maybe that's me missing people," she mused. "I don't know." But an image that recurs again and again is that of a winding road, vanishing around a curve in the distance. On a basic level, she's inspired by frequent drives around the Island to entertain her three boys, but there's a more symbolic aspect to it as well.
"I'm very much forward-looking in sort of everything I do," she said.
– Holly Pretsky
Follow Lily on Instagram @lilykelart or visit lilykellerart.com
---
Taylor Stone
For Taylor Stone, art is in the details. Her handmade, precision-cut paper illustrations bring designs to life on a three-dimensional scale.
"It's a time-consuming process and takes a lot of brain power, but it's also very fun for me to do. The cutting is certainly the longest step, but it's also meditative. As long as you plan everything out ahead of time, the cutting can really be fun," Taylor said.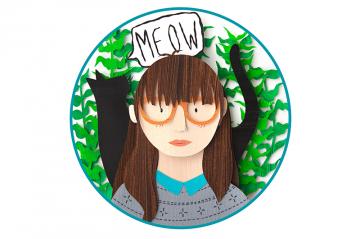 Taylor found out how important the tactile aspect of cut paper art was to her while she was a student (along with a few other Island friends) at the Savannah College of Art and Design in Georgia. After graduating, she spent a year in Burlington, Vermont, but came back to the Vineyard because of the Island arts community and the opportunities it offered.
For the past five years, Taylor has sold her artwork, which includes iconic Vineyard landmarks and topographical maps, at the Vineyard Artisans Fair and on Etsy and this year she is excited to be joining the Night Heron Gallery in Vineyard Haven.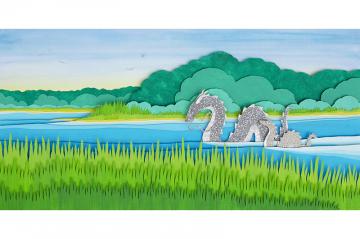 Taylor has used the past two months to adjust to an unpredictable future. "My work is very structured and planned out ahead. When you don't have your full brain capacity that gets a little harder. I've been trying not to force anything. I've been going on lots of walks because nature is very important to me," she said. "I started doing a personal piece that was a whole bunch of cute little witches and greenery. I'm just focusing on what's fun because you can't do something you don't want to right now."
– Aaron Wilson
Follow Taylor @taylorstonemv or visit etsy.com/shop/taylorcutspaper
---
Malcolm Smith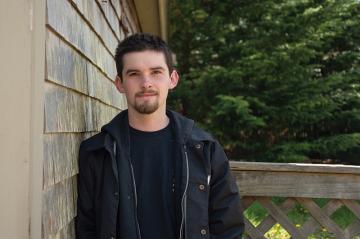 For jewelry maker Malcolm Smith, a love for metalworking started right at the Regional High School in craft and sculpture teacher Brendan Coogan's classroom. "Mr. Coogan really helped me. I had an interest in casting silver and the lost wax casting process and he helped make a really simple set up for that and got everything we needed. He'd always find a way to make it happen," Malcolm said.
Malcolm honed his skills in hand fabricating and lost wax casting in art school in San Francisco, and now he's back on Island where he draws inspiration from the natural beauty of the Vineyard.
"I'll do a lot of nature-related things I think because I grew up here. I get inspired by my surroundings," he said.
Malcolm's work ranges from silver pendants in the shape of animals, skateboards, skulls and Aztec calendars to sea glass, quartz and other stones set by hand in silver. He also makes silver rings that feature intricate designs.
"When I was experimenting with casting in high school, I really enjoyed the satisfaction of creating an end piece that's wearable and functional," Malcolm said.
He loves when someone asks him to make a custom piece.
"If they like the final product, that's something that's really exciting to me and makes me happy," he said.
During the shutdown, Malcolm has been using the time to update his Etsy shop and Instagram with new pieces he has for sale.
"I definitely think in a time like this I'm using my art to stay productive and positive. It's something that I feel super fortunate to have going on," he said.
– Aaron Wilson
Follow Malcolm on Instagram 
 @themalcomist or visit etsy.com/shop/malcolmsmithdesigns
---
JP Shepard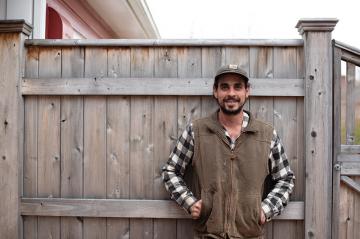 You could call JP Shepard the accidental blacksmith – if it weren't for an internship while studying at the College of Charleston in South Carolina, he might never have learned to love metalwork. He was majoring in studio art but pursuing a minor in historic preservation. To complete his minor, he interned with a local metalworker.
When he started, JP found the metal to be foreign and intimidating. But once he learned how to manipulate and mold it, he was hooked.
In 2018 he moved to the Vineyard from Charleston and set up shop at a friend's barn in Chilmark. For the past two summers, JP has worked as the assistant harbormaster in Oak Bluffs while smithing nautically influenced works.
One of his projects, called Harness Wind, is a conceptual abstract of a metal sail sculpted as if it's blowing in the wind, anchored to a base. He also has a line of forged bowline knots that began as a challenge from a friend at the Granary Gallery in West Tisbury.
"It was a great challenge. I spent a month trying to figure it out but eventually did. He commissioned me to forge ten bowline bottle openers. It was a pivotal project because the forged bowline has ended up going in a lot of different directions. I've made door knockers, fire tools and gate latches all incorporating that knot," JP said.
Mechanical fasteners are an integral part of JP's work because they join unlike metals and allow for movement in pieces like door knockers and gate latches. He enjoys making them.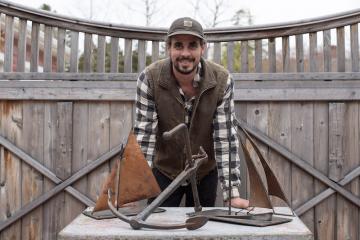 "Using old-world joinery techniques to make newer conceptual things is a really nice combination," JP said.
Traveling to work with other blacksmiths – when possible – is another part of the craft JP really enjoys. "Blacksmithing has a wonderful community aspect to it. By getting to know all these people you're able to swap techniques and information and stylistic ways of achieving a similar shape. It's really an incredible thing and I'm so happy to be a part of it," he said.
– Aaron Wilson
Follow JP on Instagram @jackson_ straw
---