Visiting an Island art gallery may be a different experience this summer. We may not be gathering inside as much. But that doesn't mean there isn't plenty of art to see outside – even right now. Whether it's a sculpture in a gallery garden or something tucked deep in the woods (or even downtown), art is everywhere on the Vineyard. We compiled a list of nine works of art located outside around the Island, and we hope you'll have fun tracking each one down.
Then stand by for more outdoor art this summer. We know Featherstone is planning its festive yarn-bombing event outdoors in June, and we expect there are plenty more creative outdoor ideas in the works. In the meantime, we are lucky to have art all around us on the Vineyard in the form of nature's beauty. From sea glass and scallop shells to wild roses and blooming beach plums, the Island is generous with its treasures, both man-made and not.
---
The Whale's Tail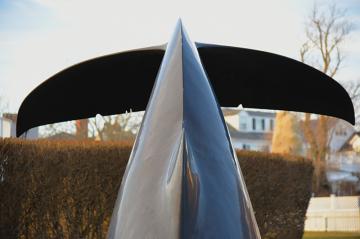 Edgartown
Artist and marine designer Ovid Os born Ward created this full-scale fluke of a sounding whale in 1993 to honor Edgartown's whaling heritage. It is sited in Whale Tail Memorial Park, which is maintained by the town of Edgartown and located next to the Old Sculpin Gallery on Dock Street.
---
The Last Heath Hen
West Tisbury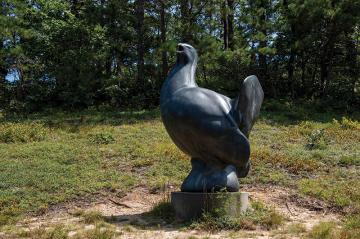 Not far from the airport on the bike path winding through the Manuel F. Correllus State Forest in West Tisbury is artist Todd McGrain's tribute to Booming Ben, the last Vineyard heath hen who likely expired in a 1930 fire. The sculpture is one of five McGrain did across the country to commemorate extinct birds. McGrain's journey was documented in a 2012 film called The Lost Bird Project. Near the heath hen on the path there is a comfortable bench for resting if you plan on taking a walk there.
---
Seal on A Rock, 
 Bird on Post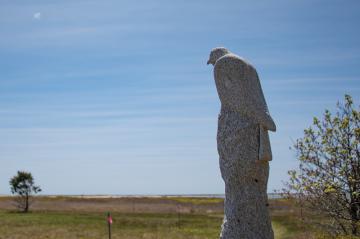 West Tisbury
West Tisbury stone carver Ben Cabot's much sought-after granite art is in gardens all over the Island, but you can see his Seal on a Rock (top photo) right outside the Granary Gallery (it's for sale!). If you're walking the trails at Long Point Wildlife Refuge, you might also come upon this granite carving that is one of his "bird on posts" series.
---
Landscape
West Tisbury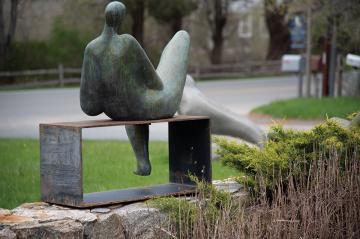 Also outside at the Granary Gallery is one of the late Ella Tulin's graceful bronze sculptures of a reclining woman called Landscape. Ella's exhilarating work is now in collections all over the world, including the National Portrait Gallery in Washington, D.C. The Granary has several of her pieces.
---
Serene Lady
West Tisbury
One of the late Vineyard artist Thomas Maley's iconic sculptures, Serene Lady watches over a memorial to Tom and his wife Helen at the back of the Field Gallery in West Tisbury.
Many more of Tom's spirited and whimsical sculptures frolic around the grounds of the gallery, which you can clearly see from the road when you drive into town.
---
The Swordfish Harpooner
Menemsha
Seventeen-feet tall and towering over the dunes in the village of Menemsha, Chilmark sculptor Jay Lagemann's harpooner may be the most famous outdoor artwork on the Island. You can't miss it on your way to pick up seafood or to see the sunset. Jay's work is also on display at the Field Gallery.
---
Whale art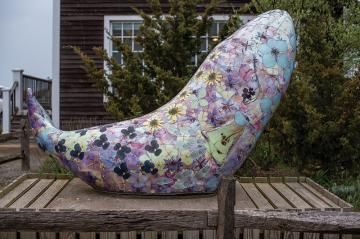 Vineyard Haven
This work of art has moved around Vineyard Haven several times since it was first created by Vineyard pressed-flower artist Peggy Turner Zablotny for a Cape and Island public art display in 2006. But you can currently find it in front of Mone Insurance on Beach Road.
---
Passage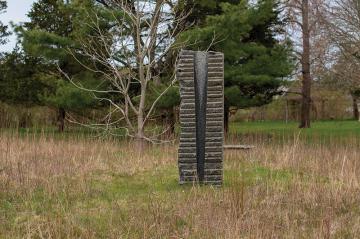 Chilmark
This black granite example of stone sculptor Eben Armer's work stands in the field surrounding the Kara Taylor Gallery on South road, which celebrates its 20th anniversary this year. New works from Eben will be on display later this summer.
---