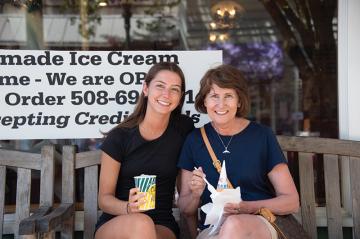 Any ordinary summer on Martha's Vineyard brings the excitement of new businesses and new events, but what about the summer of 2020? Well, it might have gotten off to a slow start, but the town of Oak Bluffs took quick action to make sure there are plenty of new and fun things for you to do and see (and eat!) in July and August.
The YMCA of Martha's Vineyard has partnered with the Martha's Vineyard Film Festival to host drive-in movies in the parking lot behind the Martha's Vineyard Ice Arena starting in early July. Plans to screen four family-friendly movies Wednesday through Saturday night through the end of August will provide a cinema option with a nostalgic twist.
"It's really, really exciting," said Brian Ditchfield, programming director for the MV Film Festival.
"We're teaming up with other organizations to make a very difficult situation as positive as we can. We're really looking forward to serving the community in a new way," Brian said.
Tickets are required in advance at a "pay what you can" cost to the customer. To purchase tickets and check out the full schedule of summer movies, visit the Martha's Vineyard Film Festival website at tmvff.org.
Making our way down County Road and into downtown Oak Bluffs, a new spot called Seaweed's has found a home in the former 20byNine space on Kennebec. A proudly queer-owned natural wine bar, Seaweed's menu features Island grown and raised cuisine.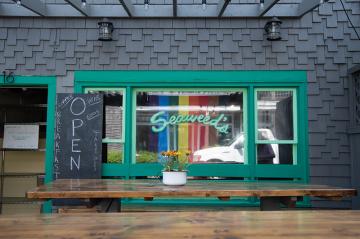 "Our primary focus is sourcing, and we source from Martha's Vineyard as much as possible," said Danielle Pattavina, co-owner of Seaweed's with Olivia Pattison.
"If you look at our menu it says Grey Barn, Mermaid Farm, Martha's Vineyard Mycological, Blackwater, Nip & Tuck. As much as we can, we get Island-grown food," Danielle pointed out.
Seaweed's is offering breakfast, a snack menu and nightly specials to go along with their extensive selection of naturally made wines.
Strolling down the bulkhead of the Oak Bluffs Marina this summer you'll notice Coop de Ville's brand new patio seating in front of the Shuck Shack. It's always a party on Dockside and Petey Berndt and his crew at the Coop have all the fresh seafood, chicken wings and countless craft beers needed to add to the fun.
"Our goal is to be the best raw bar on Martha's Vineyard," Petey said.
New tables on deck for this summer help set the stage. "We're going to make it a little fancier at the Coop," Petey said. "Maybe we'll add a fire pit in the fall for college and pro football on the weekends. It'll be fun," he continued.
Back up at Jim's Package Store, a new Italian take-out shop called Stella Salumeria has opened in the former space of the Oak Bluffs Fish Market. Across the harbor on the Chapman avenue side of Washington Park, don't miss Enchanted Chocolates' new take-out window and occasional pop-ups with popcorn and candy samples. You can also pre-order chocolates (and the new Light Vader milk chocolate bar) online for pickup at the store. Back on Circuit avenue, the restaurant Dos Mas is offering a first in Oak Bluffs: rooftop dining.
Overlooking the historic Union Chapel, Dos Mas' second-story patio is the perfect place for margaritas and tacos with friends and family on a summer afternoon or evening. You'll dine surrounded by Dos Mas' garden where some of the garnish veggies are grown.
"We're growing a lot of herbs, radishes, nasturtiums, basil and strawberries," owner Zared Shai explained.
Dos Mas' rooftop patio was ready to go as soon as state orders allowed. "We made it prettier and organized it in a way that made sense for us," Zared said.
"The more we establish that there's more going on, the better off it will be for the town," he continued.
Two other restaurant business will be opening soon on Circuit, too: Sarah Brown's Oak Bluffs' Comfort Food in the former Beetlebung space, and The Pawnee House where Park Corner Bistro used to be.
In an effort to promote downtown businesses, Oak Bluffs is closing Circuit avenue and the lower half of Kennebec avenue to vehicle traffic on Sundays from 10 a.m. to 10 p.m. The first closure fell on Father's Day this year and a sizable crowd descended on Circuit to dine, shop and stroll. With safety the number one priority, both ends of Circuit feature a large purple banner reminding pedestrians to wear masks. The town adopted a "MV Masquerade" theme for the weekly closures.
"We need to do the best that we can to impart safety messaging and try to turn it into something positive," said Christine Todd, president of the Oak Bluffs Business Owners Association.
With a positive spin on mandated masks and more open-air store space to work with, Christine said everyone is excited about the Sunday closures. "It's going to create more opportunity. It helps the merchants in town and helps people have a better experience when they're here," she said.
---
Aaron Wilson is a reporter for the Vineyard Gazette.