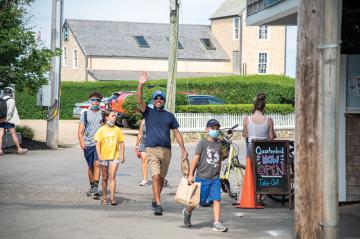 The bustle is back in Edgartown, where shops and restaurants are welcoming summer customers under the new state distancing rules. Hotels and inns are open, the Falmouth ferry has returned to Memorial Wharf and the village is getting its first-ever farmers' market. Here's a quick look at what's new in town.
Solo and small-group shopping is in, with smaller boutiques limiting the number of customers to two or three – or one or two family groups – at a time. Vineyard Vines has entrance-only and exit-only doors to manage traffic flow through the store. Some of the smallest shops, like Rosebud , are open by appointment, while Nell offers not only online orders – there's even a QR code in the shop window to get the mannequin looks – but also private shopping nights in-store, complete with wine and cheese.
New Edgartown businesses include the Sea Legs boutique, in a former bait shop next to the Ice Cream & Candy Bazaar on Dock street, where you can find small-batch fashion, children's clothing, accessories and gifts including handcrafted wooden bowls from the Chappaquiddick Wood Company.
Across Dock street from Sea Legs is Untamable, a new gallery opening in July. Owner Lucy Dahl, the youngest daughter of famed author Roald Dahl and Academy Award-winning actress Patricia Neal, will feature her own photography – she's a longtime student of Alison Shaw – as well as a selection of jewelry, gifts, cards and literature.
A woman's boutique called Ethos is now in the former Summer street location where Black Sheep's downtown shop was. Black Sheep now operates solely out of its airport location.
For adventurous kids, the Pirate Puzzle Escape Room in Nevin Square is open from July 5 to July 13 for private groups only: book on their website.
Also on Winter street, Sea Bags, a shop selling bags made from recycled sailcloth, has joined the row of boutiques and galleries that includes Mikel Hunter, Fat Face, Nikki Sedacca and the Christina Gallery.
Outdoor dining remains the hottest ticket in town, with restaurants expanding their open-air options wherever possible. Ten Edgartown restaurants – 19 Raw , Atria , The Atlantic , Edgartown Diner , The Port Hunter, Rockfish, The Seafood Shanty, the Terrace at the Charlotte Inn and The Wharf – will take advantage of special outdoor dining permits to have expanded dining either on their property or on adjacent town land.
Some indoor dining has resumed with social distancing measures at larger establishments including the Wharf and Rockfish in the village and the Dunes in Katama, where you can dine with an ocean view. Reserve early for tables at smaller hotspots like the Covington. And it's never been a better season for take-out, with eateries from the Dock Street Coffee Shop to upscale Detente and l'etoile offering to-go menus.
If you'd rather cook at home, Morning Glory Farm now has online ordering with next-day curbside pickup for almost everything in the farm stand, and the FARM Institute in Katama offers porch pick-ups for beef, pork and eggs. You can also order groceries from the Port Supply Co. app.
As we go to press, Edgartown merchants and officials are putting the finishing touches on plans for a summer farmers' market. Look for it Sundays on Summer Street next to the Yellow House, an 18th-century captain's house that has undergone a sweeping renovation to become the new home of Lululemon.
---
Louisa Hufstader is a reporter for the Vineyard Gazette.