A novel, a history, a memoir, a collection.
Holding the Cards
Historian, award-winning author and longtime summer Vineyarder Jessica B. Harris also happens to be a deltiologist. Who knew? It's not what you think; a deltiologist is actually someone who collects postcards. And Jessica has been doing that for nearly five decades – hunting down antiquarian treasures in flea markets and shops around the world. She's been particularly determined to find images of Africans in the American diaspora at work and at play.
And now 150 of those postcards (along with three essays) have come together in a handsome hardcover book called Vintage Postcards from the African World: In the Dignity of Their Work and the Joy of Their Play (University Press of Mississippi, $35). The collection is organized by geography – Africa, the Caribbean and the United States – and by the activity depicted, from farming and fishing to market-going and meal-preparing. Of course food is a central figure; the author of 12 cookbooks, Jessica was the recipient of the 2020 James Beard Foundation Lifetime Achievement Award.
Perseverance Pays Off
We have Skip Finley's dogged research and unfailing energy to thank for revealing a lost slice of history that might never have come to life: the story of mariners of color, men who went to sea during the whaling era and not only returned for grueling trip after trip but also became the leaders of their boats.
Whaling Captains of Color: America's First Meritocracy (Naval Institute Press, $42) is the result of that research that began for Skip, a retired radio executive and current sales and marketing director for the Vineyard Gazette Media Group, in the New Bedford Whaling Museum. There he went searching for the story of one Vineyard whaling captain and came away with the realization that there were many more captains of color – of African, Portuguese and Native American heritage – who had gone to sea repeatedly to escape the indignities of life in America and who had achieved the rank of captain through grit, skill and perseverance.
A Poet's Debut Novel
Retired executive, poet and Vineyard resident Jennifer Smith Turner has already received high praise for her debut novel, Child Bride: It was named best fiction e-book for 2020 by the Black Caucus of the American Library Association and Biblioboard.
Child Bride (Spark Press, $16.95) is the story of an evolution – the tale of a girl who endures the oppression of the segregated south only to be married off at age 16 to a controlling husband. But it is also the story of how a mother of three ultimately pursues her dreams and independence.
Groundbreaking Memoir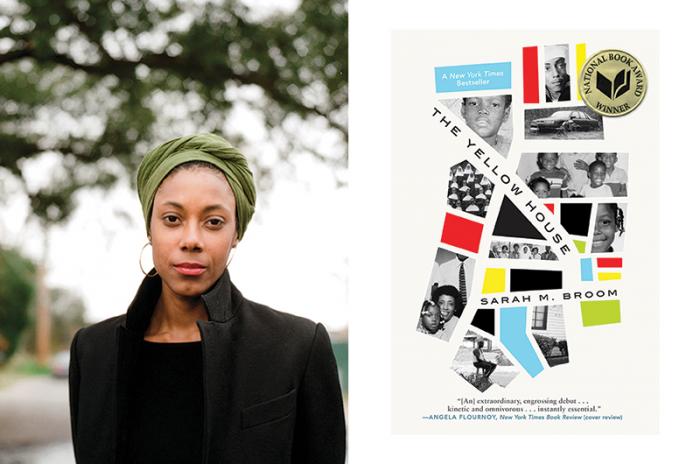 Winner of the 2019 National Book Award for Nonfiction and considered a groundbreaking form of memoir, The Yellow House: A Memoir is writer Sarah M. Broom's richly layered exploration of life in her family home in New Orleans, before and after Hurricane Katrina. It's the story of family pride and the boundaries of home – even when you leave – but also a look at the realities of inequality, of race, class, and the proverbial cracks in the sidewalks of New Orleans. The Yellow House (Grove Atlantic) is available in hardcover ($26) and has just been released in paperback ($17).
Sarah will speak on Thursday, July 30, as part of the 2020 Martha's Vineyard Author Series, which is going virtual this summer. Also on the schedule is national bestselling author Erik Larson ( The Splendid and the Vile: A Saga of Churchill, Family, and Defiance During the Blitz) interviewed by the Island's own Amor Towles on Sunday, August 2. And on Sunday, August 9, an evening on the Supreme Court with Ruth Marcus of the Washington Post, Adam Cohen and Richard Lazarus. Registration and details at mvbookfestival.com.
All books available at bunchofgrapes.com and at Bunch of Grapes, 23 Main Street, Vineyard Haven.