Whether you just stepped off the ferry in Vineyard Haven or you hopped off that ferry 20 years ago, you might think you know what the town of Tisbury has to offer. But you might be surprised by what's new this summer and in particular, what restaurants are doing to make dining out a pleasure.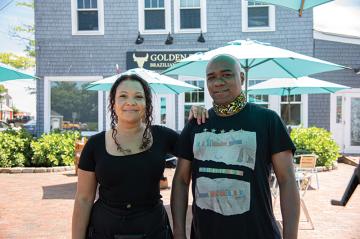 Before you even get to Main street, make a swing up Beach Road to check out a delicious selection of outdoor dining options. The patio at the Golden Bull Brazilian Steakhouse has socially distanced seating for 40 people under their turquoise umbrellas, and Chef Vilson Faria's daily specials are available from 11 a.m. to 10 p.m. Shrimp — pineapple shrimp, popcorn shrimp, garlic shrimp, shrimp and scallops — was a recent special, with an Island Bourbon or Mojito Bull cocktail on the menu too.
Further along the harborfront, Garde East offers fine dining with a spectacular water view from tables on two covered deck areas.
New chef Will Weaver is in town and his specialty is seafood; a recent highlight on the tasting menu was Spanish Octopus with Duck Fat-Fingerling Potatoes, Roasted Padron Peppers, Chorizo Aioli and Chorizo Crumbles.
The chef also has a thoughtful vegetarian tasting menu and a family-style menu that's perfect for a picnic.
Before you cross the street, don't miss Althea Designs, a lovely art shop with Althea Freeman-Miller's charming linoleum block prints and dresses from Conrado clothing.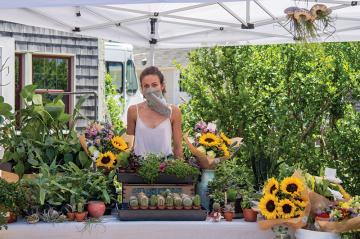 During the summer, she and Kay Frank, whose business is Plant Post, have scheduled pop-ups for every Friday. Kay sells terrarium kits in addition to houseplants and flowers.
ArtCliff Diner has added a few outdoor seats and of course The Net Result's picnic tables are ready for sushi or fish and chips.
But new to Tisbury Marketplace is Frankie's Market , where Kyleen Keenan is selling her popular and delicious vegan, gluten-free flatbreads that she introduced last year with a food truck. Get a nutritious smoothie or shake too. Tisbury Toy Box is open for in-store business but you can also pre-order online for curbside pickup.
For now, Beach Road restaurant is closed, but you can get some of their specialties at sister restaurant State Road in West Tisbury.
Back in town, a new Italian restaurant, Salvatore's , has opened up on Union street in the space where Fella's once was. It has a nice outdoor seating area. On Main street, Waterside Market , Nat's Nook and Bernie's Ice Cream/Bobby B's have plenty of outdoor seating.
Up on State Road, keep an eye out for the opening of popular bakery business Pie Chicks' new retail shop in the former Shepherd's Provisions location.
And be sure to save room for tacos: Chef Spring Sheldon's El Gato taco truck is coming soon to Island Cove Mini Golf.
---
Susie Middleton is editor of the Vine.