Thirty-eight-year-old Spring Sheldon has a tattoo running down the length of her left arm that spells the word a-d-v-e-n-t-u-r-e, one bold letter over the other. It's what led her to spend the last six winters in Oaxaca, Mexico, and in turn to another adventure – the debut this month of her El Gato Grande taco truck. You'll find it in the back lot of The Cove Golf & Grill in Vineyard Haven now that she's obtained the last of five town permits.
A Boston University Culinary Arts graduate who also specializes in Mediterranean cooking, Spring was smitten the first winter she visited Oaxaca, considered the culinary heart of Mexico. When she missed her flight home, she stayed a bit longer – and then wound up returning the same winter to spend another four months in Oaxaca, which is both a large region of Mexico and the name of its capital and largest city. She says she fell in love not only with the food but also with the culture, the colors and the people, and has since learned to speak Spanish.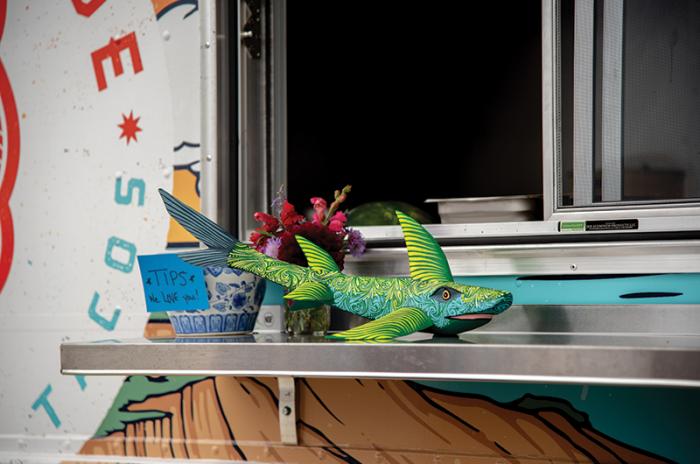 "I feel very changed by Oaxaca, maybe because it's an ancient place," she said. "It's taught me a lot about life."
Each time she returned to Martha's Vineyard, Spring would bring a little of Oaxaca back with her. In addition to her normal catering jobs, she began adding taco pop-ups, first at The Larder in Vineyard Haven, and later at both the Chilmark Tavern and the Little House Café.
"The response," she said, "was really great."
The new owner of Little House, Brook Katzen, who also recently bought the mini golf course, had heard of the taco pop-ups and called Spring this past winter with a proposition. He said, "Let's do a taco truck. I want to back you."
Spring jumped on the idea.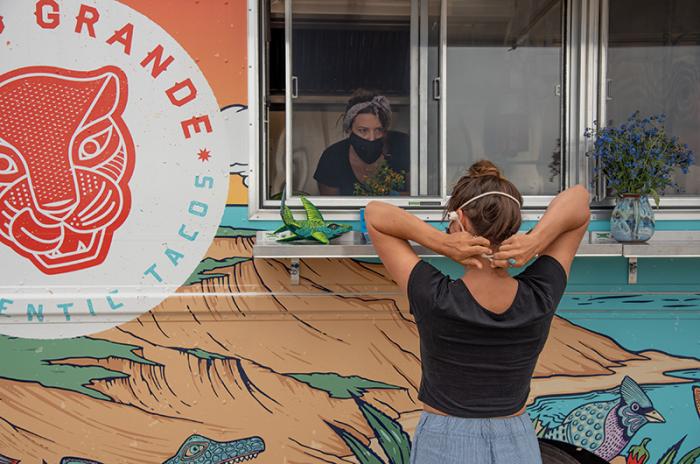 When it came time to design the outside of the food truck, she told Vineyard artist Peter James Glenn she wanted the colors and vibrancy of Mexico with the sensibility of Martha's Vineyard.
"I wanted it to mean something to the Island because the Island means something to me," she said.
The colorful food truck sports a lizard, tropical birds and a cat – El Gato is the word for cat in Spanish – with the backdrop of the Aquinnah cliffs and Gay Head Light.
"I think it's perfect," said Spring. "He nailed it."
The food follows a similar vein. Her south-of-the-border tacos and salsas are made with fresh Island ingredients, and the combination is perfect. At the soft opening with friends and family, the "catch-of-the-day" fish tacos featured Vineyard sole (fluke) with a crunchy fried coating, spiked with a spicy chipotle mayo slaw. A fried oyster taco from Cottage City Oysters of Oak Bluffs came with aguachile (a sauce of blended avocados and tomatillos), iceberg lettuce from The Garden Farm, and pickled jalapeno. The vegetarian option featured MV Mycological shiitakes in a corn tortilla with salsa verde and avocado.
Along with tacos, side dishes may include ceviche, chipotle black beans, cucumber and tomato salad, jicama citrus slaw or other options. I'm guessing Morning Glory Farm corn will be on the menu later this summer as the base for Spring's street corn with lime, crema and ancho chiles.
Spring wanted to include her signature salsa bar where customers could choose their own toppings from a variety of colorful, flavorful sauces, but Covid knocked that idea right out. Otherwise, Spring's truck and other local food trucks make good sense this summer when outdoor dining is particularly appealing. Food can be picked up outside with minimal contact and either eaten outdoors or brought home. The mini-golf location has three picnic tables.
Spring's inspiration for the truck comes from the street carts in Mexico offering quick pick-ups without much of a wait.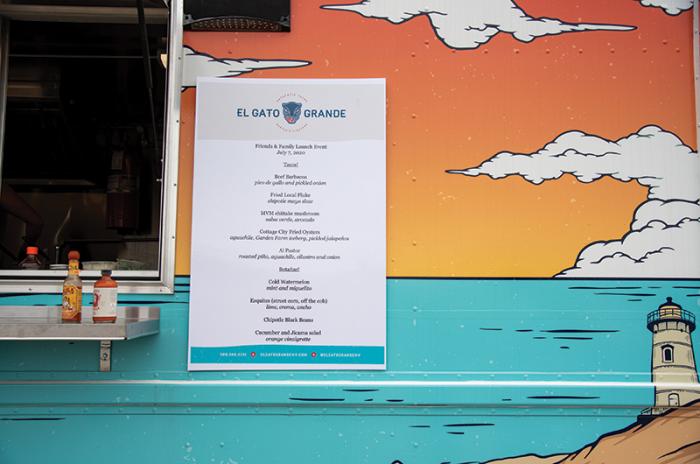 "They make tacos very rapidly and they make a lot of them," she says. Even after Covid, Spring says she hopes the Island will consider more outdoor eating spaces and street closings, commonly enjoyed in Mexico and European cities.
"It's shocking to me that we don't use our outdoor spaces more," she said.
In an ideal world, Spring said she would like to do pop-ups in different areas of the Island. For her launch event, she was given permission to park at West Basin in Aquinnah, the parking area at the end of Lobsterville Road where the Menemsha bike ferry runs. The backdrop for the evening was sandy dunes, Vineyard water and open sky. A few musicians played while people ordered and picked up their tacos, socially distancing by eating on a nearby dock, the beach and at portable tables set up in the lot. It made for a special Vineyard experience, and one Spring said she would like to replicate if allowed by other towns.
Spring is a resident of Aquinnah, where her grandfather bought a house in the '50s. Aunts, uncles and cousins also live nearby. It was her parents who instilled her love of adventure. Before attending cooking school, Spring owned and operated a vintage clothing business in Amherst where she grew up, but always cooked meals for friends. After attending BU, she worked at 51 Lincoln in Newton with Jeff Fournier and at The Butcher Shop in Boston for Barbara Lynch. She also helped open Steel + Rye to acclaim in Milton. She loved the action of catering when she got into it, first working for La Fete Catering in Natick and then starting her own catering company which she brought home to Martha's Vineyard six years ago.
Vineyarders might also know Spring from the Maker's Table, roving dinner parties introduced by Nevette Previd of Farm.Field.Sea. in 2018, where Spring planned and executed multi-course menus based on local ingredients. The Maker's Table dinners included education about the farms where they were often held, as well as a musician or artist who introduced their work.
Spring also plans to use the truck as part of her private chef business, bringing it to weddings, concerts and other events when these kinds of things return.
"My favorite thing to do is throw a party," she said. "The taco truck is a moving party."
Spring feels lucky to have ended up back on the Vineyard, and to have this latest opportunity.
"Adventure doesn't have to be travel," she noted. "It can be anything."
Note: The El Gato Grande taco truck will be open Wednesdays through Sundays, 3 to 9 p.m. at the Cove Mini Golf & Grill. Follow elgatograndemv on Instagram for the specials each day.
---
Catherine Walthers is a writer and chef living in West Tisbury.