Leaning over the fence to scratch the head of a large Yorkshire sow, Asa Baer, The Grey Barn and Farm's livestock and forage manager, breaks into a smile.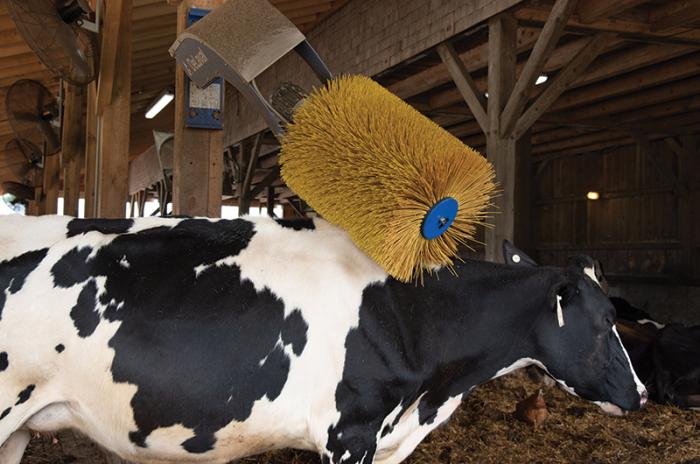 "Her name is Becky," he said tenderly. "She's basically my pet at this point."
Since owners/farmers Eric and Molly Glasgow hired him three and half years ago to join the year-round staff on the Chilmark farm, Asa has taken over caring for the 75 cows, 90 pigs, 650 chickens and flock of sheep that roam the farm's 100-acre property.
A veteran farmer originally from central Vermont, Asa tends to each animal with a keen mix of know-how and fatherly affection – milking, birthing, feeding and otherwise taking care of business around the farm. His love for the work is evident in his voice as he talks through his duties on the farm.
"I grew up on my neighbors' farm. I've probably been milking cows since I was seven," he said. "I always knew it's what I wanted to do."
After earning a degree in dairy farm management at Vermont Tech, Asa worked on a handful of farms, even managing a 300-cow milking operation in Vermont for a period of time, before deciding he was ready for a break. When he arrived on the Island a few years ago to stay with his brother, he had a job lined up working elsewhere, but eventually the herd of cows and squawking chickens drew him to Grey Barn, where he now lives with his wife and five-month-old son.
For Asa, an average day on the job begins at 5:30 a.m. and usually concludes at around 6 p.m. – except during haying season when the hours can go as late as one in the morning. The cows get Asa's attention first, when he and four of his crew bring the herd to the milking station for the first of their two daily milkings.
Mornings are important because milk is the farm's largest output, Asa explained while patting a cow named Fireball from behind a gate to the barn. According to his estimates, the 40 or so cows on-site put out roughly 135 gallons of milk a day. Asa hands off most of this milk to head cheesemaker Joe Alstat, who turns it into the farm's renowned cheeses, including award-winning washed-rind Prufrock as well as Eidolon, Bluebird and Riprap.
In keeping with the cows, Asa's proudest accomplishment on the job so far has been developing high quality cow feed from grass and grain grown almost entirely on the Island.
"When someone buys a piece of our cheese, everything they eat is from the Island. The whole process is done here so it kind of adds to the story of the farm," he said.
Longer term, Asa has also been focusing on a 10-year plan for the farm that includes continuing the work of lowering the farm's carbon footprint and ensuring that the operation is entirely organic, though being "organic" is only the half of it.
"The organic label doesn't fully encompass a lot of the things we do," he said, noting that when it comes to farming and growing, Grey Barn's practices go well beyond the basic requirements needed to receive an organic certification. "I don't actually like saying sustainable or holistic practices because it's become such a trendy thing, but that's definitely what they are."
The sustainable practices Asa is referring to include things like rotational grazing, which helps build organic nutrients into the soil and keep the grass healthy. This practice is important not just from an environmental standpoint, but also for cultivating the sandy soil which can be challenging in certain areas of the Island.
In terms of other challenges on the job, Asa noted the sparsity of dairy farming infrastructure on the Island. Without accessible dairy vets and tractor repair places, Asa said he has learned to rely on himself and to lean on other local farmers like his friend Allen Healy at Mermaid Farm for help in a pinch.
This season, the pandemic has shaken things up a bit at Grey Barn. Since the virus hit, Asa's responsibilities on the farm have intensified, with demand for meat and eggs skyrocketing early this spring when the quarantine first began, he said. The spike in demand has kept him busy, bringing in additional pigs and organizing his crew's shifts to maintain social distancing.
But there have also been unforeseen benefits to the pandemic.
"I think a lot of people who hadn't shopped here before [the pandemic] started to come in because it felt safer, and I hope that continues because I don't really see us as just a summer attraction," he said.
Indeed, with the increase in customers to the farm stand, Asa is looking forward to the opportunity to contribute even more to the goal Eric and Molly Glasgow have put forth – for the farm to grow and raise more food to supply Islanders in the off-season.
"I hope that a lot of the customers who have visited [recently], who maybe hadn't stopped before, will continue to come."
As the day winds down and the chores are completed, Asa heads back out to the pastures to finish the rest of his work. Before he goes, he calls over his shoulder.
"I'll tell Becky you miss her."
---
Maia Coleman is an intern at the Vineyard Gazette.