When it comes to work, most of us try different things over the years, never knowing which twist or turn in the road will lead us to where our hearts and talents lie. As Steve Jobs famously observed, "You can't connect the dots looking forward; you can only connect them looking backwards."
For Stefanie Wolf, looking back connects a lot of dots. These days, she can see how her varied work life ultimately helped her found a successful small business on Martha's Vineyard – and market her products off-Island as well. As a bonus, she's learned to combine her passion for jewelry design with her business acumen.
Her route began with a psychobiology degree from Wellesley College, though she immediately got swept up in the dot.com boom after graduation. She spent three and a half years working for two tech companies, first as a research analyst and then as a marketing manager. Her main focus was helping businesses adapt to the Internet age and learn to sell and market their products online.
Q. Why did you decide to leave that world?
A. I really felt like I learned a lot – it was fascinating and exciting – but I came to the realization that I was just helping companies make money and I wasn't fulfilling any of my personal goals. I had a hole inside; I was yearning to do something important, meaningful or new. I wanted to go back to psychology.
Q. And did you?
A. Eventually, yes. I got my masters in San Francisco while making jewelry on the side. I actually supported myself through grad school, in part that way.
Q. Jewelry making? Where did this come from?
A. It started as a hobby. My first summer after my freshman year I worked on the Vineyard and started making jewelry then. All this went into hibernation for many years while I became a serious student and then held serious jobs. There was no time or space then for hobbies.
Q. But in San Francisco?
A. That is when it came back. I did a lot of street festivals and fairs. Soon I sold tons on weekends! That made me decide to take a break from psychology and sell jewelry 100 percent.
Q. How did you get to Martha's Vineyard?
A. Longer story. My now-husband Chuck (Fisher), who was a friend I had first met on Martha's Vineyard, happened to be in Hawaii when I was, before grad school. We spent time together in Maui working on sailboats before I left for San Francisco. We fell in love and he seemed shocked when I said I was willing to live year round on Martha's Vineyard, where he was from. But it felt like coming home. We married and moved here in 2009 when I was expecting my daughter.
Q. What is it about being here that has made you successful?
A. I was shocked that I was able to be successful on the Vineyard as a jewelry designer. When we moved here, I was five months pregnant. I assumed I would be a stay-at-home mom. I assumed that Chuck would find a job. He has all his contacts here. And I had none. But the opposite turned out to be true.
Q. What happened?
A. When I got here, CB Stark Jewelers wanted to sell my stuff right away. Before I even arrived, they were looking at my stuff online. Then I started selling at craft fairs at Featherstone and in Chilmark and rented a small space in Oak Bluffs. By the time the baby came, my husband was helping me with my business!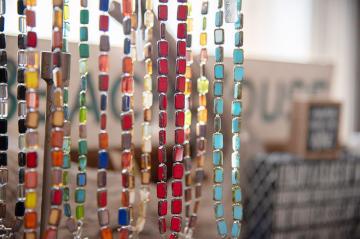 Q. What have been your most popular collections?
A. My trilogy collection, made from colorful glass beads in rectangular shapes. I get them from a glassmaker in the Czech Republic. I get to customize the colors and shapes that we do. That particular collection has been a bestseller, and I've been making different iterations of those pieces for about fifteen years.
Q. Pre-Covid, what was your business like?
A. I was selling wholesale to over 100 stores and galleries all over the country, half of my overall business. The other half was split between craft shows, my website (stefaniewolf.com) and the store.
Q. And now?
A. We're going to be okay. But we've had to be nimble and adapt. I am still selling to a few stores, but that volume has diminished significantly. My store (in Edgartown) is still open all year-round. My online business is growing. I've been trying to be more savvy and sophisticated about getting all my product images online, telling my story online, and reaching out to my customers.
Q. What do you mean by "all my products?" What besides jewelry?
A. I also sell a lot of women's accessories that aren't jewelry, like bags, scarves, greeting cards, hair accessories, silly socks! And pottery from local artists too. And actually I've created a face mask chain that everybody's buying. It's a piece of jewelry that you clip to your mask and when your mask is not on your face, it holds it dangling around your neck. When your mask is on, it looks like you're wearing earrings and when it's down, it looks like a pretty necklace.
Q. I guess this is what you mean by having to adapt!
A. I like to innovate and come up with versatile pieces that can be worn a couple of different ways. Last spring, when everyone went into lockdown, I was a resource for my customers because they wanted to stay in touch with friends and send "I'm thinking of you" gifts. When you can't hug or share a meal, it's lovely to send a gift to show friends you're thinking of them.
Q. It sounds like you love what you do?
A. I love the challenge of trying to run a creative business and still be financially successful too. I feel like it's a balance of right brain, left brain, which I thrive on.
Q. And this holiday season? What do you expect?
A. I always do a store-wide, customer appreciation sale in December at my Edgartown store. My customers wait all year long for this because I don't have sales at all in summer. But I love to do sales for people who actually live here. And if you are here in December, you live here!
---
Paula Lyons, a former television consumer journalist, lives in Vineyard Haven.