When you walk into Juniper in Edgartown, you're immediately surrounded by the colors of the Vineyard, uniquely interpreted by a collection of Island artists. Yet the shop didn't start out this way.
Owner Aubrey Sirois had been working as an event florist on the Vineyard for four years, and when she signed the lease to open Juniper she planned to be downtown Edgartown's one-stop shop for all things floral. Then the pandemic hit and everything changed.
When most of the summer 2020 events Aubrey had booked were rescheduled to 2021, she decided to offer a weekly floral arrangement subscription and fill her store with artwork from Island artists.
"Having the gifts and flowers together has been such a good pairing. My plan is to have the artists in the store as long as they need the space," Aubrey said this fall.
Aubrey is originally from Amherst. She came to the Island in the summer of 2005 and worked as a waitress at the Oyster Bar in Oak Bluffs in the building Rockland Trust currently occupies. After college in 2011, she joined the staff of Donaroma's as a member of the floral department. It was there she first discovered and honed her flower-arranging skills. "They taught me so much," she said.
Five years later she opened her own business in a shed on her friend John Moffet's property.
"He let me open in the shed, which grew to his porch, which grew to his entire home," Aubrey said with a smile. "And then finally after three years he said, 'You need a space.'"
The space John was hinting at is where Juniper is now, across the parking lot from Espresso Love, tucked back from North Summer street. "I really owe everything to him," Aubrey said.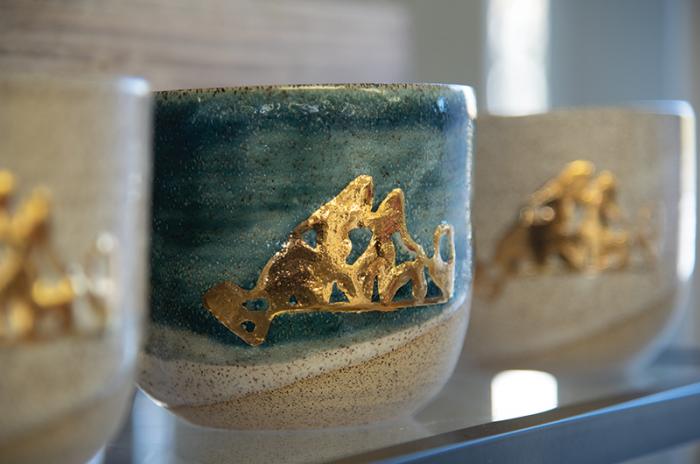 John passed away in June of this year after a battle with cancer. He was 68.
"He had a heart of gold…he was amazing and was pretty excited we had this space. He cultivated this," Aubrey said.
With the holidays coming up, Juniper is now filled with gift items crafted by over 20 Island artists. "I think our sampling is really unique and cool. We've had a lot of good feedback," Aubrey said.
"We tend to be more art-based and I think that's a perfect gift for the holidays because people are spending so much more time in their homes," she continued. "People who have been looking at artwork or thinking about a painting should go for it."
Aubrey also carries gift boxes that feature items such as homemade mugs, Chilmark Coffee, MV Sea Salt and Linda Alley's New Lane Sundries jams. "Those are really fun boxes filled with treats from the Island," she said.
All of Juniper's offerings are catalogued online at junipermv.com. Shipping off Island is available as is contactless delivery on the Vineyard.
If you would like to come into the store (Thursdays through Saturdays) to browse or have something commissioned by an artist, it's best to call Aubrey ahead at 508-939-4098 to set up an appointment.
Aubrey will also host pop-up events at Juniper on Thanksgiving weekend and during Christmas in Edgartown, when artists will be in the store with more of their work to sell. After that, plans are already in the works for the return of weekly floral subscriptions and pick-up bouquets in May.
---
Aaron Wilson is a reporter for the Vineyard Gazette.