Seated in her new workshop in Vineyard Haven, Angela Sison, fashion designer and owner of the popular sustainable clothing brand Conrado, looks around with a smile. Around her, racks of vibrant clothing line the walls of the small shop – on the right, a set of colorful jumpsuits hang neatly in a row, and on the left, a row of airy dresses form a blur of floral prints and polka dots.
One month ago, the shop was a storage unit full of boxes and covered in dust, Angela said, but after some cleaning, redesigning and furnishing (with mostly recycled pieces), she has transformed the space into an open-concept workspace that will also double as Conrado's new brick-and-mortar retail store.
"My dream to have a bigger space is really to hold people," said Angela, who has been based out of The Workshop Gallery, a collaborative studio space for Island artists, for almost a year. "I wanted to have my workshop here, but I wanted it to feel like a place where people could just hang out."
The new space, located just off Main street, is the most recent chapter in Angela's journey as a designer. For Angela, that journey began when she first arrived on the Island a few years ago and, on a whim, began selling jumpsuits made from deadstock fabric at the Chilmark Flea Market.
"I really wanted to try to start my own brand, so I moved here in June and a week later I was starting at Chilmark Flea," Angela recalled of her early days at the market. "I sold out of jumpsuits on the first day and I thought, 'Okay, this might work.'" After finding success at markets throughout the rest of that summer, Angela decided to turn the experiment into a brand, and so Conrado was born.
Angela's Island-based brand, which features an array of unique pieces – from skirts to vests to her trademark jumpsuits – is made up entirely of clothing sewn from recycled fabrics.
The choice to only work with repurposed fabric was inspired by Angela's time at large fashion companies, where she witnessed the enormous waste they produced, she said.
"Coming from a big corporation, I saw how much waste there was," said Angela, who worked at Old Navy for a number of years. "I was collecting samples just to throw out and I was just devastated. That's why it was really empowering for me to reuse fabrics when I decided to start my own brand." Angela sources her fabrics from scraps left from artisans and companies, big and small.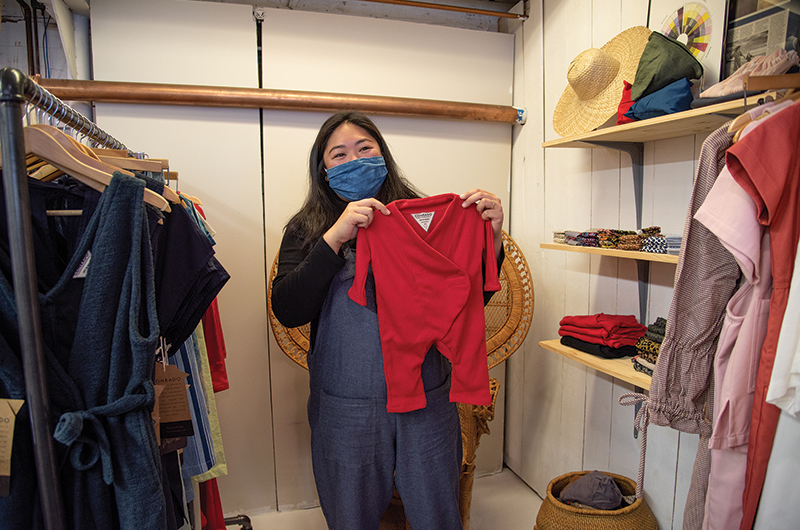 When creating the brand, Angela also joined forces with her mother, who owns a garment workshop in Angela's hometown in the Philippines. Angela designs her clothing on the Island, but the actual pieces are all sewn at the family garment shop. "I felt like the craft and the workshop that my mom started in the Philippines was so valuable," she said.
Angela grew up splitting her time between California and the Philippines, and her love of fashion dates back to childhood, when she would spend her days sketching dresses and making paper dolls for friends at school.
When it came time for college, Angela studied fashion at the Academy of Art University in San Francisco, and in her ten years of industry experience since, she has worked under big-name designers including Jason Wu and Peter Som in New York. One of Angela's original pieces was even showcased in the 2012 New York Fashion Week.
Angela draws much of her inspiration from the landscapes and vistas she sees around her, including the cliffs and ponds of Martha's Vineyard. "I do a lot of walks and I'm definitely inspired by the earthy tones and muted colors here. I've picked a lot of colors from the environment," she said.
She also credits her grandfather, Conrado, for whom the brand is named, as one of her primary inspirations.
"I named my brand after my grandfather because he was a traveler…He went to a lot of rural areas, especially in the Philippines, and it inspired me [because] he was still well-dressed," she said. "That's kind of how I imagined a Conrado girl to be – she can go anywhere and she's still put together."
In recent years, Angela has expanded the brand, selling pieces at local retailers on the Island and even branching out as far as clothing stores in upstate New York and Los Angeles. In merchandise, too, Angela has added winter clothing, zero-waste headbands and, most recently, a selection of baby clothes, to her line.
"Most of my clothing for the first two years was summer clothing, but the past two years I've been slowly finding more warm fabrics," Angela explained, pointing to a powdery wool coat hanging on a rack. This year, Angela is also planning to design pandemic-geared items, like face masks and leisure wear, she said with a laugh.
As the designer settles into her new Main street space (19 Main street, down steps next to Bunch of Grapes), she plans to hold open-workshop hours midday from Thursday through Saturday to incorporate customers into her process. She also plans to host a series of classes this winter, including mending workshops that she'll do in collaboration with Slough Farm. You can also purchase her designs on her website, shopconrado.com.
But for the moment, Angela is most looking forward to bringing the Island closer to her work. "I want it to be a place where people feel inspired," she said, looking around at the bright workshop. "A place where people can come to me and I can help them with the way they look."
Visit shopconrado.com for more information.
---
Maia Coleman is a reporter for the Vineyard Gazette.