For close to 40 years, the Community Greenhouse has been cultivating healthy food and community on Martha's Vineyard. Located off the beaten path in Oak Bluffs, this groundbreaking nonprofit has weathered financial challenges, structural and equipment failures, and now a pandemic. And still it grows.
Last spring, the Greenhouse welcomed local farmer Zephir Plume as the new greenhouse manager. She took over from longtime member and dedicated manager Diane Sylvia. Turning 40 in six months herself, Zephir couldn't be happier stewarding what she calls a community gem.
The heart of that gem is a 2,000-square-foot greenhouse filled with rows of easily accessible, waist-high beds and a raucous collection of lettuces, dark leafy greens, flowers and herbs, all ripe for the picking – even in winter. Zephir directs the day-to-day operations and works with about 160 members and volunteers who have access to this fresh local produce.
"I feel like this is an amazing place in the winter," said Zephir. "People think there's nothing growing in here in January and February, but we keep things growing year-round."
An easygoing person, Zephir arrived at the Greenhouse just as Covid hit last spring, right before the annual tomato and seedling sale, which serves as the organization's biggest fundraiser. Before the sale can even happen, hundreds of tomatoes – not to mention other vegetables, herbs and flowers – have to be started from seed inside the greenhouse in early spring. It's a tall order.
Zephir thought to herself, "If I can make it through the sale season, I'm golden."
And she did, she said, "with a lot of help."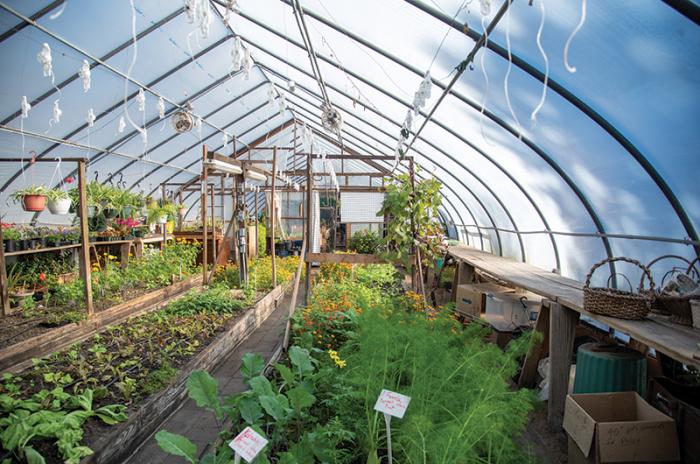 Help at the Greenhouse comes in the form of volunteers who have flocked to it since its construction in 1983 with a mission of being an educational center for hands-on horticulture and sustainable agriculture. First called the Community Solar Operated Greenhouse, or COMSOG, the name was simplified in 2013 to the Community Greenhouse of Martha's Vineyard. You can't talk about the Greenhouse without mentioning Thalia Scanlan, who became the president of the organization in 1991 shortly after moving to the Island and has kept the place going through thick and thin. A master gardener and heirloom tomato specialist, Thalia still serves as president, welcoming Zephir to her new position.
For Zephir, continuing to work as a grower fulfills one of her own goals to see healthier food get into the hands of more people. She first came to the Island in 2007 with then-partner Jefferson Munroe. Living at the youth hostel in West Tisbury where Jefferson had taken a job as manager, the pair had only planned on living here one summer.
"We both just fell in love with the Island and loved the community aspect of it," Zephir said.
Luckily for the farming and food community here, both Zephir and Jefferson became active in the next decade of growth and support for Island-grown food. (Jefferson now runs The Larder market in Tisbury and operates his chicken and turkey farm, The GOOD Farm, on State road.) Zephir, who initially helped Jefferson with his poultry business during busy times, joined the board of the Island's Slow Food chapter and began volunteering at Martha's Vineyard Agricultural Society events.
After a few years working landscaping and greenhouse jobs, Zephir went back to school for herbalism and nutrition in Colorado, her home state. "My desire was to have a retreat center working with people with extremely poor diets. People would come and learn how to cook for themselves to be healthier. I wanted to have the nutritional background."
She fell in love with the herbal part.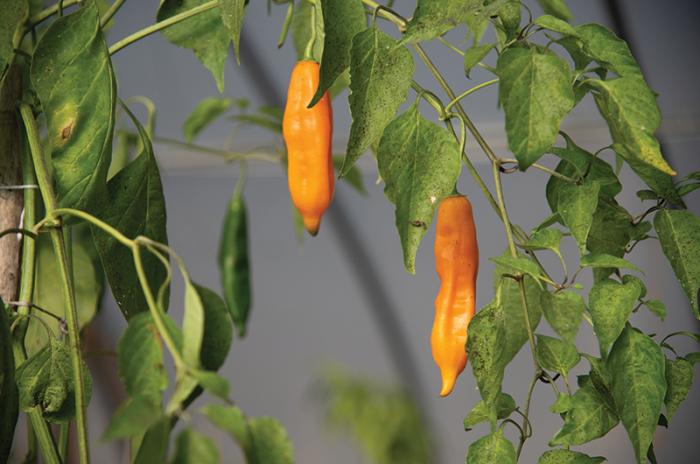 "I like the art of cooking but I didn't necessarily like the day-to-day which is probably why I'm growing food, not cooking food," she said with a smile.
After working for a bit at Healthy Additions, Zephir took over the restaurant garden for the Scottish Bakehouse, where she worked five seasons growing food for the business.
Zephir loved farming at the Bakehouse, but with forty-hour weeks and a young child, she needed a break. Her daughter, Adiya, with partner Alex Peterson is now sixteen months old.
"This job came up and it just seemed perfect, working with vegetables, and part-time," she said.
During Covid, the Greenhouse has had to close to the public, but members are still able to visit. Membership is $40 a year, and that includes being able to pick produce every week, buy spring garden seedlings for a discount and find a welcoming community of gardeners.
"If volunteering is something you want to do, we always have projects we are working on," Zephir said. "We're looking for every skill level, every mobility. If you are not very mobile and want to seed and plant something, we have stuff you can plant."
This spring, growing will expand to the outside. Zephir has plans to start cultivating a plot of land surrounding the Greenhouse for pick-your-own strawberries and raspberries. She'd also like to see some permaculture-based edible gardens outside too.
"We also put in an asparagus patch that we'll be picking in a few years," she added.
Zephir said she is grateful that the Greenhouse is one of a number of Island food resources getting local food to so many different people. She mentioned Island Grown Initiative and Slough Farm as examples; both organizations are working to bridge the gap of food insecurity in the community, "whether it's education about foraging, cooking in a different style or the mobile farm market that goes around and makes sure that people have access to local produce."
She added, "I'd love to see more of that all over the country, just having fresh produce available to everybody in whatever capacity."
---
Catherine Walthers is a food writer and cookbook author living in West Tisbury.
---
The Greenhouse
Location: 114 New York Ave., Oak Bluffs
Website: marthasvineyardgreenhouse.org
Facebook (Check for plant sale dates): MV Greenhouse Comsog
Instagram: MV.community.greenhouse
Volunteer work day: Tuesday 10 – 12 p.m.
Contact: greenhousevineyard@gmail.com