Waiting for me in Delaware at my Dad's house are three young "Anna's Red" hellebores. They are hanging out with a bodacious mature "Molly's White" hellebore. My Dad (who is 90 and an avid gardener) regularly reports in to me about Molly and the Annas, occasionally texting me photos of their progress. Dad bought the Annas for me for Christmas, but I wasn't able to get them from him when the pandemic prevented me from visiting for the holiday.
Other families might chat about grandchildren or the weather, but in my plant- (and food-) obsessed family, our phone conversations are a little different. It's actually a wonderful thing that my father can continue fueling his passion at his age and that I can ask him for advice on just about any plant.
The last time Dad was able to visit the Vineyard, he spent several mornings at Polly Hill Arboretum (and the rest of the time driving around to Island nurseries). What a gem Polly Hill is, and no matter the time of year, there is always something interesting. Last weekend I ventured over there with my camera just to look at the hellebores in bloom.
I bought my first hellebore from the 2019 Polly Hill plant sale (now held online and scheduled for May this year), having little knowledge of these intriguing woodland plants. (The genus Helleborus, a European and Asian native, has more than 20 species in it.) The poor plant never went in the ground that year, and also spent most of 2020 in a pot near our deck. And yet it bloomed and flourished. I finally planted it last fall and was rewarded with lovely burgundy flowers this March – and it's still blooming.
Turns out hellebores are just about the perfect Vineyard plant. These herbaceous perennials like shade, but can take a good bit of sun. They can grow happily in soil run through with tree roots, making them perfect underplantings in our oaky landscape. Deer avoid them. In fact, PHA executive director Tim Boland told me deer tend to avoid anything in the buttercup (Ranunculaceae) family, to which hellebores belong, because they contain chemicals toxic to deer.
Best of all hellebores bloom in late winter and early spring, even before the daffodils and sometimes outlasting them. I can't emphasize enough how cheery it is to see their lovely flowers emerge in the gray and frozen landscape.
And lovely those flowers are. One reason we're hearing more about hellebores and seeing more of them in nurseries is that hybridizers have created a host of new varieties (mostly from the oriental hellebore, also known as the "Lenten Rose") that range in color from deep purple (almost black) through magenta, red, pink, apricot, white and pale green. Some have spotted petals; others are "doubles" (with overlapping petals).
Hellebores have become popular in the cut-flower industry too for their subtle beauty and staying power. If the flowers are picked after the seed pod has started to form, they can stay fresh in the vase for many days. (Just one more reason I love hellebores – I can pick them!) Most have long stems, but you'll also see the blossoms arranged without the stems floating in a shallow bowl of water; it's a beautiful way to present them. In the garden, hellebores spread gradually over the years, so you'll have more and more as time goes on.
If hellebores sound good to you, I suggest you hop over to Polly Hill to see them while they're still in bloom. (Pictured above, several different flowers in the Brandywine series.) Island nurseries are running short on them, but some will order plants for you. Also, some nurseries restock them in the fall. And Polly Hill plans to have some in their plant sale in May. Then go online and take a look at plant breeders' sites (start with monrovia.com) to see which colors and varieties appeal to you.
If you procure some hellebores this year, plant them with plenty of organic matter in a place where they will have good drainage. A gentle slope or slightly elevated spot is perfect, as you'll be able to see the blooms better. Many hellebore varieties tend to hold their flower-faces down, though some newer varieties are more outward facing. But the backs of the flowers are charming too.
I'm heading down to get my hellebores from Dad next week. When I get back, I'll be perusing the Polly Hill plant sale for more.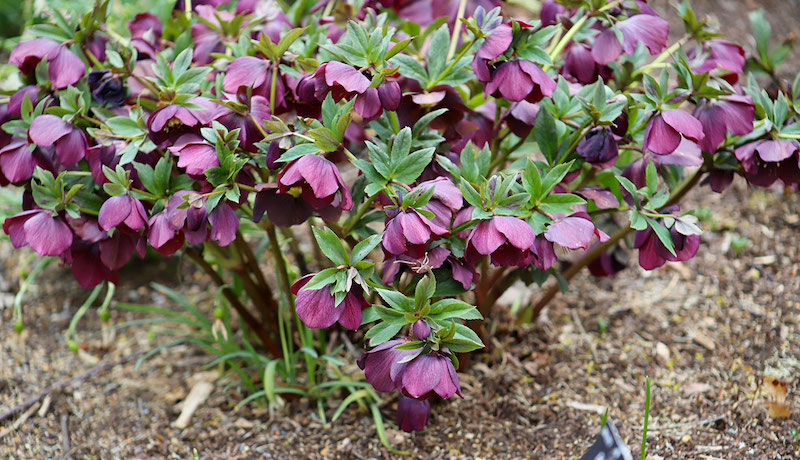 This cluster of Red Racer hellebores shows how they tend to hold their flower-faces down. Some of the newer varieties are more outward-facing.
---
Susie Middleton is the editor of the Vine.