It's going to be a good summer for eating. No, great summer. Well, okay, when is it not a great summer for eating? But this one – 2021 – is going to be different. We all know why, of course. But considering that many of us are just coming out of our shells after getting our vaccines, you have to admire the chefs and restauranteurs who had to make decisions months ago about whether to go for it in 2021. But go for it they did, and we've got a full plate of new food businesses to show for their bravery.
Every one of these new restaurants or artisanal products is powered by a cook or food maker with a bright idea. From cheese boards to sourdough bagels, from a deconstructed clambake-in-a-bowl to rotisserie-chicken-on-wheels, their food is original, fun, local and fresh. Some of the chefs and makers you'll recognize (the Vineyard chef shuffle continues), others have been quietly building a business from the ground up over many months, a few are recent washashores. Many of them are millennials, luckily for us. The food future looks delicious.
On this Memorial Day weekend, we thought you might like to get to know a few of these food folks and their businesses. Enjoy the portraits and previews that follow. Know that not every single one will be open this weekend. Permits, staffing and congested supply chains may delay some openings. But open they will in good time. And know that they'll be joined by many more food entrepreneurs who we haven't yet caught up with. (For a roundup of more new food options on the horizon, see À la Carte, below.) To keep up with restaurant openings, check "What's Open, What's Closed" regularly on vineyardgazette.com.
---

Tigerhawk Sandwich Co.
12 Circuit Avenue, Oak Bluffs
Jimmy Alvarado • Nathan Wade
Tigerhawkmv.com • @tigherhawkmv
Street food, with its signature pop of balanced and exotic flavors, is on the menu at Tigerhawk Sandwich Co. on Circuit avenue in Oak Bluffs, between two slices of bread or as a bowl – your choice. You can get your fill of spicy, salty, sweet, tart and savory international flavors thanks to the new collaborative venture run by two Island chefs, teaming up here to provide Vineyarders and visitors with quick and delicious food.
Here are some of the menu options that will trigger a beeline to the storefront Tigerhawk shares with Mad Martha's Ice Cream: Korean short rib (with gochujang mayo and kimchi); local pork belly porchetta (with caper aioli, chimichurri and roasted garlic rappini); fried chicken hoisin; oyster po'boy (using local oysters); clam belly roll; and roast beef (with red onion jam and white cheddar). If you are a fan of Bahn Mi, you'll be glad to know that here the spicy baguettes are served with pickled daikon, sliced jalapeño, bacon and chicken liver mousse, fish sauce caramel, and other condiments. Choices for the Bahn Mi are pork belly, fried fish or chicken.
These creative and playful sandwiches are how the two chefs of this "chef-driven sandwich shop" prefer to eat: with plenty of complex flavors for punch. Nathan Wade, the former Outermost Inn chef who helped launch that restaurant's popular brunch/lunch menu, and Jimmy Alvarado, formerly chef at Woods at Lambert's Cove Inn with experience at many other Vineyard establishments, have long admired each other's cooking. They decided to work together to create this small space/quick service shop, featuring their over-reaching view of world food.
From Texas to Peru, Korea to Vietnam, the pair uses flavor combinations that fit well with our local seafood. In the same playful vein, Jimmy and Nathan named their new business Tigerhawk after their spirit animals – a tiger and a hawk –both animals with hearty appetites. Look for the colorful logo to find their food, and you'll appreciate how the mind of a chef can create a sandwich to savor.
– Emily Meegan
---

19 Prime Cast Iron Steakhouse
19 Church Street, Edgartown
Joe Monteiro • Emily Monteiro
19primesteak.com • @19primesteakhouse
For Joe and Emily Monteiro, the official opening of 19 Prime Cast Iron Steakhouse this spring is the culmination of more than two years of effort. In the winter of 2019, the proprietors of 19 Raw Oyster Bar learned of the opportunity to lease the former Isola space adjacent to their 19 Church street location. They signed the lease and began renovations just as the pandemic arrived in 2020. (As did baby Grayson later in the year; he's now seven months old). At last, they're ready to give birth to a modern steakhouse in 2021.
19 Prime will feature prime, dry-aged steaks and cast-iron baked side dishes like pork belly mac 'n' cheese and nutmeg-creamed spinach.
"Joe doesn't cut corners on anything," Emily said. "Everything will be the highest quality."
And that doesn't mean just the prime beef, which will include cuts not served anywhere else on the Island, but also non-beef entrées like pork Milanese with tomato salad and colossal lump crab cakes with basil limoncello aioli.
Joe was the chef at The Atlantic for six years before co-founding Wash Ashore Beer Company with John Clift and Chad and Michelle Verdi and then opening 19 Raw in 2017.
Emily, who serves as marketing and event director for 19 Events, describes 19 Prime as a classic steakhouse dining experience with a modern culinary spin. Steaks will be served (perfectly cooked!) on wooden serving boards.
Of course the essence of perfectly cooked steak is timing, so the emphasis for 19 Prime will be on dining in, not taking out. With ample space and a comfortable dining room, as well as outdoor dining, 19 Prime also plans to share a menu (and an entrance) with 19 Raw for this summer to make sure that service remains top-quality as well. There is also a private dining room available for events for larger groups.
— Susie Middleton
---

Goldie's Rotisserie
On wheels
Eva Faber • Lexie Roth • Matt Regan • Gretchen Regan
goldiesmv.com • @goldiesmv
Rotisserie food truck. That's about all you need to hear to know we're in for a treat this summer. But add chef Lexie Roth to the mix (Lexie's been a private chef on the Island for 13 years), along with partner Eva Faber, Eva's mom Gretchen Regan, and her husband Matt Regan, and you've got a fired-up family business with a great concept and a commitment to fresh, delicious food.
While the rotisserie and the truck are making their way to the Island, the Goldie's Rotisserie team has been honing their menu. Most recently, they hosted a pop-up that benefited the Island Food Pantry. Orders sold out quickly. The menu included roasted split chicken breast, crispy fingerling potatoes and brussels sprouts, kale and cabbage slaw, and sea-salted oatmeal chocolate chip cookies.
Once the truck arrives and a regular location is confirmed (Goldie's will also do private events), menu items like griddled sandwiches (including a rotisserie chicken Cubano), seasonal beverages and cold brew, and lots of veggie sides made from Island farm produce will be added.
"We want to serve delicious high-quality food," Lexie and Eva said in a recent interview. "And we want it to be convenient and a little bit fun too."
– Susie Middleton
---

Flavors MV
11 Circuit Avenue, Oak Bluffs
Ralston Francis • Sonny Chhibber
flavorsmvy.com • @flavorsmv
Ralston Francis and Sonny Chhibber are on a mission – a mission to bring new flavors to Circuit avenue in Oak Bluffs.
In the building that was formerly the Island House Bar & Grill, Flavors MV will have breakfast, brunch, lunch, dinner and late-night food menus, with plans to expand as an entertainment venue when permitted. Ralston has been the chef and owner of the Edgartown Diner since 2015; Sonny is the former manager of the Island House.
"We wanted to do something different with a new vibe," Sonny said. "We took the time last year to sort out what the Island really needs when it comes to food and entertainment."
With an interior and exterior makeover accomplished, Ralston is cooking up traditional American and Southern cuisine infused with a touch of his Jamaican heritage. "Like a little bit of Caribbean feel to it here and there," Ralston said.
For breakfast, Ralston suggests his fried chicken benedict, or you can have your fried chicken piled high on a stack of waffles and drizzled with maple syrup. Pancakes, avocado toast, burrito wraps – the breakfast menu has it all.
When the lunch hour comes around, Flavors MV has everything from lobster rolls to coconut shrimp, jerk chicken to fish and chips. And as the sun goes down, the kitchen will offer up surf 'n' turf, shrimp and grits, pastas, filet mignon and more.
For their first summer in business, Sonny and Ralston are focusing on keeping everybody healthy and safe while serving the community. Once the pandemic is in the rearview, they're looking forward to incorporating live entertainment with the dining experience.
"With Ralston's great culinary background, I thought if both of us combine our efforts we can make this happen when it comes to the flavors of the food and the flavors of the entertainment," Sonny said.
"That's how we came up with the name Flavors MV," Ralston said.
– Aaron Wilson
---

Martha's Vineyard Cheesery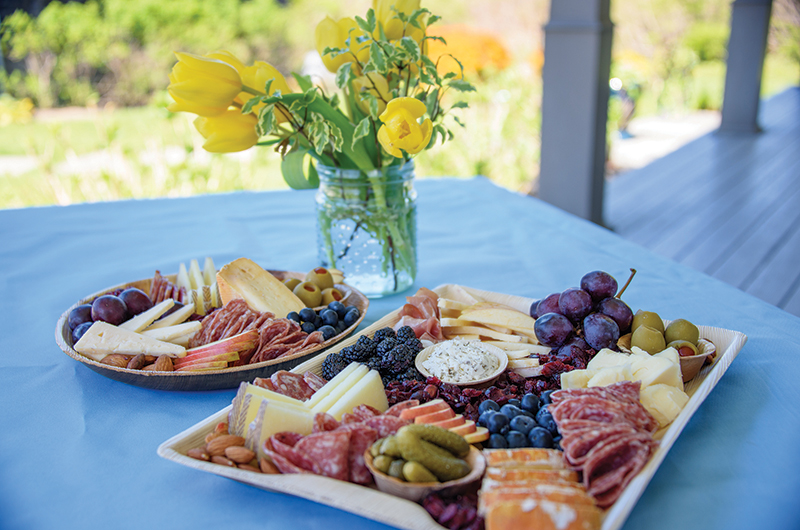 Pick-up at The Larder, 342 State Road, Vineyard Haven
Morgen Schroeder
mvcheesery.com • @mvcheesery
When Morgen Schroeder and her husband Alex Ficarelli-Danberg moved to the Vineyard last year, Morgen fell in love with Island cheeses after a tour of Grey Barn and a taste of Mermaid Farm feta. Noticing that no one on the Vineyard seemed to be offering charcuterie boards, Morgen saw an opening for a new business. A business that would feed a passion – she already works full-time in corporate real estate, and has just started a new job with Pinterest, overseeing the construction of offices for the company all over the world.
But with the launch of Martha's Vineyard Cheesery simultaneously, Morgen will be a busy woman. She will be offering pre-made grazing boxes of cheeses and charcuterie in three sizes – small for two to four people, medium for four to six people, and large for six to ten people. Each box will always include an Island product, such as local honey or jam. Morgen will use The Larder's commercial kitchen to create her grazing boxes, and customers will pick up there.
Additionally, MV Cheesery will offer a separate service providing grazing tables for events. Morgen will set up the tables on site
– at different price points, depending on what customers want. Morgen also has a partnership with Chappaquiddick Wood Company, where her husband works with Zach Pinerio. This will allow customers to add a custom board made with Island wood if they like.
— Susie Middleton
---

The Dunes Winnetu Oceanside Resort
31 Dunes Road, Edgartown
Michael Hervieux
Winnetu.com • @thedunes
Chef Michael Hervieux knows his way around New England seafood. A long-time Rhode Island chef with connections to fishermen and farmers throughout New England, Michael and his wife Kristin Love have arrived at The Dunes restaurant at the Winnetu Oceanside Resort after six years on Block Island. While Michael is at the helm in the kitchen, Kristin is steering the front of the house.
One of Michael's featured dishes will be a refined deconstructed clambake he calls a fish pot that includes marble potatoes, fresh sweet corn, grilled Fall River chorizo, local littlenecks, New England lobster and summer herbs. He's already begun to make connections with Island farms and fishermen and hopes to source many of his ingredients both from the Island and from greater southern New England. He is particularly interested in supporting local fishermen who saw their businesses shrink last year. He'll be introducing a featured local catch on each evening's menu as well.
Kristin is excited to introduce a new fun Après Sea cocktail hour with small bites that will happen daily (when beach weather arrives!) at 4 p.m., not only for guests of the resort but for the general public too. (Anyone leaving South Beach on Katama Road will pass the Winnetu.) Because the Winnetu has plenty of outdoor seating, it can offer this type of daily event where family or friends can enjoy cocktails and nibbles seated with their own group.
The Dunes opened for the season on May 14.
– Susie Middleton
---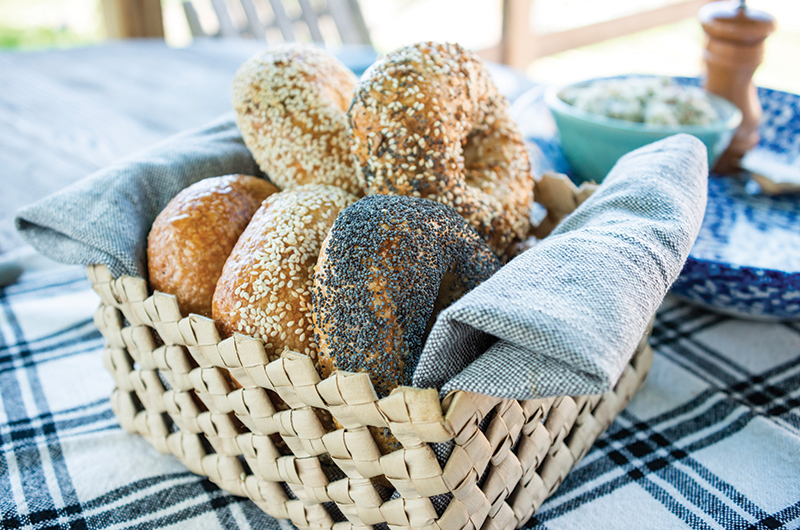 À la carte
And there's more! Just follow your cravings.
The six food businesses we profiled in the previous pages are just the tip of the iceberg salad when it comes to out-of-the-box thinking this summer on the Vineyard. Last summer's pivoting to takeout, online ordering and outdoor dining seems to have spurred a more flexible approach to serving food on an Island where rents are high and staff is scarce. With only a few short months to make money, businesses want to take advantage of a pent-up demand for dining out, but in a manner that's sustainable and productive.
To wit, two Oak Bluffs restaurants – Sarah Brown's Comfort Food and Linda Jean's – are saving money by sharing the same space. Linda Jean's will still serve the breakfast and lunch they're known for. Sarah Brown's will take over the kitchen for dinner. A win-win for all.
Chef and artisan baker Elana Carlson is operating her new business, Fantzye Bagels (as well as a second business, Fantzye Suppers), out of a commercial kitchen at the airport that she shares with Kitchen Porch Catering. Instead of renting an expensive storefront, Elana sells her bagels at a pop-up every Sunday morning at State Road restaurant, and on the last Friday of the month at Vintage MV Wine & Spirits. The pop-ups (and the bagels!) have been so popular that she and her team are considering adding a Thursday pick-up at the airport location. She will also be doing Fantzye Suppers at State Road on Monday nights. Follow @fantzyebagels on Instagram for updates and be sure to try one of Elana's favorites: an everything bagel with chive schmear, smoked bluefish salad and pickled onions.
When Jamie Langley did not renew her lease at The Right Fork Diner this spring (Zared and Evan Shai will open Katama Kitchen in that location), it didn't stop her from finding a suitable spot to serve her customers. This weekend she opens Right Fork Dine Out at 23 Kelley street (the old Myx Market space) in Edgartown, next to The Newes From America (where a new chef, Michael Pacheco, is in place). Jamie will offer grab- and-go breakfast and lunch, made-to-order sandwiches and salads, smoothies, picnic items and plenty of coffee. Also in Edgartown, the owners of Little House Café (in Vineyard Haven) will open Little House Bakery in June in the space that was formerly Mad Rosie's.
In Oak Bluffs, we hear that the Corner Store at 24 Circuit avenue is opening up the Corner Kitchen. And that a spot called Winston's Kitchen will open soon for takeout next to Our Market. And that Sea Smoke BBQ will have a soft-serve ice cream window. And that's all good! We'll see you in line.