Before this summer, my yoga history consisted of one class where I drifted asleep in corpse pose, only to awake to people packing up. After that fiasco, I wondered if everyone who did yoga was able to reach some ideal meditative state, or whether there was a level of expertise I just didn't have. When I discovered that the Island offers a roster of creative yoga classes (Alpaca yoga! Goat yoga! Paddleboard yoga!), I figured this was my chance to experiment – and hopefully find my groove.
Island Alpaca Company in Oak Bluffs features alpaca yoga bi-weekly, Native Earth Teaching Farm in Chilmark has goat yoga twice weekly, and MV Paddle Co. offers SUP (Stand Up Paddleboard) yoga classes to private groups.
AMONG THE ALPACAS
My yoga journey began on a sunny morning with alpacas.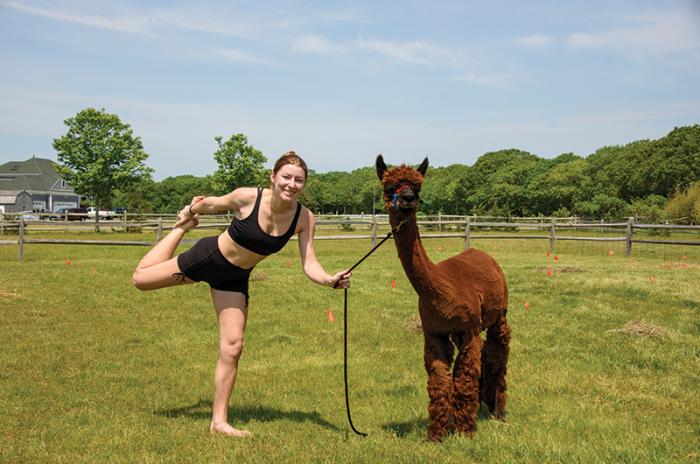 Turning onto Head of the Pond Road, I followed Island Alpaca's signs to the entrance to the farm. Walking through pastures, I was pleasantly surprised by how removed I felt from the Island's summer bustle. Sprawling fields surrounded by thickets of trees created a perfect buffer. I found the yoga pasture and rolled out my mat, joining everyone else in looking around excitedly for the alpacas to join us.
Eyes closed, we absorbed our surroundings as alpacas roamed the enclosure. The sun warmed up my mat as the grass tickled my pinkies. I cracked my eyes, glancing around to get a glimpse of the alpacas. To me they looked like miniature giraffes; half of them had a poof of fur left only around their heads like a lion's mane or a pom-pom. They headed right for the grain and hay scattered around us and focused intensely on feasting. Food was definitely more intriguing to them than we were! As Jason Mazar-Kelly led us through downward alpaca and other poses, I realized that a warm summer day in the open air with some entertaining animals is not a half-bad way to ease into yoga.
Before the class, Barbara Ronchetti, owner of Island Alpaca, had told me, "What many people may not know is that the alpaca has a very docile, calming personality, moving slowly as it grazes. During the last part of the yoga class, alpacas are haltered and we invite participants to get up close to them, maybe even hug one of our furry friends, to see how truly soft and gentle they are!"
After hugging and posing with an alpaca, I can personally attest to the fact that their soft, thick fur perfectly complements their relaxed nature. I know that any of my friends visiting the Island would enjoy the unique experience as much as I did.
Alpaca yoga runs through Labor Day on Saturdays at 2:30 p.m. and Tuesdays at 10 a.m. Some classes will also be scheduled in September. Registration (alpacayoga.com), is open to all levels. There is no minimum age, as long as participants under 14 years old are accompanied by an adult.
GET YOUR GOAT
Later that day I pulled into Native Earth Teaching Farm in Chilmark, excited to see the little goats and to try goat yoga. As a child, I visited Native Earth year-round. The familiar space comforted me, and I was thrilled to catch up with Rebecca Gilbert, farm co-owner and co-founder of the goat yoga classes. I helped her and farm assistant Caroline Roddy in wrangling the energetic kids (the goat variety) for class.
Once participants arrived, we set up in an enclosed space (a hoop house), removing things we didn't want goats chewing on, then laying our mats on the sand. The goats immediately checked us out, and playfully head-butted one another in response to our excitement. Instructor Kaila Binney started with some simple poses, working up to poses like downward dog and planks – excellent opportunities for the goats to jump on us, or be placed on willing participants.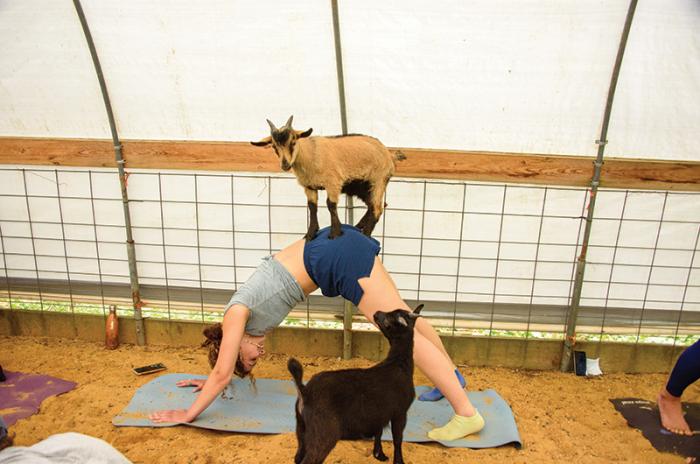 Towards the end of class, one man was in a plank pose when a goat hopped onto his back. He held strong as a second goat joined the action and jumped onto his back. The two scrambled around on their temporary jungle gym, nibbling at their new friend's clothes and having a swell time while he held his pose.
When asked what can be difficult about this yoga, Josey Kirkland, co-founder of Goat Yoga MV (facebook.com/goatyogamv/), noted, "For some it might be getting out of your comfort zone a bit, since not everyone knows what they are getting into when they arrive, and it can get messy (but in a good way, if you are okay with fur and dirt!). But it's all a part of the experience."
I would agree with that! I recommend bringing a towel or mat you don't care about since the class takes place in the sand with goats running around. Also, wear washable flip-flops or other shoes you don't care about. If you love baby animals and want an adventurous activity (read: a bit chaotic, but worth it), this class is perfect.
"It's hard not to laugh during goat yoga, which is medicine in itself," Josey said.
Goat yoga is held Tuesdays and Thursdays at 5:30 p.m. and is booked by emailing goatyogamv@gmail.com. Minimum age is 13 years old.
FIRST YOU ANCHOR
After alpaca and goat yoga – great opportunities to interact with some spirited animals and visit farms on the Island – I was excited to take advantage of being near the water. A few days later, I participated in a Stand Up Paddleboarding (SUP) yoga class on Tisbury Great Pond with Anna Morin, yoga instructor and owner of MV Paddle Co. Anna explained that she "loves practicing yoga on a paddleboard because it is incredibly dynamic, naturally beautiful, fun and challenging."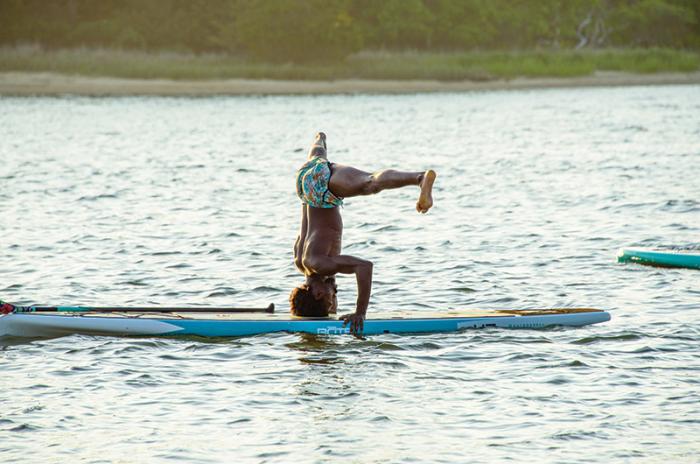 I drove down a long and shady dirt road, only to be blinded by the bright late-afternoon sun over the water. I met my classmates and Anna and hopped aboard. I had done a little paddleboarding, but I was excited to learn more and was hoping I wouldn't lose my balance and fall off. Anna first showed us how to paddle properly, use the anchor and position ourselves on the board. Then we took off, paddling a short distance to anchor in three feet of water. For the next hour we tried all kinds of poses that challenged our balance while helping us get comfortable on the water. Laughing with the other participants, I attempted to lunge and balance on my board, enjoying the sea breeze and the beautiful views of the Island from the water. As we twisted to the left, an osprey flew from its nest, a small fish in its talons. The sun continued its descent, reflecting off the water as we wrapped up near dusk.
MV Paddle Co. SUP yoga classes are open to groups of two to six people of any level. Book a class through mvpaddle.com or by calling 508-739-5620.
For me, each class posed different challenges and offered diferent highlights. One of the unexpected perks was the opportunity to explore new-to-me parts of the Island. The classes gave me different perspectives on Vineyard life and were a great way to meet new people on Island. Though there are probably endless opportunities on the Vineyard to challenge yourself and view the Island in new ways, I think yoga – on a board, with a goat, among alpacas, in a field, in whatever special form it takes – is a fun and exciting route that is worth trying. It can even be calming – and you most definitely won't fall asleep.
---
Simone Geary was born on Martha's Vineyard and regularly returns to her Oak Bluffs home. She is a 2021 graduate of Dickinson College.