The stars of this long-running promotional campaign tend to be cows and pigs. And horses and chickens and sheep. And dogs and cats and ducks. And an occasional goat.
The annual campaign, of course, promotes the Martha's Vineyard Agricultural Society's Livestock Show & Fair, and the medium is an 18-inch by 24-inch poster created each year by professional and amateur artists alike.
Over the years, the fair posters have become much more than a notice about the fair's dates, or even a reminder of the historic and enduring role of farming on the Island. They are collectibles, appreciated for their humor, imagination and, yes, artistry. And in the past two years they have become emblems of hope and inspiration.
The fair posters had traditionally functioned as simple cardboard calls to "Come to the Fair" on certain dates in August or September, often published by the carnival company which used the template for other destinations on its summer circuit.
But 45 years ago, fair manager Abbe Burt saw an opportunity – the posters could be both a revenue source and a way to support local artists. Abbe, whose family dates back several generations on the Island, commissioned Allen Whiting, a young artist whose family had deep farming roots in West Tisbury, to create the 1976 poster.
"I had no idea originally how big it would get because it was the following year before I thought about putting it on a T-shirt, and then we took off financially with it," said Abbe. (Today, the Ag Society says it makes approximately $30,000 annually on sales of posters and T-shirts.)
Allen ended up creating posters for three straight fairs, all in charcoal and with family members playing cameo roles. The 1978 poster, for example, included his wife Lynne walking toward the merry-go-around.
Getting that first commission – which incidentally comes with no prize, cash or otherwise – was nevertheless a source of pride and affirmation for a young artist trying to make his or her way.
"It made you feel good, made you feel more real, just like when you go and buy paints and canvas makes you feel more real," he said. "It's a long haul, being asked was an honor, so I was glad to do it."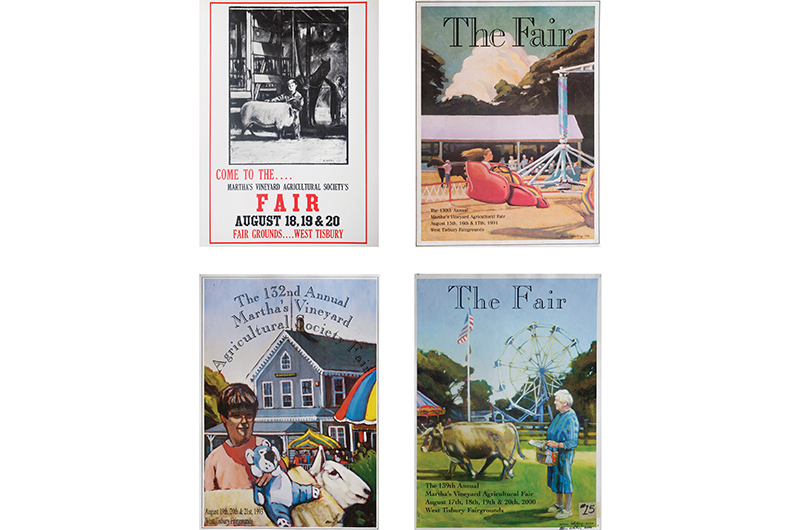 Allen also created posters in 1991, 1993 and 2000, all of them done in oil. In the 1991 version, his daughter Beatrice is a blurry figure on a carnival ride, her hair trailing in a horizontal slash. As his daughter modeled for the painting, "I got a great big fan and put it in front of her, blew her hair up a bit," he said.
But Eleanor Neubert, who became fair manager in 1984 and served until 2017, noticed something ominous looming in the background of that poster (top right). "Oh, Allen, that looks like a hurricane cloud," she recalled telling him.
The poster was eerily prescient. In 1991, the fair's last day was on a Saturday. The catastrophic Hurricane Bob would make landfall two days later, on Monday, August 21.
Paul Karasik, an Island cartoonist and teacher, had memories of Mr. Whiting's charcoal posters growing up and even of the earlier generic posters: simple, two-color (blue and red) with a demand: "Come to the Fair." Designing a fair poster was always on his bucket list.
"That little phrase has sort of come and gone and it gets brought back every once in awhile," Paul said. "But I couldn't imagine drawing a Martha's Vineyard Agricultural Fair poster and not having the phrase 'Come to the Fair.' To me that is absolutely essential to have in a fair poster."
So when his entry was selected for the 2016 poster, it had the phrase hand-lettered over a whimsical image of a hen showing off her blue-ribbon egg. "The proud creator holding the first prize," Paul said, laughing. "Let the mother take credit where it's due."
Many posters have indeed featured carnival rides, farmers, fair-goers, flowers, present and past Ag Halls, but the vast majority have the animals front and center. The 2010 poster is a prime example.
Joyce Maxner, who had various animals on her West Tisbury property, was painting a watercolor of her favorite goats when a friend, Matthew Dix, happened by and urged her on: "That would make a great poster," she recalled him saying. "They never do goats!"
She made a print of the watercolor and submitted it. "I didn't think it was going to happen," she says. "So when I got the call, it was, 'Oh my gosh, now I'm down in history, for sure.'"
In the 1980s, Eleanor instituted a contest to select each year's fair poster, and it would attract up to two dozen entries per year, judged by her fair staff plus an artist, sometimes Allen.
Aside from Allen, a select group of artists have had their work selected in multiple years. Carol Kolodny was commissioned to create a poster four straight years (1979-82), and then another couple of years with Mary Rentschler (1983, 1985). Linda Carnegie created a poster three straight years (1987-89), Jan Paul twice (1994, 1998) and Robin Nagle twice (1997, 2020), using cut paper to create her posters.
Robin's poster last year commemorates a fair that never convened on the fairgrounds, the first year the fair was canceled since World War II. (Her poster has no fair dates on it.)
Last year's entry was submitted before the onset of Covid-19, but after it was selected she decided to put masks on the pigs, cows, sheep and the award-winning dog. In the sky above the fairgrounds (which are devoid of people) is a large shooting star, perhaps a harbinger of better days ahead.
"I hope that was an uplifting image that people would still want to surround themselves with. I had no idea [the pandemic] would happen but I am so proud to be the person to represent the non-fair fair," she said. The fair's theme: "Staying Home on the Farm."
Occasionally since the eighties, the Agricultural Society has decided to select or commission a poster without a contest. The 1992 poster celebrating the town of West Tisbury's centennial was one such special occasion, when the estate of Thomas Hart Benton allowed the late artist's 1967 painting of the fair to be used.
And this year posed another special circumstance. Charlotte Hall has designed the poster in memory of her younger sister Emma, 22, a longtime fair volunteer who died last winter in a car accident, and inspired by her family's longtime service to the fair. It's a digital artwork in the style of cloth embroidery featuring various fairground activities.
"Her poster is a beautiful throwback to what an agricultural fair is, such a tribute to the fair and fair family," said Lauren Lynch, the Ag Society's executive director. "It sums up so many warm feelings about the fair. It's special and poignant and powerful that Charlotte created this beautiful poster after this horrific year."
This year's fair, the 159th, is scheduled for Aug. 19-22 and aptly features the theme: "A Fair Together, Celebrating Friends and Family."
---
John H. Kennedy is a journalist and educator living in West Tisbury.
---
More Fair Posters
2012: Kathy Ham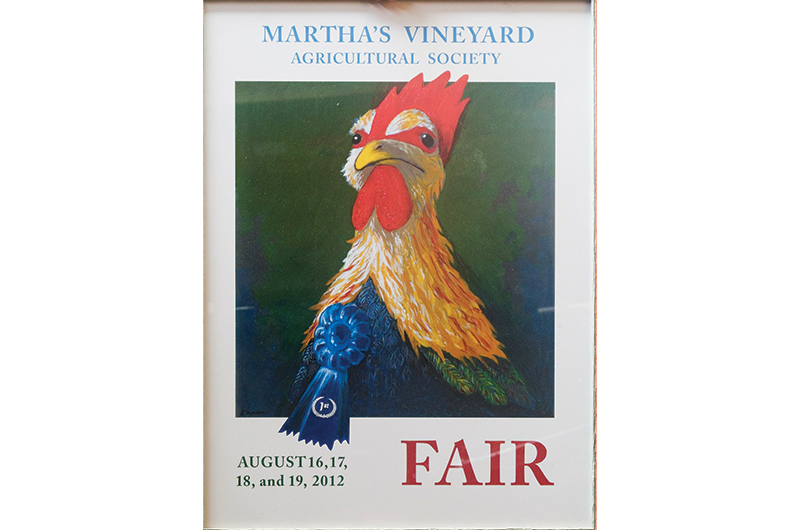 2013: Terry Crimmen
2014: Omar Rayyan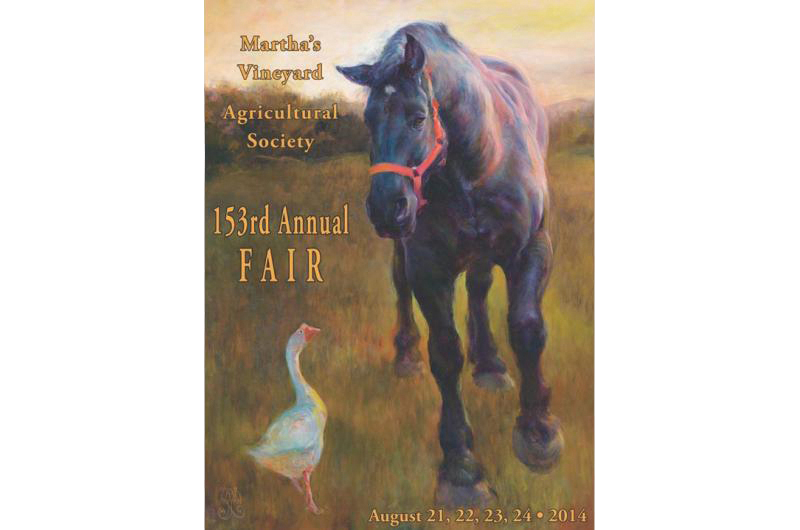 2015: Kathy Maghini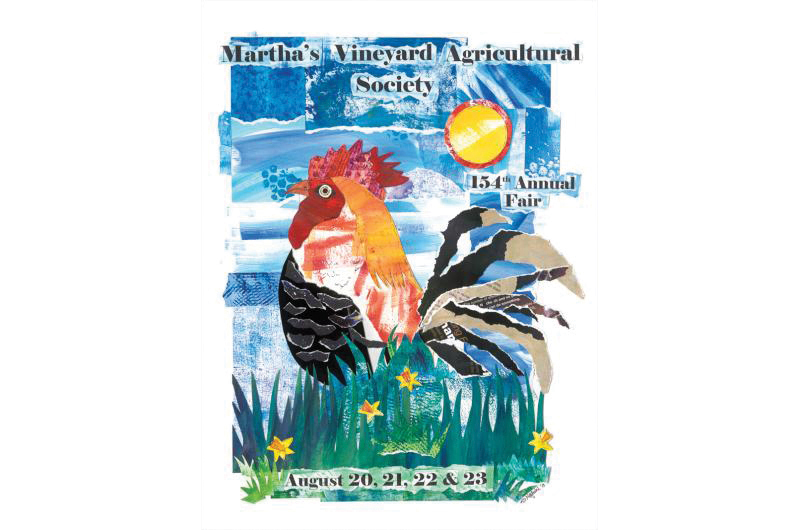 2017: Kate Wignall
2018: Barbara Ronchetti
2019: Elissa Turnbull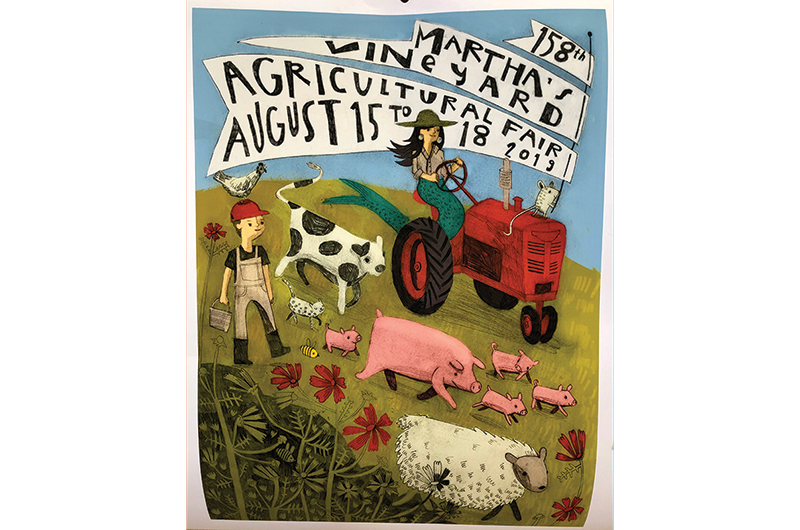 ---