If you've been traveling the up-Island farm stand circuit, I'm sure you've noticed – and hopefully tasted – those beautiful and delicious vegetables at the Beetlebung Farm farm stand on Middle Road. Or maybe you've seen the eye-popping Mokum carrots, that stunning Reine des Glaces ("Ice Queen") lettuce or the unusual white Itachi cucumbers at the farmers' market. Either way, it's likely you may have wondered who (and what) might be the secret to growing these exceptional vegetables.
The "who" are Kate Woods and Nick Doherty, the new co-managers of Beetlebung Farm who arrived on the Island in February. And they have dream résumés. Both of them are veterans of Stone Barns Center for Food & Agriculture in Tarrytown, New York, having worked a combined six-plus years on the farming side of this renowned nonprofit educational and culinary mecca – but not always at the same time.
From 2017 to 2020, Kate worked as apprentice, assistant field manager and manager – with a year off in 2018 to work at Cornell University in Ithaca with plant geneticist Michael Mazourek (co-creator of groundbreaking Row 7 Seeds, along with Blue Hill at Stone Barns chef and author Dan Barber and Fruition Seeds co-founder Matthew Goldfarb). Nick worked as an assistant field manager from 2017 to 2020 before heading to Ithaca himself – to get his master's degree in hospitality from Cornell's School of Hotel Administration, completed this May.
"He went to Ithaca, and I went back to take his job at Stone Barns. We swapped!" Kate told me when I caught up with the two at Beetlebung. Another Stone Barns alum, Mara Flanagan, now works as the business administrator for The Farm Group, which purchased Beetlebung Farm from the Fischer family in 2018. It was The Farm Group that recruited Kate and Nick to come out to the Vineyard and guide Beetlebung in only its second year as a revitalized small farm emphasizing regenerative farming techniques.
Kate and Nick see their priority as providing high-quality vegetables to the community. With 65 beds and nearly two acres (incuding hoop houses) dedicated entirely to vegetables, pollinator-friendly flowers and some fruit, the possibilities are endless.
"We're just focusing on the production, maximizing the use of the space, getting the fertility right, getting systems in place, feeding the community," Nick said.
Getting the fertility right and following regenerative farming techniques (which focus on improving, not depleting, soil) means adding compost and trying to till as minimally as possible. They're using cover crops to improve the nutrients and the texture of the soil and rotating crops as much as possible.
"We're also using beneficial insects to control pest populations," Kate said. "It works."
Good farming techniques only get you halfway to beautiful vegetables, though. The other half of the equation, quite simply, is seeds. What Kate and Nick have chosen to grow – the seeds they started with and the varieties they're experimenting with – are deliberate commitments to genetic diversity, regional suitability and oh, yeah, flavor.
"I think one of the things that was highlighted the most at Stone Barns was variety selection, just being aware and always trying to kind of push the boundary in terms of what varieties you're growing and diversity within each crop. So, for instance, talking to seed companies or just kind of digging a little deeper in the seed catalogues than a lot of people might. Talking to people about what worked and didn't in a system," Kate said.
"At Stone Barns, you have such a close relationship with chefs, so what's ingrained in you is the culinary aspects of these varieties," Nick added, pointing out that a lot of traditional breeding work over the last 30 years has not been about flavor, but about how well something ships or how it benefits industrial-scale farming. At Stone Barns, varieties are chosen for flavor and versatility in the kitchen.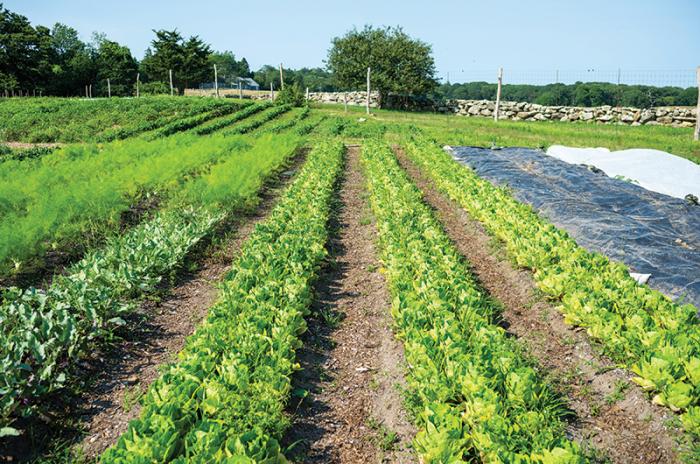 At Beetlebung, this year's vegetables are coming from innovative seed companies across the country from Vermont to Oregon. In addition to Fruition seeds and familiar New England companies like Johnny's and Fedco, Kate and Nick are mining Kitazawa Seed Co. in California for Asian vegetable seeds and Pacific Northwest seed companies like Adaptive Seeds, Uprising Organics (home to more than 15 different varieties of radicchio) and Siskiyou Seeds for diverse offerings.
With the exuberant enthusiasm of Beetlebung's customers for lettuce and other greens, Kate and Nick are pushing the envelope on what they can do with leafy vegetables. Statuesque heads of napa cabbage were popular in the spring; this summer the farmers have been able to keep growing healthy heads of lettuce, even in the heat.
"We're keeping it cool with overhead sprinklers and we're choosing slow-to-bolt varieties, a lot of romaines right now," Kate said. And not just romaines – Kate and Nick showed me another stunner that's thriving — Strawberry Oak Heart lettuce, a new variety from long time lettuce breeder Frank Morton of Wild Garden Seed in Oregon.
You can tell they are most excited about radicchio, though. "We're doing some fun stuff with it this fall, growing 10 to 12 varieties," Nick said. Some of the blanched varieties will be "forced" or grown in the dark, perhaps in the old cellar of the Beetlebung farmhouse.
Kate is looking forward to growing several cauliflower varieties as well as purple sprouting broccoli.
"We have this really great one called Noble Jade that we learned about at Stone Barns. It has a succulent stem and a beautiful floret on top. I think it's like the asparagus of the brassica family," she said.
A Vineyarder cannot live on greens alone, though. And cherry tomato season has arrived.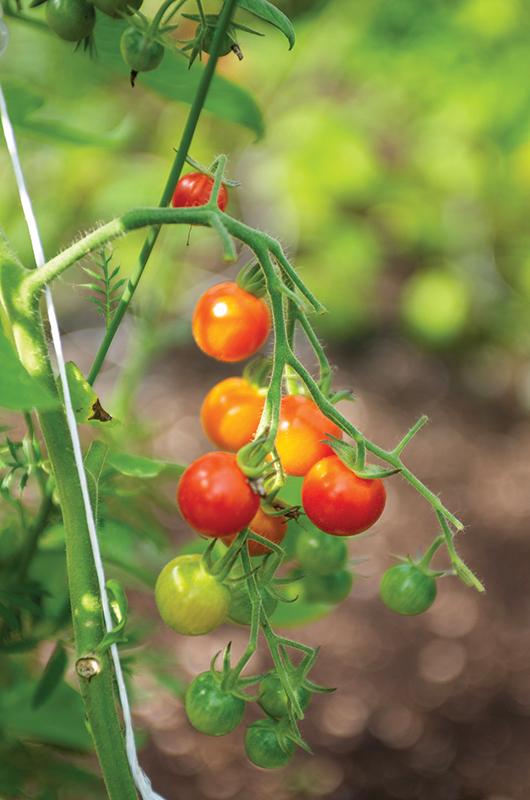 "I'm in the hoophouse a lot, so I'm really excited about the tomatoes," Nick said. "We have some Sungolds in there, but a bunch of other wacky varieties from this company out in California that specializes in tomatoes called Wild Boar Farms. Really fun varieties."
While I was at Beetlebung, Kate and Nick's field crew of two – Seth Miller and Beatrice Scott, both in their second year of working at Beetlebung – were working on trellising for the field tomatoes as well.
"I love growing tomatoes," Nick said. "They're forgiving crops, I'd say, for farmers."
"Yeah, they're jungle plants," Kate added.
Kate and Nick get to snack on cherry tomatoes or munch on crisp carrots any time, all day. So at night the two enjoy one of their favorite things about being on the Island – cooking Vineyard seafood. Often Stanley Larsen drops off fish and picks up vegetables.
Then it's off to the beach for their daily swim – something they've done every single day since arriving on the Island in February.
"This is a really special place to be," Kate said. "I love connecting with the community at the farm stand and the farmers' market."
"There's such an enthusiastic customer base; people having authentic conversations about food and cooking," Nick added. "There's so much potential in this farm."
And for these two farmers.
---
Susie Middleton is editor of the Vine and cookthevineyard.com.