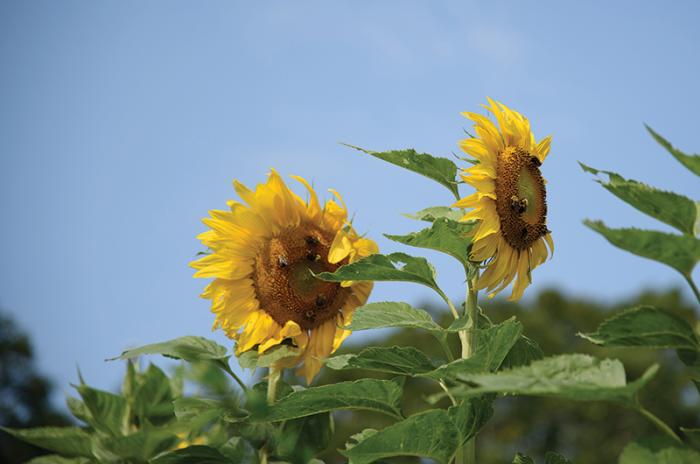 Tucked among the 40 acres of Island Grown Initiative's Thimble Farm, at the crossroads of Vineyard Haven and Oak Bluffs, lies a community garden where gardeners of various backgrounds, interests and experience levels can rent plots and plant to their heart's content. It's a space where community spirit thrives, where gardening tips are freely shared, and where folks can "farm" for fun, necessity, pleasure, relaxation or all of the above. And where a whole lot of squash, potatoes, tomatoes, kale, carrots, flowers and yes, okra and callaloo, are grown.
Interested? You're not alone. Emily Armstrong, Island Grown Initiative's (IGI) education director and community garden coordinator, explains that demand for plots went up with the onset of the pandemic planting frenzy. There's a small fee for a plot, and gardeners are expected to keep pathways uncluttered, but IGI provides shared gardening tools, compost and access to water.
No gardening experience? No problem. Emily oversees a program that offers regenerative backyard gardening classes, workshops and a monthly newsletter. Plus, you can count on some friendly advice – and often a seedling or two – from your community garden neighbors.
Of Callaloo and Honey Bees
On any given afternoon, you're likely to find Ray and Sheila Elliott tending their plot in the community garden. The grandson of Jamaica's 1926 Outstanding Farmer of the Year, Ray acknowledged that "gardening is in my blood." Sheila's, on the other hand, not so much. However, once she started participating in IGI's volunteer gleaning program, gathering food from local farms and getting her hands in the dirt, her interest in gardening was piqued.
Sheila and Ray bounced around the idea of renting a plot, talked about what they would plant and decided to go for it. Once their plot began yielding onions, potatoes, beets and other garden staples, Sheila was hooked. "I often felt that Ray desired to be a gentleman farmer," she said. Now he's a hands-on Vineyard gardener who is totally engaged.
The Elliotts introduced callaloo – a fast-growing leafy green vegetable popular in the Caribbean – to the community garden. They shared samples and seedlings with their fellow community gardeners, and now the Caribbean vegetable is sprouting up in neighboring plots and backyards across Martha's Vineyard.
Acutely aware of the critical role bees play in the ecosystem as nature's best pollinators, Ray and Sheila took an interest in bees years ago. After they retired and decided to live on the Vineyard full-time, they packed up one of their most important belongings, along with the furniture and family mementos: 20,000 bees. The bees traveled from Sharon, Mass., to Martha's Vineyard, where they now reside in another spot on Thimble Farm, still cared for by Ray and Sheila, and where they frequently produce more honey than the couple knows what to do with.
Going Big
If a golden zucchini award were to be given to the gardener with the most plots, that prize would likely be awarded to Elizabeth Sheldon, a young personal plantsman, who singlehandedly manages a quarter-acre of plots and sells her produce wholesale to local business owners, including her sister, chef Spring Sheldon of El Gato Grande food truck. In leasing her quarter-acre from IGI (this is her first year), Elizabeth has agreed to donate a portion of what she grows to help combat food insecurity, a problem laid bare during the Covid pandemic.
Elizabeth loves working in the community garden. "It's idyllic working outside, seeing wildlife and working alongside amazing neighbors," she said.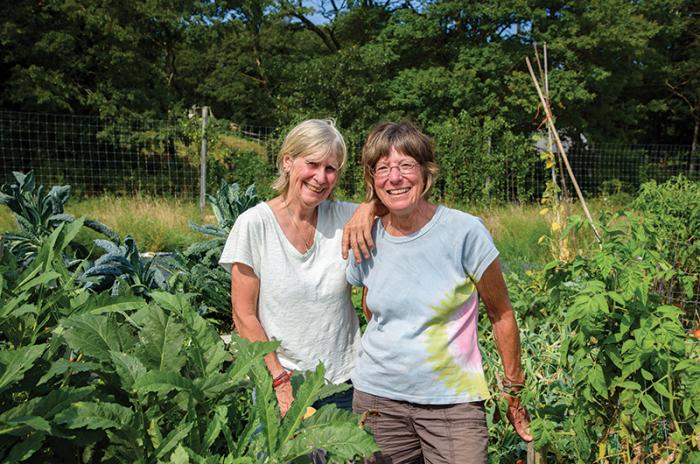 The Seed Savers
Islanders Carol Collins and Janet Woodcock tend four plots and grow just about everything you can imagine, and lots of it. You name it, they grow it: asparagus, potatoes, kale, okra, butternut squash, peppers, even popcorn. You will never run into them in the produce section of your local market. "If you can grow it, why buy it?" seems to be their motto.
Every year Carol and Janet freeze, can, stew and preserve hundreds of pounds of vegetables, sharing much with their friends. "We pretty much know what everyone on the Island eats," Carol said.
The size and abundance of the vegetables in their plot are likely the result of both their dedication and their enrichment of the farm's clay soil. Carol noted that the first year was hard, but that every year since, with ample compost and mulch to conserve moisture, their soil has gotten healthier and happier.
Carol comes from a farming family. Her gardening knowledge and skill set were honed as a child growing up in Mansfield, Mass., where she was already driving a John Deere tractor at age 11. Conversely, Janet's interests more resembled an "I'll help if I feel like it" approach. Now guess who insists they acquire more plots? Janet, of course! She's got her sights set on more land, while Carol is busy fine-tuning her farming knowledge courtesy of YouTube.
The pair actively support the MV Community Seed Library in West Tisbury and are so adept at gardening that they were one of only 260 growers selected out of 8,000 around the country who applied to participate in the Utopian Seed Project's Whidby White Okra project, which aims to resurrect the seed stock of this 1800's okra. Gardeners chosen to participate were given seed to grow and are expected to save their palest okra and return it to the project.
Janet, Carol, Elizabeth, Ray and Sheila are just a few of the enthusiastic gardeners who have made a gardening haven for themselves in the midst of this community garden. Each is proud of the hard work, time and energy they've funneled into their gardens. And proud of the results. But all agree that even more rewarding is the fellowship and the shared learning that germinates in this close-knit green space. It's a confirmation of shared purpose, and a benefit to all.
---
Charlene Pinckney-Goldberg is a writer and photographer living in New Rochelle, N.Y., and Oak Bluffs.
Editor's note: For more information about the community garden or to get on a waiting list for a plot, contact 
Emily Armstrong, emily@igimv.org.