In Oak Bluffs, Circuit avenue is looking sharp. There are new, larger sidewalks, new trees, parallel parking – a whole new level of pedestrian comfort. I have to say I am bursting with pride with all the beautification that has happened. It's a joy to experience the change, and yet it's also comforting to see familiar favorites open for business. I live nearby so you'll often find me in town, especially in the mornings with my dog Dashi. If you're new to town (or even if you're not), come along with me as I stroll down Circuit avenue, stopping to visit some of the spots I enjoy most. While there are dozens of places I love to patronize on and around Circuit avenue (ask me about my long list sometime!), I've chosen 10 favorites to highlight here for a taste of good food, great finds and fun activities for the summer of 2022.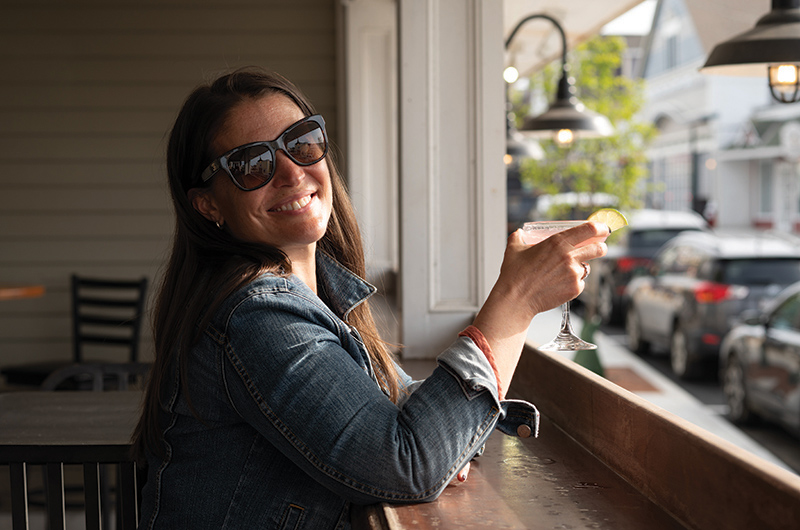 Oyster Bar 02557
The balcony at Oyster Bar 02557 is a great place for people watching with a friend and a cocktail or mocktail. Sitting outside on the second-story porch gives you a perfect vantage point for watching the comings and goings of the busy street. It's an especially fun thing to do on a warm summer night. 6 Circuit ave.
.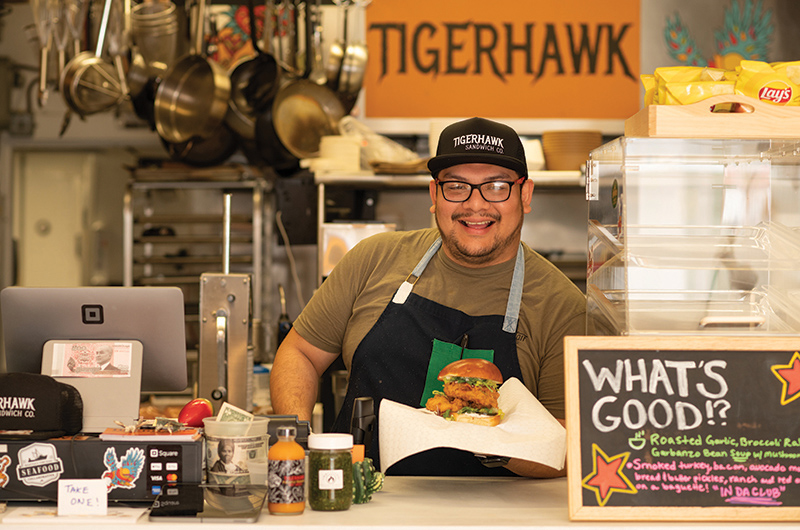 TigerHawk Sandwich Co.
TigerHawk Sandwich Co. is one of my new go-to places for breakfast and lunch takeaway. Opened in May of 2021, chef/owner Jimmy Alvarado is adventurous with flavor combinations. You can get incredible sandwiches (crispy chicken, banh mi) and poke bowls here. If you like kimchi, there are lots of options. Also, keep an eye out for occasional pop-up TigerHawk dinners. The ramen is not to be missed. 12 Circuit ave.
.
Ben & Bill's Chocolate Emporium
Ben & Bill's Chocolate Emporium is my family's favorite place for ice cream on Martha's Vineyard. We mark the beginning of the season with a visit and I order strawberry cheesecake; I close out the season in the fall with pumpkin cheesecake. If you're feeling adventurous, try the lobster ice cream. It's better than you think – more buttery than lobster-y – and you are entitled to bragging rights for trying it. 20A Circuit ave.
.
Ryan Family Amusements
Playing skee-ball at Ryan Family Amusements is a must. I'm a sucker for skee-ball; it's been one of my favorite games since I was a kid. I have been known to leave a group to sneak in a game or two at the arcade. There are lots of other games too, but this one has my heart. 
19 Circuit ave.
.
Slip 77
For Island gifts for family and friends, Slip 77 has you covered. When Slip 77 opened in its original spot across from Nancy's by the harbor, it quickly became a favorite destination for fun gifts. Now that it's in a larger location on Circuit, I pop in as often as I can for fresh finds: great hats, local jewelry, handbags and creative Island-inspired T-shirts. To this day, my favorite is one of the originals, which features a ferry and says "7 Mile Club." Still makes me laugh. 
 19 Circuit ave.
.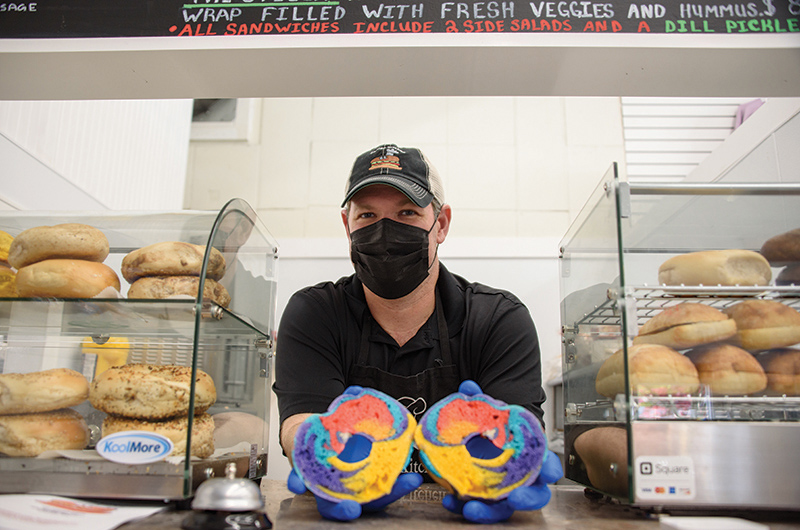 The Corner Store
New York bagels from The Corner Store. Yep, you heard that right. You can get authentic bagels, imported from New York city, at the Corner Store, right in the middle of Circuit ave. They're delicious! In season, you can get breakfast from the Corner Kitchen (inside The Corner Store) all day and sandwiches for lunch too. Owners Luke and Danielle DeBettencourt will surprise you with other great things at this family-owned business. 24 Circuit ave.
.
The Lazy Frog
A visit to The Lazy Frog will add more fun and games to your day. At The Lazy Frog, you'll find a curated selection of toys, indoor and outdoor games, puzzles and more. Home of Vineyard-Opoly, this shop has a lot of fun packed into a tiny space. You'll hop over more than once. It's a great spot for kid's birthday gifts and for emergency kites for flying in Ocean Park, too. On your way out, pop next door to Tangerine for an oyster bag for the beach and other unique Island finds. 42 Circuit ave.
.
Dos Mas
The second-floor patio at Dos Mas is a little secret I feel like I'm revealing (and may hear about from some friends!). When you're upstairs, outside, and in the back of the building, you feel worlds away from the hustle and bustle of downtown. If you like jalapeños and margaritas, be sure to order the Spicy and enjoy with your tacos, all while taking in the sunshine or the view of the night sky. 50 Circuit ave.
.
C'est la Vie
No shopping trip to Circuit avenue is complete without a stop at C'est la Vie. Chances are you'll find owner Roger Schilling or his wife Jennifer behind the counter. They are always there to greet you with a smile, making you feel welcome in their shop that's been open for almost 30 years. Here you'll always find something unique. Many of the T-shirt designs are created by Roger himself. One of my favorite pieces is the oversized, open-bottom Martha's Vineyard sweatshirt. It's perfect for the beach because you can hug your knees under it to stay warm on chilly afternoons. 
51 Circuit ave.
.
The Sweet Life
Going to The Sweet Life for brunch on weekends is a treat. I love brunch; it feels decadent to me for some reason, and Sweet Life does it just right. From the tangerine or pomegranate mimosa to the gourmet French toast (think lemon curd and caramel and whipped cream) to the relaxed atmosphere, it's always a great way to spend part of your Sunday. 63 Circuit ave .
Guinevere Cramer is managing director at Point B Realty and a resident of Oak Bluffs. Follow Guinevere on Instagram
@guinevere_marthasvineyard.