The constellation Aquila is visible right above the Gay Head Cliffs in summer months, so the star formation representing the messenger of the gods – the eagle – seems the right presence to watch over the home of the Wampanoag people.
And now there's an Aquila perched overlooking the cliffs. On May 1, Oak Bluffs residents Del Araujo and Jenn Straub opened Aquila, a shop featuring hot, iced and creamy coffee drinks. The coffee is sourced from local small batch roastery Martha's Vineyard Coffee Company. Del and Jenn have also filled the shop with Indigenous artwork and handcrafts, a variety of locally made products including jewelry and jams, and a selection of gourmet snacks chosen for their ability to be easily resealed as visitors travel on their bikes, in cars, on tour buses and to the beach.
Del and Jenn offer a big welcome to all visiting one of their favorite places: the town of Aquinnah. Each has strong professional experience in customer service and they take seriously the responsibility of being one of the first shops visitors will encounter on the cliff walk.
The location of Aquila has other benefits for them, too. They describe themselves as avid sunset chasers who dash outdoors after their workdays, searching for sunsets and nature. They love the peace and beauty of Aquinnah's hills, and the legends that the land inspires.
Starting the new business fulfills the couple's dream of opening a coffee shop. The brew has played a role in their personal relationship, which began at Southern Connecticut State University. "We spent a lot of Saturday and Sunday mornings – date mornings – going out to local coffee shops and checking out the vibe," Jenn recalled. "We both love the way you feel when you're getting a cup of coffee in the morning and can drink it slowly. It brings us so much joy."
"And we want other people to experience that joy," Del added.
They found the means to make that possible when Del spotted an unusual opportunity in July 2021: a "For Sale" sign on the cliff shop space long owned and operated by the Widdiss family. After years of looking at vacant spaces and picturing what they could make of them, Del and Jenn saw their chance. A handshake deal with Jason Widdiss took place three days later; they signed a lease with the Wampanoag Tribe of Gay Head (Aquinnah), and Del began planning a graceful exit from his job at Merritt Electric so that he could focus on transforming Wayward Wampum into Aquila in time to open for the 2022 spring season.
What followed was a family effort to make the dream a reality. Jenn used her design savvy, honed by her full-time job at Vineyard Decorators, to map the layout and visualize the experience of the space. Del and his father Derick did the construction. The completed shop includes cutting boards handcrafted by Del's uncle and blankets and sweaters knitted by his grandmother and uncle. Three days a week, Del's mom Rachel – who teaches during the school year at the Oak Bluffs School – works the cash register. Del will work the coffee bar five or six days a week, busy as a barista and a friendly host, and Jenn will join him on one of her days off. Cousins and other tribal members will take turns helping out throughout this first summer.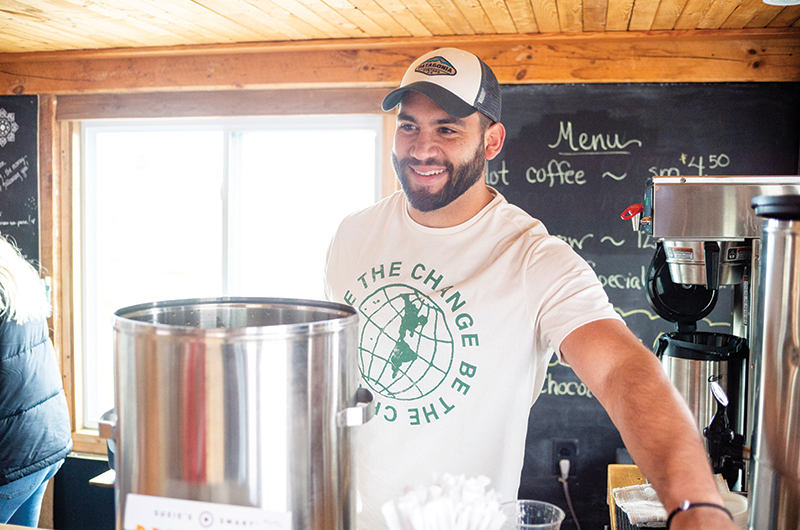 Aquila gives Del, a 2012 graduate of Martha's Vineyard Regional High School, the opportunity to do something meaningful for his Island family and friends, and to uphold tribal traditions. Though a tribal member by birth, he grew up in Oak Bluffs. Playing three sports a year left little time to participate in Aquinnah-based activities but when the tribe created youth programs at down-Island locations such as Rocco's, he had more opportunities.
While working at Mohegan Sun in Connecticut, Del experienced more deeply what it meant to be part of a tribe. "I got to go to meetings with elders [from the Mohegan tribe], experienced cultural traditions, and saw what the tribe there was doing to help people with scholarships and stipends," he remembers. "It motivated me to become involved."
Jenn, who hails from central Connecticut and is not Wampanoag, has been inspired by watching Del get involved in the community. They both are grateful for the welcome they've received from the other Wampanoag shop owners.
Del and Jenn have made it a priority to create opportunities for Indigenous craftspeople. At Aquila, some of the works they're featuring include jewelry made by wampum artist Tracey Leigh Adams of Martha's Vineyard Native, knitted goods by Tyler Araujo, and dreamcatchers crafted by a 20-year old Sioux artist named Sapphire. Del hopes visitors will appreciate these items as souvenirs of their time spent on the Island, while the sales will go to support their makers.
With their new business on the cliffs, Del and Jenn will be perfectly situated to watch some beautiful sunsets during the summer season. But their favorite sunset may come on October 1 when they marry here on the Island. Between wedding planning and a new business to manage, they're fueled by adrenaline, the coffee served in the shop, and doing what they're passionate about.
"There are moments," Del says, "when Jenn and I think, 'does it get any better than this?'
---
Elizabeth Bennett is a community news editor for the Vineyard Gazette.