Down the gravel road to Oak Bluffs' Sailing Camp Park, past the spindly, vine-covered oaks that shade the way, there sits a long hall with a view of Lagoon Pond.
Inside the lacquered wood room, below fairy lights braided into a timber vault roof, musicians unlatch their cases. One by one, they settle into the semicircle of chairs facing the conductor's podium and assemble their instruments.
On this and every other Monday night, as wind is blown into woodwind and brass, new life is breathed into a century-and-a-half long musical tradition.
Now in its 154th season, the Vineyard Haven Band is the same as it has always been, and different than ever before. Open to all who can read music, play an instrument, and show up to rehearsals, the band has a constantly shifting roster of musicians. Yet despite an ever-changing lineup, the band always manages to stay in tune.
The Vineyard Haven band has, from its beginning, brought together diverse groups. It was founded in 1868 by Confederate and Union Civil War veterans, but differences today are less heated, defined mostly by age. "That's how most community bands are," says Bill Sittard, a former music educator who is filling in on this night for band director Julie Schilling. "The age range can be anywhere from seventh grade to the upper 80s."
"That's what's so special about it," says trumpeter John Schilling, "Where else can you put together a group where teenagers and 80-year-olds have something in common?"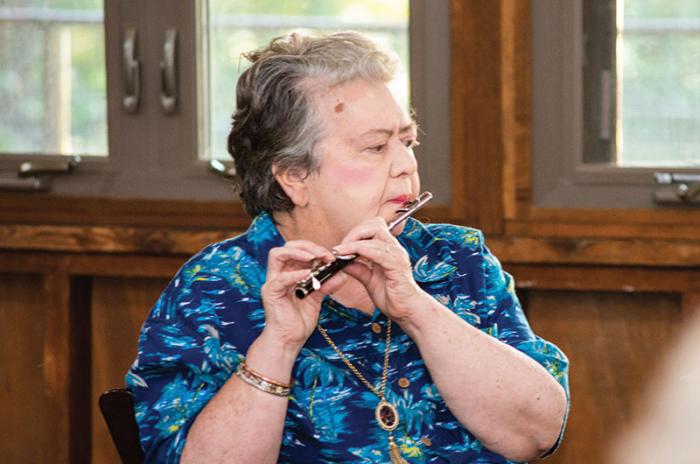 John (first trumpet) and Martha Child (first flute) have been on both ends of that spectrum; each joined in the eighth grade and has been playing with the band for more than 50 years. "I gotta get a life!" jokes John.
Martha is among the first players to arrive and sit with her instrument; she takes a chair on the left side of the circle, closest to Bill. She says that while band membership has waned following Covid, 50-odd years in the group has left her unfazed and optimistic.
"The band fluctuates: some years we're big on clarinets or big on trombones or big on trumpets. You never know what you're going to get," she adds. Martha recalls one year when there were too many to fit on the bandstand, and so they had to be split into A and B groups.
At this practice, trumpeters are the largest presence, both in number and personality.
"Trumpet players are loud," says Reese Cilley. "They are the coolest bunch of people to hang out with. We always joke around and have a great time." Reese plays in Vineyard Haven in the summer and in the Virginia Commonwealth University pep band for the rest of the year. Glancing at the instrument she had yet to unpack, she says, "I feel like I'm not a typical trumpeter, since I am not so loud."
Reese was a beginning player when she started with the Vineyard Haven Band, and she improved her playing alongside a mentor – trumpeter Ron Tolan.
"That's the kind of continuity we try to have," says John, who points out that former music teacher and usual saxophonist Bill was directing current Tisbury School music teacher and saxophonist Kathleen Cadorette this evening.
"It's great to see the parents who bring their kids to dance around at our gazebo concerts, when I saw them coming to do the same thing when they were kids," John adds.
There are fewer kindred musicians for a player like Jake Harriston but he still finds solace in his music. "That thing keeps me sane" he says, pointing to the massive case housing his contra-alto bass clarinet. It's an unusual instrument, an octave and a half lower than a normal clarinet. "I have yet to see another player who is better than me at this thing, mostly because so few others play it," he says, before demonstrating its sound. The instrument has a low, breathy purr that makes the floor vibrate slightly.
It's a unique sound, but one that is necessary this year because the band is light on tubas. This accountability is a welcome change for Jake. "During the pandemic we didn't practice for a whole year, and I certainly didn't practice enough on my own," Jake admits. "This is not a solo instrument, and I didn't want to sit in my room just playing bass lines." For him and others, the band is a way to hone their skills.
The mellow gold sun, reflecting off polished brass, is beginning to set over Bill's left shoulder when he calls the band to attention. He breaks the band into three groups: clarinets and flutes, trumpets and the alto saxophone, and everyone else. He asks each to warm up with a sustained B-flat, calling to mind a rousing victory in a propaganda film.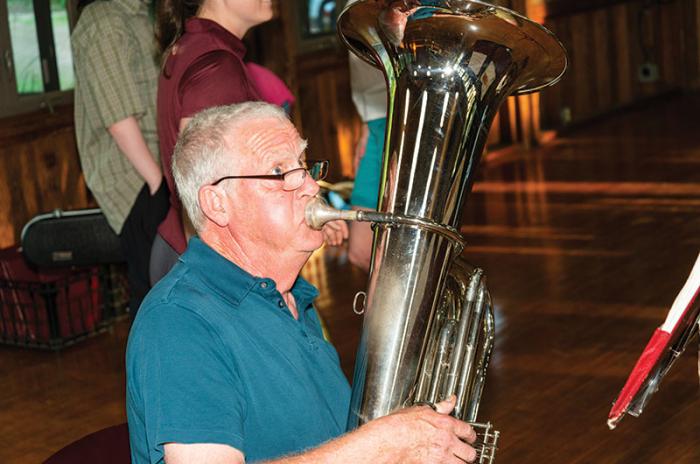 Mark Luce, one of the two percussionists of the evening, rushes over from the bass drum to blow a few notes on the tuba. Mark has played tuba for most of his long tenure with the band, but recently took up the bass drum to fill in a gap in the band's roster.
The switch fits Mark's personality, John points out. Both the tuba and bass drum set the lower foundation and pace of the music.
The other percussionist this evening, Katie Cademartori, is also new to the section. Katie is a flautist and serves as band director for West Tisbury School. She picked up percussion in order to more fully understand the instruments of the students that she teaches.
After the warmup, the band moves on to a standard march, His Honor by Henry Fillmore, before Bill uses an app on his phone to assist in each section's tuning. The trumpets are mostly sharp, the contra-alto is a bit flat, and the drums are already in tune.
Between each song, players and conductor banter, the chatter coming most frequently from the boisterous trumpet section and much less from the soft-spoken flautists.
Next up is the fastest and most complex composition of the night, Screamers – a medley of chaotic, recognizable circus tunes. The Sousa Scramble is another medley, featuring snippets from the catalogue of the legendary "March King," John Philip Sousa.
The band plays a few modern tunes as well, including a selection from Disney's "Beauty and the Beast" and an adaptation of Queen's "Crazy Little Thing Called Love" which spotlights the (regular sized) clarinets.
The practice goes on until dark, outcompeting the chirping crickets that hop about in the tall grass beside the pond. But the sun is yet to set on this Island institution, as the dedicated core members and summer players of the Vineyard Haven Band will play on, year after year.
"We are serious about the practices, and we get good work done, but we still keep it lighthearted. Having fun playing – that's what music should be about," John says.
The Vineyard Haven band performs on Sundays at 7:30 p.m., alternating between Ocean Park in Oak Bluffs and Owen Park in Vineyard Haven. Visit mvevents.com for more information.
---
Thomas Humphrey is an intern at the Vineyard Gazette.