Ann Smith is a second-generation force in the Martha's Vineyard art community as the executive director of Featherstone Center for the Arts, a pastoral art campus just off Barnes Road, two miles from downtown Oak Bluffs. Smith curates exhibitions in the Francine Kelly Gallery in Featherstone's Art Barn –named for her mother – and programs children's art classes and adult instruction across all mediums including painting, pottery, photography, jewelry-making and writing to fulfill Featherstone's mission: "creating community through the arts." On a high summer Monday or Friday evening, the meadow is filled with families frolicking to the sounds of local musicians and on Wednesdays the field becomes a picnic blanket movie theater. 

Q. Many people drive by Featherstone, not knowing the treasures and opportunities that exist beyond the colorful flagged entrance on the hill. How do you get the word out to seasonal visitors?
A. It's always a challenge to be a destination here on Martha's Vineyard and it takes a lot of effort since we are not a walk-in on a main street. It's the host of activities we offer and our consistency that brings people into Featherstone. We are open every day, all year long and once they find us, they love us!
Q. How did Featherstone get its name?
A. Prior to a center for the arts, it was a horse farm, Featherstone. There was a real horse named Featherstone, buried here in the horse cemetery.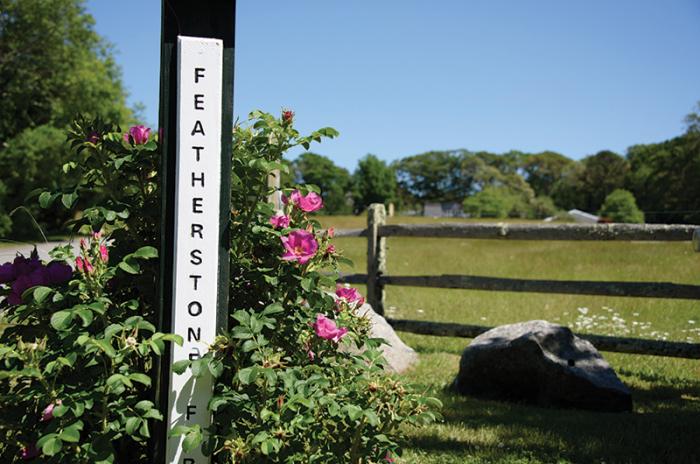 Q. I thought there might be significance in the oxymoron of the feather and the stone, the lightness of the plume and the weight of a mineral!
A. I love your interpretation. I think Featherstone embodies all of that!
Q. Can an adult just drop in for an art lesson while visiting the Island?
A. We have two tracks. If you are here for the week, plan to visit for more of a "make and take" jewelry or painting class. More seasonal or year-long residents can take classes over a weekend or over months to build their skills.
Q. I understand your summer kids' art camp is in high demand.
A. We sell out those classes within 10 minutes of opening registration in February! But starting the first week of July, we are offering drop-in Art Every Day in the afternoon for ages 5 and up with art disciplines changing every day.
Q. Your calendar offers almost daily classes in ceramics. I've noticed a proliferation of talented potters on the Island. Do you think your course offerings contribute to that trend?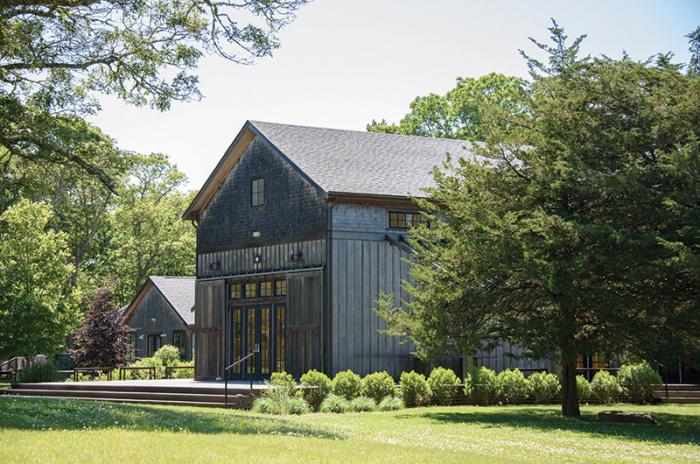 A. Pottery has always been our most popular medium. I think the craze of hands-on painted pottery classes off Island and videos on Facebook and Instagram have increased interest. We have spectacular teachers here and a lot of that work you see around the Island has been produced in our studios!
Q. When did you expand your mission to include the very popular summer music series?
A. Musical Mondays have been with us from the beginning – 26 years ago – when the outdoor stage was built even before we opened our first gallery show! In 2020 we added Fridays with Johnny Hoy and the Bluefish. People felt safe gathering outside, bringing their pizza and wine to this gorgeous campus – the highest point in Oak Bluffs. It doesn't get better than that!
Q. But wait...there's more! Featherstone partners with Martha's Vineyard Film Society for movies under the stars on Wednesday evenings.
A. Again, 26 years ago, Film Society director Richard Paradise started showing movies here on the outdoor stage on a big white sheet. Of course, he moved on to the Katherine Cornell and now the Film Center in Vineyard Haven. It's a great collaboration.
Q. What continues to surprise you about the summer season here at Featherstone?
A. We love all the people who come here from all over the world. It's such an incredible opportunity to meet people who speak different languages, but art is universal and that is the universal language. Once you jump into a summer camp and put a paint brush in a child's hand, they can create their own world.
Q. Featherstone's long support of young artists at the Martha's Vineyard Regional High School through exhibitions and scholarships has produced many talented, working artists. I know you love all your children equally, but is there one of those young people that came up through here that embodies the mission of Featherstone?
A. Absolutely! It's Ray Ewing who is a phenomenal photographer at the Vineyard Gazette. We have a video on our website where Ray talks about how he spent his afternoons here at Featherstone and that he would walk from the high school through the woods to Featherstone. He said that since that experience, he has never not had a camera in his hand. To me that's what it's all about.
Q. Adults can have that same experience!
A. I can tell that same story for instance about Debbie Hale who is teaching right now in pottery. She had a professional career at a law firm here on the Island and as she was retiring, she discovered Featherstone and decided to take a ceramics class. She fell so in love with it that she now has her own business, shows all over the Island, and she is one of our most popular ceramic art teachers. This is lifelong learning at its best. It's never too late to pick up the arts.
Q. Tell me about the art installations planned for July and August?
A. We have two great curated shows coming up. In July it is a second-year pop-up with the A Gallery [formerly of Oak Bluffs]. We love our collaboration with Tanya Augoustinos to show the contemporary artists who have remained loyal to her. In August we have an incredible show curated by Adrienne Childs. She is an adjunct curator at The Phillips Collection in D.C. and she has grown up here on Martha's Vineyard. She is doing a show called Imagine: Celebrating Black Female Creativity that will show work by black women artists from all over the country. Whenever we can we have the opportunity to bring a discipline or a group of artists to the Island – which we think will enrich the community – that's what we try to do.
For more information and to register for classes, visit Featherstoneart.org.
---
Sissy Biggers is a long time television journalist now living full-time in Oak Bluffs and working across different media to contribute to many Island organizations.