The little green farmstand on State Road hardly seems able to contain North Tisbury Farm and Market.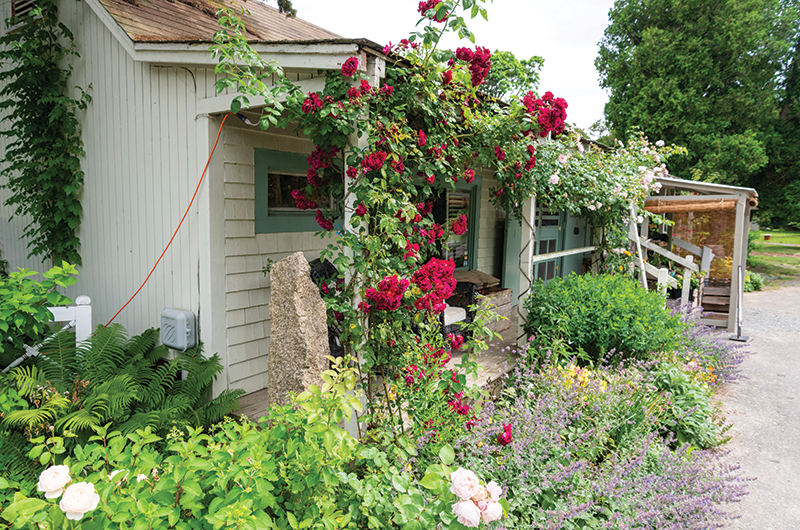 Flowers and greenery explode from the front of the stand and creep up its columns. The shaded front porch houses trays of crisp greens and baskets of fruit. Around back in the fenced field, prolific sweet peas climb trellises beside compact rows of kale.
Walk inside the farmstand and among a maximalist display of artisanal ingredients, you're likely to find Rose Willett unpacking a shipment, captaining the counter, or pouring a cup of coffee.
She is a central figure in the Island food scene, not only as the proprietor of North Tisbury Farm & Market but also of Whippoorwill Farm in West Tisbury and the newly renovated Larder in Vineyard Haven, along with a host of past ventures. With business acumen and a gastronomic passion, she doesn't mind having a lot on her plate.
Rose began her career in the high pressure world of Chicago commodities trading. But after returning from a Caribbean sabbatical, she found that the profession had lost its appeal and decided to switch gears.
"Somehow – I don't really know how – I ended up as the manager of a jazz club and restaurant," she said. She loved the job, despite the club's 4 a.m. closing time and decided to start her own restaurant. She had scouted a potential location in Chicago and was ready to commit until a -70° windchill reminded her of why she had taken that southerly vacation. She decided to consider other locales.
After several months of driving and one frustrating property negotiation in Florida, Rose remembered a pleasant trip she had taken to the Vineyard in February. The serene forests and empty roads were a nice counterpoint to the Windy City. She called an Island realtor on a whim, bought an old house in Oak Bluffs, and founded the Sweet Life Café with former partners; she sold the business shortly after the opening.
That was the start of her 27 years (and counting) in the Vineyard food arena.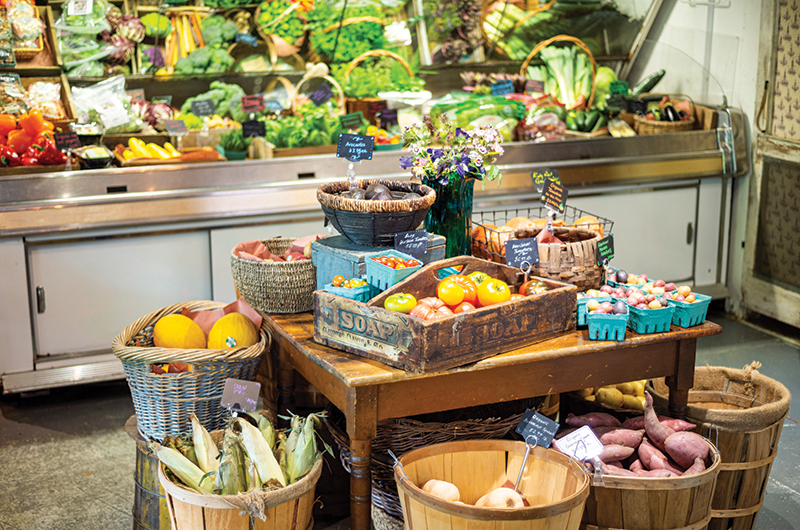 Both of Rose's parents grew up on farms and two of her grandparents were cooks; food runs through her veins. But she didn't become involved in Island farming until 2007 when she and Robert Skydell founded Fiddlehead Farm, which occupied the same space that North Tisbury Farm & Market is in now. She eventually sold her share and the farm was shuttered in 2016.
But in 2018 she re-leased the property and renamed her business North Tisbury Farm & Market.
The spot has an agrarian pedigree going back to 1938 when the famous Louis Greene, better known as Farmer Greene, farmed the plot for more than forty years. He had several greenhouses, at one point cultivating 16 acres of vegetable and flower fields. He also owned a green parrot named Pedro.
"He's a legend," said Rose, "I've had so many people come in the store, saying 'I used to work for Farmer Greene. He paid me 25¢ an hour.'" Louis Greene also led the Island rodent control program, was county soil supervisor, and kept an exotic fish, crab and salamander pond.
The cultivated area behind her farmstand is just a half acre, so Rose keeps the focus here on variety. Their pea harvest was particularly bountiful earlier this summer; the beautiful Sugar Magnolia purple snap peas were especially prolific.
"Right now, we're picking fava beans, which is pretty awesome," said Rose, who considers the Italian legume to be greatly underappreciated.
"They are a lot of work," she said, describing the necessary process of shucking, blanching, peeling and cooking them again, "But they're totally worth it."
Rejuvenating Whippoorwill
The farm stand is also stocked with produce from Rose's newer agro-venture, the revival of Whippoorwill Farm. Last year, she leased the land on Old County Road from Island Grown Initiative farming consultant Andrew Woodruff, who ran the farm for many years before it was left to go fallow.
Now Rose has hired seasoned farmer Rebecca Sanders to manage the Whippoorwill space (in addition to North Tisbury's growing area), with consultation from Andrew as well. Rebecca and her crew are cultivating 3.5 acres according to the principles of regenerative agriculture, a movement in sustainable farming that focuses on minimum tilling practices that maximize soil health and carbon capture.
The path to reviving the farm was serendipitous for Rose, who initially reached out to Andrew with hopes of renting a small plot for greenhouse space.
"I'd always just had this affinity for the farm, and I would drive by and see it empty and think 'somebody really ought to do something with this.' So, I did something with it," she said.
She seized on the chance to start a business that she felt could do something positive for the environment. True to her trading roots, she compared the growing impact of regenerative farming to growth of a bank account with compound interest.
Rose's sustainable sensibilities also extend into her inventory selection of seasonal produce and preserved ingredients at the North Tisbury farmstand. She tries to stick to items she herself wants to use. "I like simple, straightforward cooking; not a lot of ingredients, but really high quality," she said. Recently she cooked a pasta carbonara, replacing the bacon with smoked duck breast that she sells at North Tisbury.
Opening Shop in Vineyard Haven
Food at the intersection of sustainability and gourmet cuisine forms the basis of Rose's newest venture, The Larder. In late June, the rejuvenated storefront reopened in Vineyard Haven. The space was formerly managed by Jefferson Munroe of The GOOD Farm and co-owned with the Scottish Bakehouse's Daniele Dominick. Entrepreneur and investor Brook Katzen (Little House Café, The Cove Golf & Grill, Mad Martha's) and business partner Jim Shane bought The Larder this past winter and leased it to Rose.
"Part of the reason I became interested in that location was to minimize food waste," she said. "It has a commercial kitchen which will allow us to take advantage of imperfect ingredients." She hopes to transform ugly or otherwise less desirable produce into prepared food.
The same low-waste approach will be taken with The Larder's "nose to tail" meat production, headed up by Chef Tyler Potter of The Swimming Pig.
Tyler still remembers the first sausage order he filled for Rose: a spiced north African merguez sausage made with Allen Farm lamb shoulder. Rose was impressed with his product and work ethic, and decided to bring him in as The Larder's chef.
"I'm a line cook at heart, so I'm excited to get back in the kitchen," Tyler said, adding "I hope we can bring a bit of a Parisian feel to the Island with this spot."
Tyler cooked in both quantity and quality for The Larder's opening in late June, preparing more than 600 pounds of meat product – not an impossible push for a man who used to run a 10,000 square-foot meat warehouse.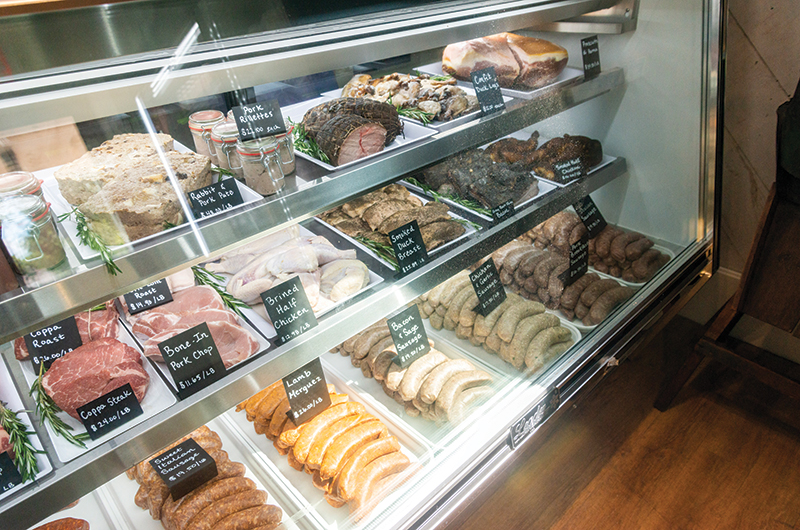 The effort Tyler and Rose put into opening day was evident. Inside the freshly shingled shop on State Road, distressed wood furnishings in beige and fawn were filled attractively with specialty crackers and oils. A refrigerated case in the front displayed neat rows of charcuterie selections: rabbit and pork pâté, duck confit, pork rillettes and seven kinds of sausage. The meats were joined by globally sourced cheeses.
To the right of the meat case, a refrigerated shelf held house-made prepared meals (ratatouille, Moroccan chicken, meatballs) and preserved veggies (kimchi, sauerkraut, pickles).
With a good eye for ingredients and for staff, Rose no longer feels the stress of a high pressure job. "I have really great people," she said, "I feel well supported." But, she added, she still loves the
frenetic energy of the summer season: "I've always been wired to juggle a lot of balls at once; that's just the way I am."
---
Thomas Humphrey is an intern at the Vineyard Gazette.