As the human population of the Vineyard continues to grow, so too does its population of feathered and four-footed residents. A few of these animals have developed a certain celebrity in recent years, each with their own following. From 3,000 pounds to less than one, these famous Island animals vary in shape, size, and countenance, but every one of them loves his or her fans.
Now Appearing: Crouton and the Bread Crumbs
One year ago, Crouton was a sickly little piglet, the runt of the litter. Today, she is a healthy, 300-pound mother of 11.
"I really didn't think she was gonna make it on her own," said Kyle Bullerjahn, Crouton's caretaker at North Tabor Farm. Kyle and Crouton first met when he was picking up a litter in Westport for another farmer. She was two months old, yet no larger than her babies were at one month. If left with the rest of the litter, her stronger siblings would have outcompeted her for food.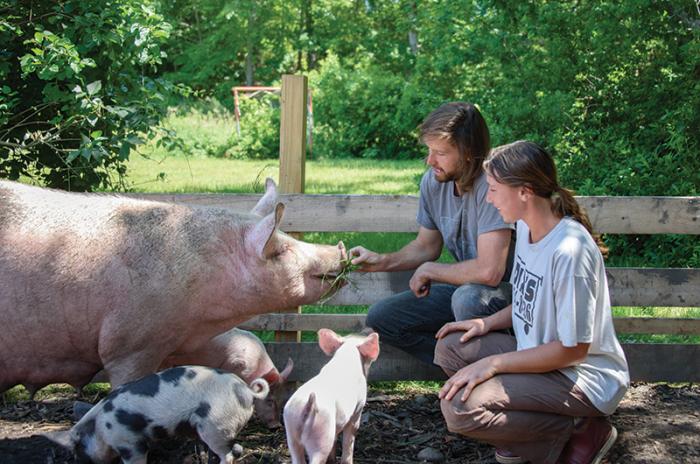 And so she was brought back to North Tabor to be nursed back to health – and spoiled rotten.
"She's definitely a bit of a diva," said Kyle. And farm manager Ruby Dix agreed, "She's got only-child energy." Ruby pointed out that there are times when Kyle goes into the fields to hand-pick greens for Crouton.
Crouton's prima donna attitude is not unjustified, however; she has a crowd of adoring fans in the kids who come to the farmstand to visit "Crouton's Corner."
Her children (the "bread crumbs") are happy and healthy, soon to be weaned and moved to a larger pasture. They still wrestle over food, though not as much as when they were younger, and they're warming up to company. For now they prefer to scratch their backs on visitor's legs and nibble at their shoes, unlike Crouton, who expects generous head scratches.
Scooby in the Spotlight
Grey Barn's Scooby the rabbit is another celebrity parent, having recently sired six babies with his mate, Brioche. Purchased at the Martha's Vineyard Agricultural Fair three years ago, this Holland lop and mini lop cross has grown up in the spotlight, and it shows.
If Crouton is Kim Kardashian, then Scooby is Brad Pitt.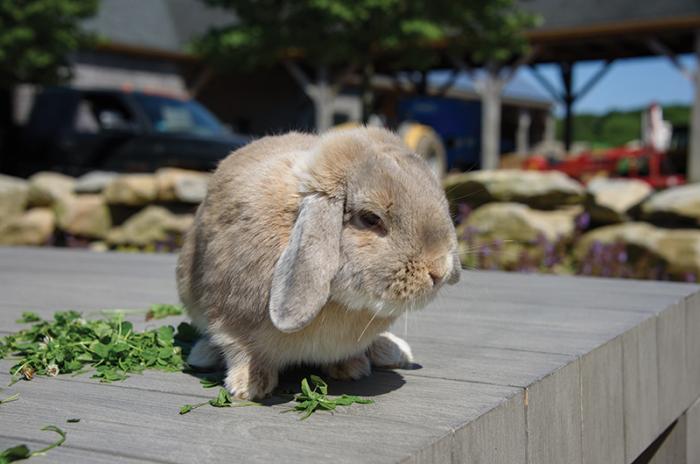 "He is an extroverted little bunny," said Sarah Klein, one of his caretakers, explaining how unusual this trait is in his species. Scooby spends most of his time frolicking in the grass outside the Grey Barn farmstand, anxiously awaiting the hordes of children who come by to see him. When humans aren't around, he enjoys visits from the farm cats and chickens.
In the off-season, however, he lives in the barn. "I think he gets depressed in the winter," said Olivia Kruczynska, another caretaker. "He misses his fans."
He has more company now, especially from his girlfriend Brioche, a rescue bunny who Sarah found abandoned. Brioche currently has her hands full with the kids, all named for breads: Cinnamon, Pretzel, Chive, Sesame, Baguette and King's Hawaiian. King's Hawaiian is the most energetic, taking after his father.
At five weeks old, the babies are in the middle of the ear-flopping process; each has one up and one down. They will soon be off to new homes, though Pretzel is planning to stay behind to keep his parents company. The bunny farmers at Grey Barn anticipate many babies to come.
Moshup is All Bull
In Wampanoag legend, Moshup was a benevolent giant whose thundering footsteps shaped the geography of Noepe (Martha's Vineyard). His favorite food was broiled whale.
At around 2,000 pounds, Moshup the bull is somewhat smaller and prefers a dinner of fresh grass. He has chestnut hair, slightly wavy around the shoulders, and enjoys lazy chewing sessions with his sons Larry and Curly (bottom photo).
Moshup came to the Island in 2012, donated to Morning Glory Farm by Betsy and Jesse Fink to support Island farming. Since then, he has sired more than 150 offspring on the Island, spread across Morning Glory, Mermaid, Grey Barn, Nip and Tuck, Blackwater and Slough farms.
The trio (Larry is destined to fill Moshup's stud role, while Curly the steer is bound for market) are currently grazing on young velvet grass and wild chamomile at Dan Athearn's Chilmark residence. When Dan exclaims "Hey, cows!" the two sons raise their heads to attention, but Moshup ignores him.
"He's at the age where he pretty much does what he wants," Dan said. At around 13 years old, Moshup is at the upper end of his breed's age range.
Dan, who tends to the Morning Glory cattle, said that he usually thinks of the herd as one entity, but Moshup has been around long enough for Dan to get a read on his personality. Moshup is carefree, lumbering and occasionally willful. Dan recalled an occasion a few years ago when Moshup (quite easily) busted out of his enclosure and went on an Island walkabout, traveling from a pasture near the Morning Glory farmstand down to the Edgartown Great Pond. Today, the fight has gone out of the old bull; he and Larry spend their afternoons lounging in the shade, licking each other's fur.
Fred Tilton is A Whale of A Pygmy Goat
Pygmy goat Fred Tilton lives in a lush, clover-filled pen on Native Earth Teaching Farm, with his cousins Flashlight and twins Click and Clack.
Despite the abundant pasturage around him, Fred much prefers to be fed by hand. He and Flashlight often bump heads over handfuls of the same grass that can be found inside their pen.
Fred has big shoes to fill, explained his owner and caretaker Rebecca Gilbert. "He was named after Captain George Fred Tilton," she said. "He was one of the last generation of whalers, and he used to live in my house."
Reading Fred's autobiography (the captain's, not the goat's), Rebecca was shocked by the environmental destruction in the oil industry and how aware the captain was of it. She hopes the younger Fred might add a new chapter to this history by becoming a "climate activist goat."
Fred and his kin express their activism through the consumption of invasive and unpleasant plants such as honeysuckle, bittersweet and poison ivy on preserves such as Cedar Tree Neck Sanctuary. But the goats' prodigious appetite also has destructive potential.
"Goats have the reputation of being able to take a lush environment and turn it into a desert," Rebecca said, referencing an old whaling practice of leaving goats behind to populate uninhabited islands. Whalers would return to find the islands with many more goats and many fewer plants.
For now, Fred is on break. Much of the attention at the farm is currently on the new goat kids, held in a separate pen, who will soon be old enough to participate in Goat Yoga, held all summer at Native Earth Teaching Farm.
Chilmark the Ox is A Gentle Giant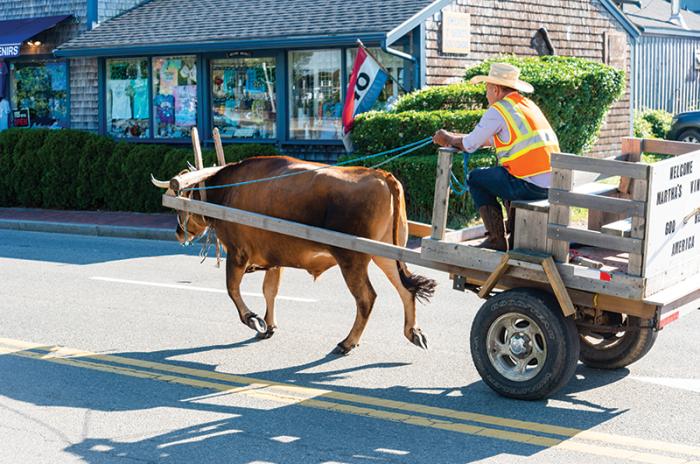 Every Sunday afternoon, Cicilio Rosa Neto rides to Owen Park Beach in Vineyard Haven in a cart pulled by his beloved ox, Chilmark. When they arrive, they go for a waterfront walk.
"Chilmark loves the sand, but he hates the water," Cicilio said. The duo has become a Vineyard Haven institution in recent years, often the first to greet visitors disembarking from the ferry nearby. The back of his oxcart reads: "Welcome to Martha's Vineyard. God Bless America."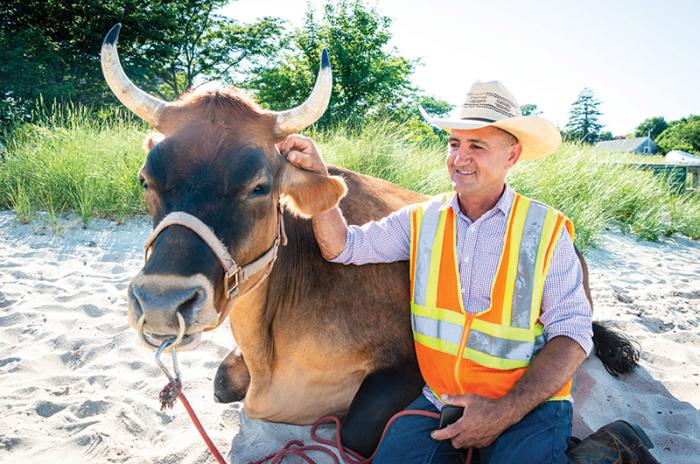 Cicilio received Chilmark three years ago from Allen Healy of Mermaid Farm, whom he helps with milking and taking care of the herd. "I don't do it for the money, I do it because I love it," Cicilio said, explaining how it reminds him of his youth on a large farm in Brazil.
Over the years, the man and his ox have formed a tight bond. "Allen gave him to me as a baby, for meat," said Cicilio, "but now he is like my pet; he's never going to be a hamburger." They spend lots of time together, though Chilmark had to be moved to pastures further from Cicilio's house when his loud calls for breakfast kept waking the neighbors.
Chilmark will likely continue to grow for the next three years, bolstered by the exercise of his weekly beach trips. But des
pite his size, his horns and the bad-boy look of his nose ring, the chocolate-brown giant is a real sweetie.
"It makes me really happy that people come to see him," said Cicilio. "Everybody loves him and he loves everybody."
Tony the Pony
Tony Smalls, aka Tony the Pony, is perhaps the most talented animal on the Island. He can do tricks, paint pictures, play music, and is an accredited therapy horse. He is also very small, about the size of a Great Dane. He is black with a white spot on his torso, and all his legs but the front left have a white fur sock above the ankle.
"He grew up in West Tisbury and he's never had a bad day in his life," said Annie Parsons. Though she is his owner, Annie said she feels more like a personal assistant during his shows. The duo are associated with Misty Meadows Equine Learning Center, where Annie teaches mounted archery. "They have this great mission to make horses accessible to everyone," she said.
All of Tony's talents were on display in his recent performance at the Chilmark Public Library. A crowd of youngsters anxiously watched as Annie set up a towel on which Tony would perform, essential to keeping his mind off the grass.
Tony got a bit impatient before the performance, hammering his foot into the ground to show his frustration. "He's anxious to create," said Annie, as she had kids from the crowd pick out the colors for him to paint with. Tony uses his mouth to grip the brush. His style is bold and vertical, a daring technique in the tradition of abstract expressionism.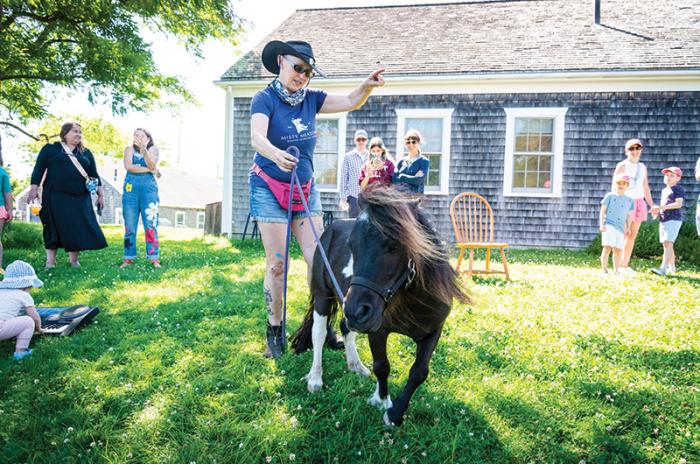 After being helped to give his hoofprint signature, Tony gave a performance on the keyboard, though he lacked the usual tambourine accompaniment from his daughter, Sugar Smalls. "She is extra sassy and knows exactly what she wants," said Annie. Sugar is even smaller than Tony.
After the performance, Tony appreciated a snack of lush grass beside the library, as kids braided white clover flowers into his mane.
---
Thomas Humphrey is an intern at the Vineyard Gazette.