Decorating or redecorating your house is an exciting proposition – and a potentially exhausting one. It can take a lifetime to cultivate a homey feel, to develop Vineyard character for your Island home. But perhaps there is a shortcut you can take, thanks to those purveyors of time-worn, well-loved furniture and art – dealers in antiques and oddities that capture the spirit of this Island. As a bonus, when you furnish with antiques, the hunt is half the fun.
The story of a place is best told through its objects; at least that's the impression an antique dealer will give you. Every ticket stub recalls a revered local venue, every landscape painting is a glimpse at the Island through the eyes of a folk artist. Ask a dealer about any item and out will come a tale of history, an elaborate exaltation of the virtues of wicker chairs or rusted eel spears.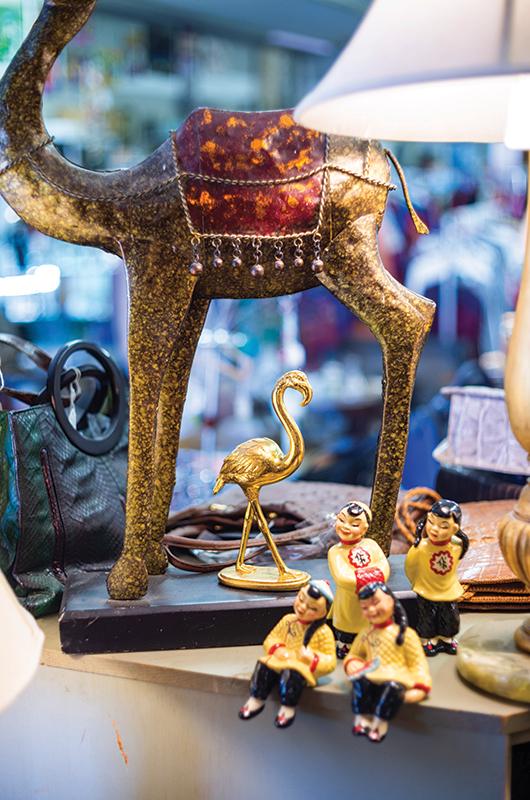 "Everything is interesting to me, that's my problem," said John Robert Hill, tucked away in a nook of yet to be sorted antiques at his Vineyard Haven store, Second Treasures MV. The morning is always a blur for John, who scrambles to set up new acquisitions as early shoppers clamor to get in. His collection, already brimming with furniture, art and artifacts, is backed up by another packed warehouse that he maintains on the Island.
"We're very fortunate," said John of antiques on the Vineyard. "Lots of Island characters bring us all kinds of stuff."
John manages estates for families on- and off-Island, allowing him to display a range of inventory, from folkish farm implements to 15th century Russian icons, from mid-century furniture to distressed metal fittings. On his walls hang the works of Island artists such as Jean Spencer, who lived in the Pink House in the Oak Bluffs Camp Ground and controversially cut out part of a wall to let in light for painting. John doubts that Jean would approve of the house's current shade of pink were she alive today.
The cottage style, though, goes further than houses and paintings, as Patty Kirwin at Able to Cane Antiques will tell you. "I probably have the largest collection of bureaus on the Island," she says.
Patty appreciates the hand-painted oak and pine furniture favored in Camp Ground cottages, and she showcases a rotating selection in her cozy store, nestled in the woods of West Tisbury. She used to sell her wares at the Grange Exchange (the weekly West Tisbury antique show) until the furniture became too heavy for her to haul.
"I want to be antique but practical," she said of her style.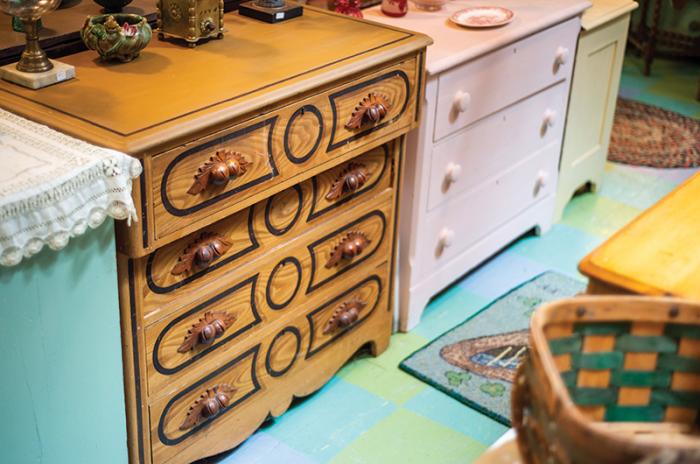 To her mix, she also adds doorstops, Sandwich glass and wicker chairs – all appropriate for a cottage look. If an item lasts too long in her shop, she says, she might paint a fish on it, as she often does to oars discarded by local boatsmen.
"These items always sell well," said Patty, "Visitors love to bring home something from the ocean."
Tuckernuck Antiques on Tuckernuck avenue in Oak Bluffs is also steeped in Island history, though items there tend to originate on dry land. "I like to buy bits of Island historical stuff," said Abby Armstrong, who opened the shop in 1995. If you walk in the store on Friday or Saturday – the only two days it's open – you're likely to find Abby constructing grand sculptures out of her extensive matchbook collection.
Island antiquarians will find that Tuckernuck boasts an impressive selection of Vineyard historical ephemera: old Vineyard Gazettes, books on Island history, survey maps, pamphlets and a near complete collection of the The Dukes County Intelligencer (a publication of the Martha's Vineyard Museum). Lucky shoppers might encounter Dennis Rose, Abby's picker, with his truck loaded up with forgotten or unwanted furniture from his trips around the Island. After more than a decade of searching, Dennis has developed a keen eye for picking out diamonds in the rough.
The up-Island village of Menemsha is a hotspot for Island antiquing. In addition to fine metalwork and paintings, The Copperworks of Martha's Vineyard, owned by Scott McDowell and Annette Cingle, has an assortment of nautical antiques and artifacts. Danish eel spears and old whaling harpoons line the walls, and a display case shows off a substantial collection of antique lures and tackle.
Creekville Art and Antiques, down the road from The Copperworks, has the most up-Island flavor of any Island antique shop. The location has a long history, run for more than 40 years by Jane Slater, former town columnist for the Vineyard Gazette, before it was turned over to its current owner, Doug Seward.
"I came in one day to look at a piece Jane had up on the wall, a piece of the window from the City of Columbus shipwreck up there at Gay Head," said Doug, recalling how he came to run the store. "I had to wait all summer for it; she wouldn't bring the price down!"
"So, I sat there every Saturday, and eventually she said, 'I'm quitin' the store next year and the year after, you'll come in here.'"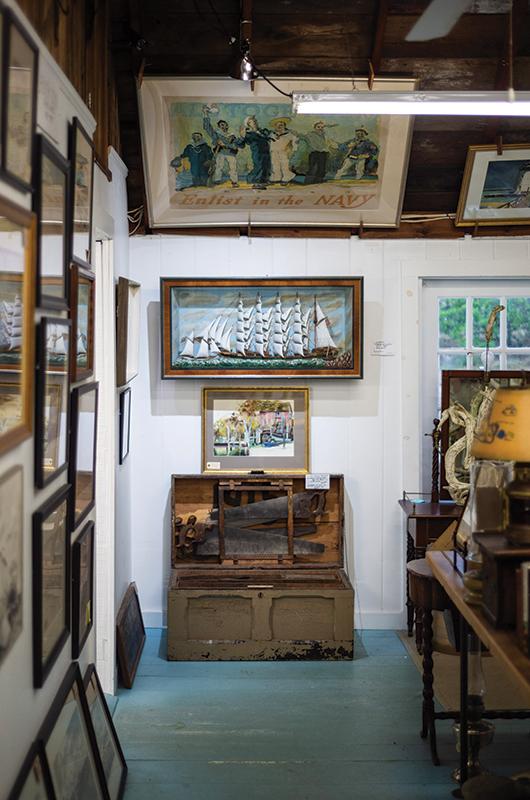 Creekville is split into two rooms. The one on the right is mostly managed by Doug's partner, Suzie Pacheco and is stocked with shelves of glass and china, alongside her own paintings.
To the left is Doug's zone (though there is of course some overlap). Every inch of wall is hung with works by Vineyard artists, along with every painter who ever stopped on the Island to capture the Gay Head Cliffs.
In a glass case below lithographs from storied artists like Thomas Hart Benton and Adolf Dehn – both artists who were part of the Regionalist movement and spent summers on the Island – lie works from a humbler artist and boatsman: John Ivory. "He was a master mariner," said Doug. Ivory had circumnavigated the world several times before living in his iconic Vineyard Haven boathouse.
"He painted on anything he could find, shells or the back of roof shingles, and he became quite famous locally," Doug said. If not for a few dedicated local collectors like Jane and Doug, his work might be all but forgotten today.
These shops are just a taste of what antiquing on the Island has to offer. (See list below.) Rusted relics abound at Pyewacket's in Vineyard Haven, while high-quality thrift stores are hotspots for vintage deals. Both the Grange Exchange and the seasonal Chilmark Flea have a rotating cast of antiquarians, each with their own specialization. Each place is worth a visit since antiquing is all about the hunt, about hearing an object's story and, perhaps, adding your own chapter.
Thomas Humphrey is a reporter at the Vineyard Gazette.
Let's Go Antiquing
Tuckernuck Antiques
79 Tuckernuck avenue, Oak Bluffs
774-563-5340
11 a.m. to 4 p.m. Friday and Saturday.
Creekville Art and Antiques
8A Basin Road, Chilmark
774-563-8374
11 a.m. to 4 p.m. Monday–Saturday; 12 p.m. to 4 p.m. Sunday. Seasonal. Call for appointment off-season.
Second Treasures MV
61 Beach Road, Vineyard Haven 850-293-4345
10 a.m. to 5 p.m. Thursday-Saturday and Monday; 12 p.m. to 5 p.m. Sunday.
Able to Cane Antiques
96 State Road, West Tisbury
508-560-2321 11 a.m. to 5 p.m. almost every day (call ahead to check)
Grange Exchange
The Grange Hall, 1067 State Road, Vineyard Haven
9 a.m. to 3 p.m. Friday. Seasonal.
Past and Presents
37 Main street, Edgartown
508-627-6686
11 a.m. to 5 p.m. daily.
Chicken Alley
38 Lagoon Pond Road, Vineyard Haven
508-693-2278
10 a.m. to 5 p.m Tuesday-Wednesday, Friday-Saturday; 10 a.m. to 7 p.m., Thursday.
Act Two Secondhand Store
66 Main street, Vineyard Haven
508-338-2124
9 a.m. to 4 p.m. Monday - Saturday.
Pyewacket's
135 Beach Road, Vineyard Haven
508-696-7766
11 a.m. to 5 p.m. Tuesday-Sunday. Seasonal. Call for appointment off-season.