If you run into Polly Simpkins at the supermarket in Vineyard Haven, you might recognize her gentle, soothing voice as that of MVY Radio's weekend mornings DJ. In person she has that same calming and particularly kind demeanor which she admits, "is my effort to find the light in other people."
Polly's own light shines not only in her role with the iconic nonprofit radio station – and in the day she spends every week at the Vineyard Haven library – but also in a nonprofit she founded herself. A Cup of Karma Project is a storytelling workshop that culminates in an annual summer event bringing together thoughtful Island minds to share an account of someone who has inspired them and changed their lives.
Polly's road to founding A Cup of Karma is a mystical one, starting in 1987 with an encounter with a holy man on a European train, a visit to the tea fields of Darjeeling, India, and a move back to Martha's Vineyard where she has always felt a strong connection.
Q. When did the Island become your family's home?
A. While my family's connection to the Island goes back four generations, I did not move here until I was a senior in high school, which is how I discovered MVY. As a bit of a loner, the music and the people really became sacred to me. When I went off to Iowa for a broadcast journalism degree, I brought MVY music I had recorded on cassettes: Talking Heads, Jackson Browne, The Rolling Stones, Rickie Lee Jones – so much of the music we still play today – and it became a touchstone for me.
Q. Was that part of the karma you put out into the universe – that one day you would be a part of this 'sacred' radio station?
A. I thought it would be such a dream job. I couldn't even imagine it, but I continued to listen and learn from the DJs. When my husband Brad and I moved back here with our boys in 2013, I answered an ad for traffic director – a technical job that suited me – but it wasn't until a few years later I started as a DJ. I guess it was my time.
Q. You often refer to your weekend morning listeners as sitting around a kitchen table. How does that image work for you during a broadcast?
A. Being a radio DJ is such a solitary experience and imagining your audience sitting around the kitchen table is one of the most beautiful illustrations of what radio can be. It's a sacred experience to be a part of someone's world and I don't take it lightly.
Q. You always share so much detail about an artist, a song, or an album. Where do you get your music chops?
A. Being a music nerd is so fun and collaborative because I am learning all the time – especially from my listeners!
Q. A huge part of being on MVY is the fundraising. How did you adapt to that part of the job?
A. Asking for money repeatedly is difficult, but what makes it so wonderful is that all of us at the station believe so deeply in what we are doing, and we know people feel the same. The listeners show up for us time and time again. Every time we reach our goal, I am amazed and in awe.
Q. How did A Cup of Karma develop?
A. It's one big trajectory of wanting to connect with people, starting from my own life-changing experience when I visited India, carrying my mother's ashes to the Taj Mahal. I spent a month working at Mother Teresa's orphanage in Calcutta and visited the tea fields of Darjeeling where I vibed out on fresh tea. When I came home, I knew I needed to gather people together and start something!
Q. But there were a few stops along the way.
A. Yes, a tearoom in Bridgeport, Connecticut, a berry farm in Vermont and then back to the Vineyard, which is an ideal, gentle place to connect people. A Cup of Karma has grown into a free summer community event where five or more people from the Island, and sometimes beyond, stand up and speak of one person who has inspired their journey. There is tea, of course, and food, and we celebrate our lives and the people in it at a beautiful Vineyard venue. Last year was just an amazing day at the Martha's Vineyard Museum.
Q. Is it difficult to find those willing to take a leap of faith to share in the public setting?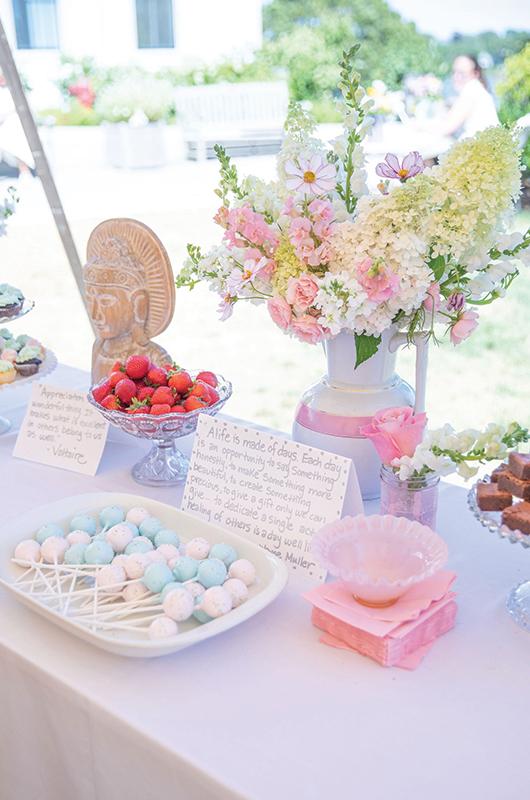 A. There is no shortage of interesting, wonderful people willing to honor someone who has shown up for them. The whole point is to remind us how lucky we are to have the people we do in our lives and to appreciate them and show them gratitude. It's a beautiful ritual and I think people need more ritual in their lives – more reasons to gather.
Q. How can readers connect with you before your summer event?
A. I am planning some small-group Cup of Karma storytelling workshops and gratitude gatherings for people to come together and find time to reflect, create and celebrate their life journey and life purpose.
Q. Do you have an idea of who will be sharing their stories next summer?
A. I have not decided who will be doing my big event. It usually starts with one person. The first year I was moved to ask Mike Benjamin and last year I asked Allen Whiting and then I built around that. I am just waiting for that inspiration.
Q. Please share a ritual of gratitude we can practice in our daily lives.
A. For me it is as simple as lighting a candle in the morning and sitting with my eyes closed and reflecting on the people in my life. Nature is another way to connect to gratitude and the people we love. But it's not just the people who make us happy, it's also the people who have hurt us and challenged us that are our greatest teachers, too.
For more information about Polly, The Cup of Karma Project and services offered, visit acupofkarma.com.
---
Sissy Biggers is a regular contributor to The Vine and a frequent contributor to Martha's Vineyard magazine.