It's never too late to learn something new. Nor – on Martha's Vineyard – is there ever a shortage of those willing to teach, even in the off-season. Thanks to the Island's nonprofit organizations, there are classes and events (some with an enrollment price, some free) for every interest. By signing up for self-improvement, you're supporting essential Island services, too. It's a win-win.
Collected below is a sample list of opportunities available on the Island in the next few months, each hosted by a local nonprofit organization. Naturally, schedules are subject to change, cancellations and additions, so visit calendar.vineyardgazette.com for regularly updated dates and times.
Get Crafty
Unlock your creative side at Featherstone Center for the Arts. In addition to frequent art shows, Featherstone is home to a diverse lineup of art and crafting classes. Ceramic, jewelry making, beading, and painting classes are all available this winter, along with open studio sessions for drawing, knitting and ceramics.
Open studio fees start at $20, while classes are generally more expensive. Sample classes this winter include Beginner Wheel Throwing, Cable Knitting, Enameling: Glass on Metal, Collage, Still Life 101, and Open Studio Life Drawing.
For more information and an updated winter 2023 schedule, visit featherstoneart.org. Gift certificates are available too - another great way to contribute to a nonprofit.
Write It Out
If the language arts are your thing, make sure you take advantage of the myriad free writing courses and workshops the Island has to offer. During the winter, PathwaysMV (pathwaysmv.org) hosts periodic events at the Chilmark Tavern, with opportunities to learn about writing and art techniques and to present finished works. Our wonderful town libraries (all six of them), host both virtual and in-person poetry and memoir workshops. Check out West Tisbury library's bi-weekly poetry writing workshops facilitated by town poet laureate Tain Leonard-Peck. And while Moira Silva's early-winter memoir workshop at the West Tisbury library is full, she'll be running it later in the winter and early spring at the Vineyard Haven library and then the Chilmark library.
Saddle Up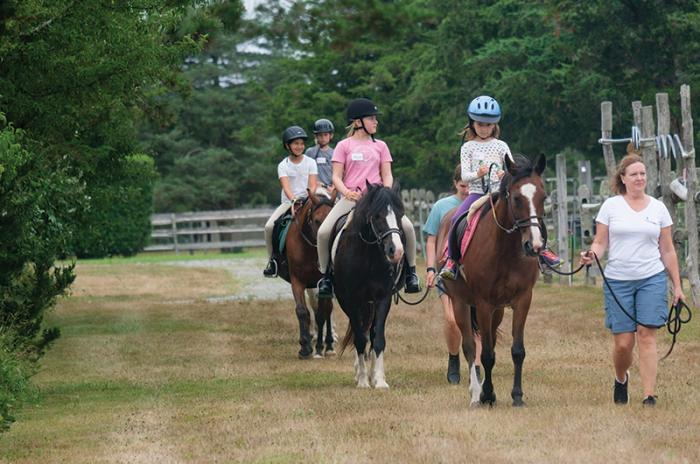 To ride a horse is to make a bond, to form a trusting relationship with another living creature. At Misty Meadows Equine Learning Center , it is these kinds of relationships that instructors aim to foster in horsemanship training programs. With a mission to make horseback riding accessible to all, the center provides affordable equestrian education to Islanders of all ages. Classes range from learning the basics of horse care, riding, and stable management, to more advanced practices like mounted archery. Visit mistymeadowsmv.org for winter schedules.
Shape-Shifting
Stepping into the gym for the first time can be intimidating, especially if you don't know where to start. At the YMCA of Martha's Vineyard, starting your fitness journey doesn't have to be so lonely. The YMCA hosts over 70 different group exercise programs for every fitness leveland age. Yoga, Pilates, spinning, Zumba and swimming are all available, each one an excellent way to get your blood pumping. (Kickboxing, anyone?) Class prices vary, and YMCA members can enroll with a discount. For more information, visit ymcamv.org.
Make that Meal Local
On an Island filled with farms and surrounded by fish and shellfish, cooking skills are a must. If you don't know where to start, try taking a class at The FARM Institute. Cooking classes center around in-season local ingredients and core techniques. Some focus on beginner kitchen skills like knife technique while others are more specialized, like Slough Farm chef Charlie Granquist's whole-animal butchering workshops. Chef Jenny DeVivo (below) teaches regular classes for kids. Fees begin around $30 and Trustees members receive a discount. Visit thetrustees.org/place/farm-institute-the/ for full schedule.
Hit the Trail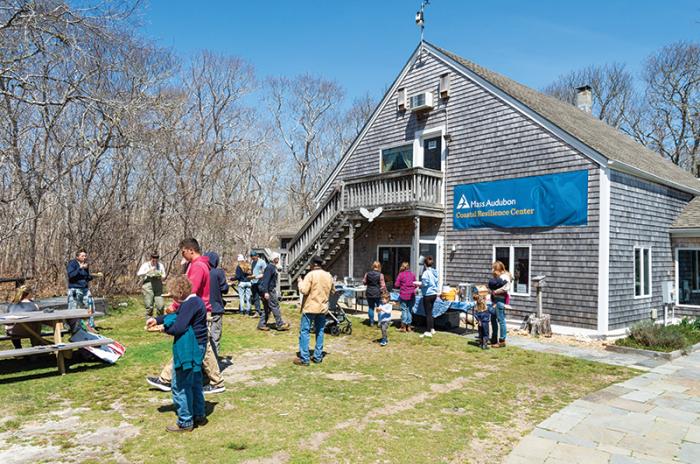 Just because it's cold outside doesn't mean you can't enjoy the outdoors. To help deepen your appreciation of the exceptional natural environment of our Island, take the time to join one of the many conservation-focused events featured this winter. Every full moon, Felix Neck hosts a Full Moon Own Prowl, an opportunity to look for, listen for and learn about the nocturnal birds; the fee is $35. If you prefer a daytime woodland experience, Martha's Vineyard Community Services (mvcommunityservices.org) and the Sheriff's Meadow Foundation (sheriffsmeadow.org) will be teaming up this winter to provide a series of free, family-friendly educational hikes. The Vineyard Conservation Society (vineyardconservation.org) is also hosting a series of guided hikes this winter.