Tim Rush's charming West Tisbury home looks as though it could be nestled into the English countryside. The garden feels timeless; it might have been there forever. But rarely does a place get to looking like this overnight. And Tim's is no exception.
The property in Coffins Field was a youth lot that Tim won the right to purchase in a housing lottery more than 30 years ago. It was completely wooded — blanketed by scrub oak — and it took him four years to clear.
"I just did a little bit at a time as I found the money to do it," Tim remembers now. When he was finally able to build a house, it was just a two-bedroom, one-bath cottage.
There was only so much time Tim could devote to home improvement. He and his partner Tom Fisher had a family business called Lamplighter Corner; they made brass and copper lanterns. Years later, Tim "semi-retired" and he and Tom started Rush and Fisher Estate Sales and ran that for 11 years. Tim tried retirement again a few years ago but he couldn't sit still, so he now volunteers at Chicken Alley Thrift Shop one day a week and works at Middletown Nursery another. He also does some caretaking.
Tim always longed to create a garden that would integrate with his house, which he added onto as years went by to create a bigger living and dining space with plenty of natural light. Growing up in Quincy in an Irish family with five kids, gardening was not in the vernacular.
"My father paved the backyard in asphalt so that we kids could play street hockey or park cars in the backyard. Inside, we had maybe one sad houseplant," Tim laughs.
Tim's home would be greener, he hoped. Yet until about seven years ago, he'd only managed to plant a few things here and there.
"What really turned it around for me was the election, watching the news and then Covid on top of it, which just amped up the anxiety," he says. "What I did was I just started digging holes, as ridiculous as that is. And I soon realized I had to put up deer fencing, so I dug more holes for the fencing."
Tim's first deer fence was six feet high. "I was too cheap to pay the shipping on the eight-foot deer fencing!" It was fine for two years. "Then the deer just knew. One day one jumped over," he laments.
Once the (eight-foot) fence was in place, plants began to flourish and Tim found himself head over heels in love with gardening.
"It's great for your mental health. It teaches you a lot of lessons. It teaches you patience and tolerance and letting go — all the hard ones! You cannot control it. And for a man who's aging, it's wonderful exercise. Kind of like yoga – lots of bending and stretching," he says.
Tim also spent many hours during Covid watching British gardening shows, and he learned some tricks that way. But there came a point when he realized he needed professional advice. He hired Mary Wirtz of Wild Violets (now the manager of Middletown Nursery) to design a plan.
"All I told her was that I didn't like pink. And I wanted it kind of English," Tim says. Mary laid out the curvy paths and shaped the initial structure of the garden, including a center bed. Tim has added four more beds in the front yard since then. And Mary has tucked a few pink phlox in here and there, which Tim reluctantly concedes are very pretty.
It sounds like you'd need a slew of new plants to fill all those beds. Yet Tim says, "I'm a great one for dividing. I divide perennials all the time, so it's like the same eight plants repeated everywhere." Maybe a few more than eight. Tim admits that he finds plant shopping addictive. He also recommends that you find a good quality nursery that you like and stick with it.
"Don't go to them for advice and then shop at Walmart. Be loyal and don't go for the bargain – buy peanuts, get monkeys!" he says.
Tim wanted to install all brick paths in the front yard, partly because he loves the look of a brick walkway, but also because he had been collecting bricks for many years. But Mary encouraged him to go with gravel on a side spur off the main path. The transition works: the brick path clearly leads you to the front door, while stepping onto the gravel path makes you feel like you're entering the garden.
Every garden needs infrastructure and focal points, and this is where Tim had a leg up. He mined his collections for garden ornaments and kept his eyes open for new finds.
"I'm a collector, whether it's fountains or cast-iron urns or art," Tim says, and pieces sometimes come from the most unlikely locations. "I got that pot in a dumpstah – that's what we call a dumpster on the north shore – there wasn't a single crack in it."
His Buddha traveled to its original owner on the Vineyard strapped into its own seat on a private plane.
The fountain collection has a purpose; Tim finds that the gentle noise of the water flowing distracts from the noise of airplanes idling at the nearby airport.
"You know what really draws me to specific pieces?" Tim says. "The design and functionality working together. In other words, that's a good design because it works. It's not frivolous."
The variety of flora in both Tim's front garden and back garden – where a giant island is the focus for anyone enjoying a seat on the patio – is captivating, with smoke bush, nandina, Japanese maple, pee gee hydrangea and weeping cherry punctuating sweeps of rudbeckia, coneflower, peonies, and annuals such as zinnias and cosmos. But it's Tim's collection of stone, iron and steel garden ornaments – along with a crucial decision to cover the home addition with lattice and Boston ivy – that give his place a truly unique character.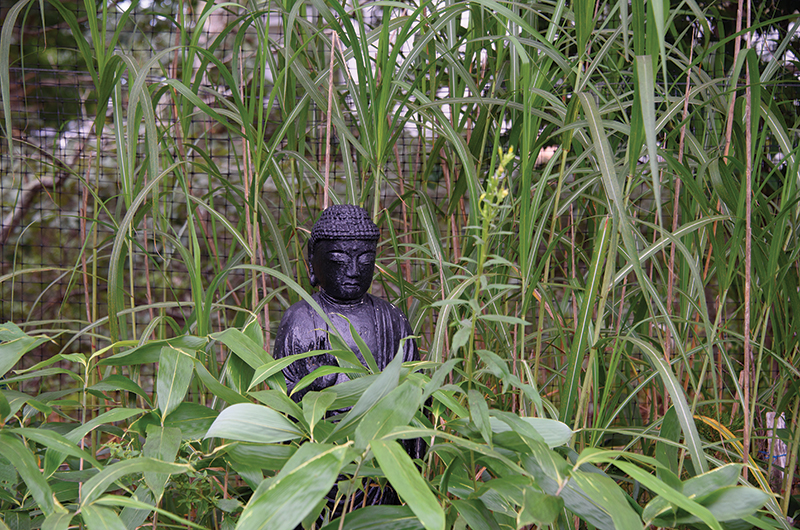 And undoubtedly, the signature piece in the garden is the front gate Tim made from an old opium bed ­— a piece of furniture typically used for customers of 19th century opium dens to recline on. He found the bed leaning on a fence in Edgartown, tracked down the owner and made him an offer. Once he got it home, a carpenter took it apart and they saved the panels and posts. Tim designed the Asian arch at the top of the gate and installed a French farm bell and mahogany pineapples. With arborvitae on either side, it makes a grand entrance.
When you walk through that gate, you feel as though you're in the secret garden of a storybook cottage – where the homeowner takes great pride in tending both.
---
Susie Middleton is editor of the Vine and special projects editor for Vineyard Gazette Media Group.