In 2006, when Matt Gongola joined Squash Meadow Construction in Edgartown, he was looking for a way to expand his knowledge of Island building. He'd been running his own company, doing everything from framing to finish work. Now he was ready to join a team.
"At that point in my career, I knew I had a lot left to learn," Matt said, reflecting on his path to becoming a project manager with the company. "It's good to work with other people to see how they do things. They can introduce you to things you haven't done before."
If Matt joined the team with a mind to learn, he certainly joined at the right time. When the 2008 recession hit the Island, building demand cratered and Squash Meadow had to adapt fast. They had to find a more cost-efficient way to build.
The solution was modular construction, a method of building pieces of a house in a climate-controlled factory environment, then assembling the house from those modules at the building site. Squash Meadow initiated a partnership with Westchester Modular Homes in Wingdale, N.Y., a leader in building custom homes to high standards in a factory setting. They continue to work with them today.
The favorable prices and shorter building timelines have since popularized modular building on-Island. At the same time, design parameters for modular homes have expanded, unlocking a wider range of possibilities.
The Vineyard building environment in 2023 is a far cry from 2008 as the cost of both real estate and construction continue to rise. "As much as I'd like to think prices will come back down again, it's like the price of a gallon of gasoline," Matt said of the increase. "I don't think we're ever going to get $2.50 a gallon out here again."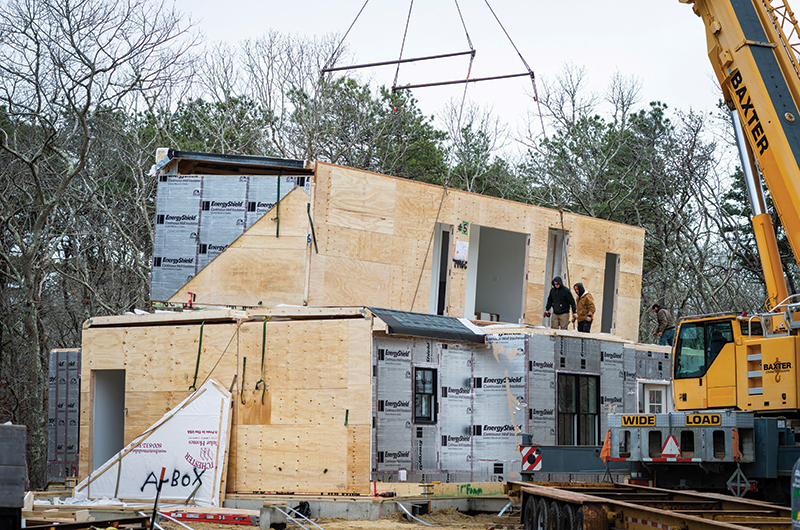 Recent decades have brought other challenges to builders, he said, and they must always be ready for what the next project might throw at them.
Matt's background, he said, has prepared him for the challenge.
"I'm a carpenter by trade, so there was a period of time where I was doing everything in the field from frame to finish," he said. "Now I'm a project manager, though every now and again I get to throw on a toolbelt and get my hands dirty with the guys."
How it (Usually) Works
Matt's involvement with a given project begins with the design, always a collaboration with the customer. After consulting with the customers on their vision, Matt and his team design the home, break the design down into individual modules and make a plan for how they will fit all the parts together.
Once that process is complete, Squash Meadow sends the plans to Westchester.
"Westchester actually has a rail system that runs through the factories," Matt said, describing Westchester's fabrication process. "They build the modules on railcars, and it's just like the Fred Flintstone cartoons: the whistle goes off and all the cars shift to the next station."
Meanwhile, as the assembly line chugs along, Matt sits down with his calendar to begin the intensive process of coordinating the 10-plus subcontractors they will need to juggle in order to complete each job.
"There are a lot of connections that must be made between the boxes," said Matt, "and always some tweaks and modifications that have to be made." Ductwork, plumbing, septic engineering, foundation, electric and well water all need to be subbed out.
"Building trust is a big part of this process. There can be that trickle-down effect; if one sub holds the job up, it just ripples through the project," Matt pointed out.
One major part of the trust-building process is creating a design that's amenable to the needs of all the different subcontractors on a project.
"If something doesn't work, we'll hear about it," Matt said. "More important than knowing what works is knowing what doesn't," he added.
Over the years, Matt has encountered many things that don't work; he now has a good feel for how to prevent hiccups.
After the modules are manufactured, they're loaded onto trucks, transported to barges, and floated over to the Island, where Squash Meadow must contend with moving huge boxes on narrow Island roads (photos at left).
Then, with the modules in place and the sub-contractors lined up, nuts-and-bolts work can begin.
Getting It Done and Getting Creative
But that nuts-and-bolts process has become increasingly difficult in recent years as construction expenses have gone up, supply chains have gotten more erratic and the logistical challenges of building on a cramped Island have become more acute.
"There are no easy lots on the Vineyard anymore," said Matt. "Any place that's easy has already been built on."
As building conditions on-Island have become more difficult, Squash Meadow has been forced to become more creative, branching out from the conventional modular process.
One project in West Tisbury is a prime example.
"The customers said to me, 'We have three grown daughters, they're married and they're starting to have kids. We need more space,'" Matt explained.
Out of that desire to expand grew a plan: They would add a garage to the house, attach it via a breezeway and put a two-bedroom apartment on top of the garage. The garage would be conventionally built while the apartment would be modular.
Since Squash Meadow began specializing in modular building, the company has been reluctant to take on stick-built jobs, but for this project Matt said the site and the parameters demanded this marriage of stick-built and modular.
Another site, a teardown-rebuild project in the Christiantown area of West Tisbury, posed a different challenge: the modules were too wide to bring in on the narrow rural driveway. They had to cut a temporary driveway through the woods to fit the modules, which naturally slowed down the process.
"We are having trouble even navigating the roads now," Matt said.
Procuring materials has also become a problem in recent years, especially as the Covid-19 pandemic disrupted global supply chains. White cedar shingles are a good example.
"Most white cedar shingles come from eastern Canada," said Matt. Once cut, most shingles are treated to retain their fresh wood look. The Vineyard and Nantucket are the only major markets for untreated shingles, which fade to their iconic driftwood grey.
In 2020, as pandemic shutdowns reduced the workforce in Canadian lumber mills, the mills shifted to only producing treated shingles, which draw a higher profit margin.
The mill workforce has yet to recover to pre-pandemic levels, and even as companies begin to automate, the untreated output remains low. Now, untreated white cedars cost 50 per cent more and must be ordered six months in advance.
"[The rise in prices has] kind of trickled its way through the different product offerings," Matt said, "and now the cost of everything is just skyrocketing."
High prices for materials and labor have not slowed down the rate of construction though, and Matt predicts it never will. He is as busy as ever, usually managing five projects at various stages of completion, with more initiated all the time.
Even after 17 years with Squash Meadow, Matt said, things continue to change, and the learning process has yet to end.
---
Thomas Humphrey is a reporter at the Vineyard Gazette.