Famous for its whaling history, stately homes and water views, Edgartown is also home to a lively art scene, with galleries and studios on just about every downtown block — and you don't have to be a serious art patron to enjoy them.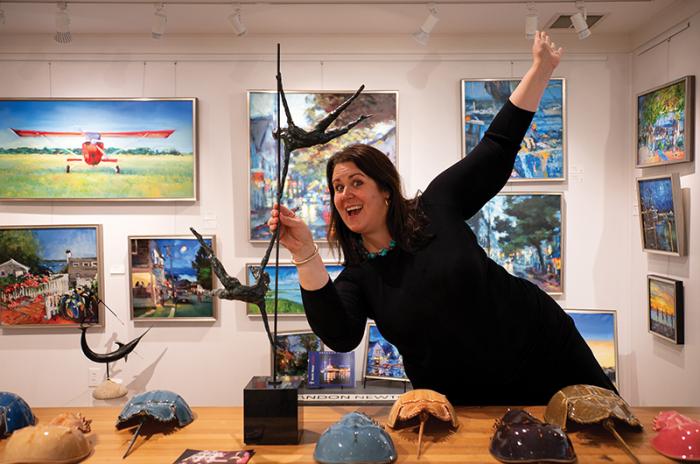 "There's no reason art should be stuffy," says North Water Gallery director Robin Morse Nagle, who welcomes all ages to explore an ever-changing collection of fine art and contemporary crafts.
That's not just lip service: The gallery has kid-height easels, so young visitors can engage with paintings and prints at eye level, and Robin doesn't flinch at placing small bronzes and other sturdy sculptures within reach of little hands.
A series of colorful ceramic horseshoe crabs by Mark Rea, found-object sculpture by Stephen Datz and striking canvases by Island painters are among the other offerings at North Water Gallery, which is located at the corner of North Water and Kelley streets.
Look out the gallery's front door and you'll see another Edgartown favorite, Eisenhauer Gallery, directly across North Water street in Vineyard Square.
Visiting this gallery can feel like entering a rich new realm of treasures: The roomy showroom holds an exuberant collection of contemporary art in many media, from artisan jewelry to larger-than-life sculptures and paintings, curated by owner Elizabeth Eisenhauer.
Paintings of swimmers by artists from around the world are a particular specialty at the gallery, which also shows beach scenes, landscapes, colorful still lifes, abstracts and bronzes.
On Thursday evenings in high summer, Eisenhauer Gallery hosts weekly dance parties with Island bands on the Vineyard Square plaza.
Closer to Main street, in the historic John Coffin House, Kin showcases the work of a photographer and fashion designer who are aunt and niece. On the gallery's first floor, photographer L.A. Brown's vivid color images mingle with Gareth Brown's dresses and other wearables, while an atelier upstairs offers fashion customers a place to consult on commissions.
Just around the corner on Winter street, a pair of galleries offer two very different art experiences.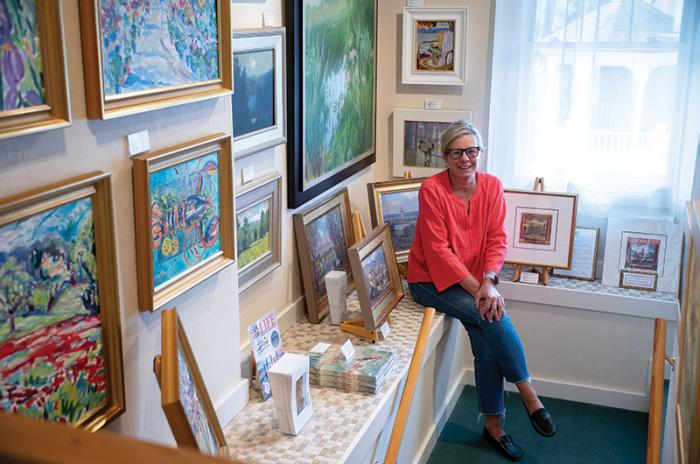 At The Christina Gallery, owner Christina Cook specializes in traditional paintings by contemporary artists, which you'll find on the gallery's first floor. Upstairs, the gallery holds an unexpected secret: antique maps from as far back as the 16th century and a collection of classic and vintage prints.
While The Christina Gallery is one of Edgartown's oldest, founded nearly a half-century ago, its neighbor across the street is among the town's youngest.
After opening Winter Street Gallery in 2020, Ingrid Lundgren and George Newall quickly established their seasonal showroom as an Island outpost for cutting-edge contemporary art.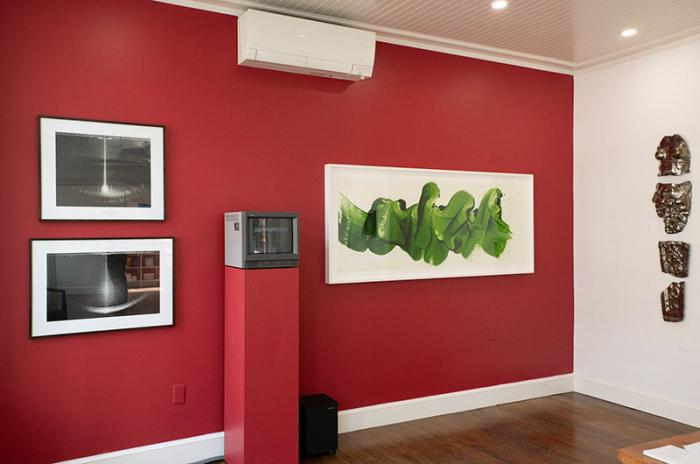 In their first two seasons, the couple have presented rising stars such as Anna Weyant and students in Yale's MFA photography programs as well as work by pathbreaking artists of the previous generation.
Through June 4, Winter Street Gallery is showing James Nares' 1976 experimental film Pendulum, which is in the Metropolitan Museum of Art's film collection, alongside works by three young artists responding to the Nares piece. Also on display are a pair of Nares paintings, created in a single huge gesture using brushes hand-made by the artist. Winter Street Gallery's next group show, On Genres, opens June 8 with a reception from 4 p.m. to 7 p.m.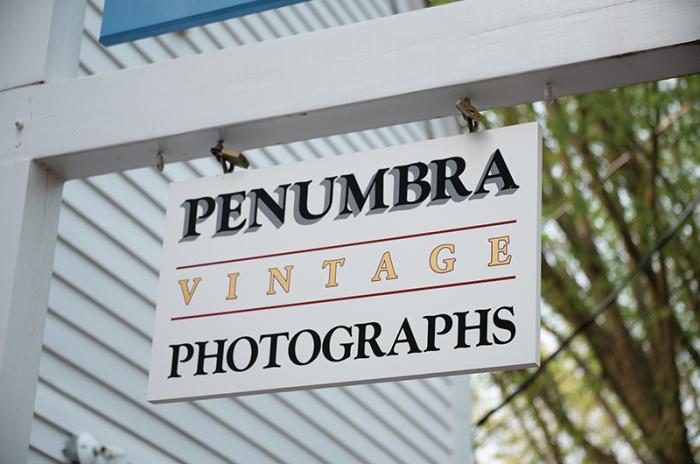 At the corner of Winter and Summer streets, turn left and look across Summer to find Penumbra Vintage Photographs, a showroom for photography from before the 21st century. Founded more than 30 years ago by collector Eugene Goldfield, the gallery is packed with black and white views from the past, from antiquities that were already crumbling when cameras were invented to sculptural views of machine-age equipment. Penumbra Vintage Photographs opens July 1 for the season.
New to the Edgartown art scene on N. Summer street is Mariner Gallery, specializing in maritime fine art. Continue along Summer street, across Main street, to find photographer Lucy Dahl's Untameable Gallery, another 2020 addition to the Edgartown art scene. Originally on Dock street, Untameable opened May 19 at its new location, where Lucy has planned an all-new collection of herown photographs as well as a revamped selection of gifts and impulse items. Many of her most popular images from previous seasons have sold out their limited print runs, Lucy said, but she is considering posters and cards of her older work.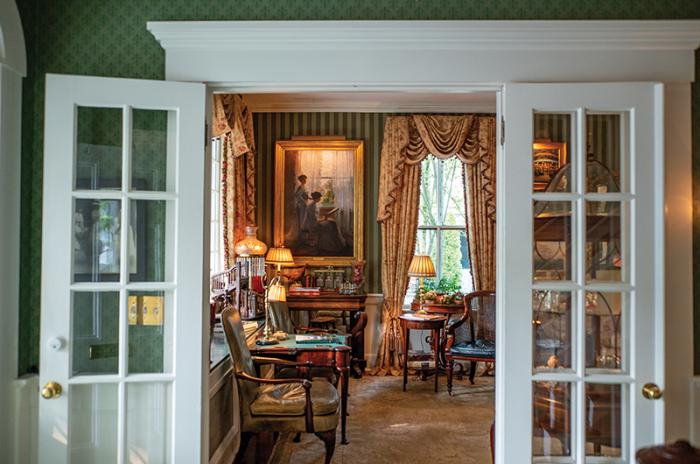 On the far side of Summer street, the Charlotte Inn is home to the Edgartown Art Gallery, showing traditional paintings both old and new.
For even more vintage paintings, head further out of town to the Edgartown Public Library, where the walls are hung with museum-quality works bequeathed to the library by 20th-century Nabisco tycoon Charles Simpson. The library's children's room features a wraparound mural of sea life by Island artist Margot Datz.
Finally: no trip to Edgartown is complete without a visit to the Old Sculpin Gallery, the home of the Martha's Vineyard Art Association and a landmark in its own right. The historic boat builder's shop that houses the gallery was famous in the age of sail for the wooden catboats designed by Manuel Swartz Roberts.
In a later era, it became the model for an iconic structure in the blockbuster movie Jaws: the shack inhabited by shark-killer Quint, portrayed by Robert Shaw. In 1974, the film's crew built a replica of the Old Sculpin building in Menemsha, where it stood for less than a week of filming before it was torn down as part of the producers' agreement with the town of Chilmark.
But across from Memorial Wharf in Edgartown, you can walk the weathered floorboards, take in group art shows by association members and even sign children up for a summer art class or two.
Edgartown Gallery Guide
North Water Gallery, 27 N. Water street, northwatergallery.com
Eisenhauer Gallery, 38 N. Water street, eisenhauergallery.com
Kin, 12A N. Water street, @kin.MV
The Christina Gallery, 5 Winter street, christina.com
Winter Street Gallery, 22 Winter street, winterstreetgallery.com
Penumbra Vintage Photographs, 12 N. Summer street, penumbraphotographs.com
Untameable Galllery, 10 S. Summer street, @untameablegallery
Edgartown Art Gallery, 27 S. Summer street, edgartownartgallery.com
Mariner Gallery, 31 N. Summer street, mariner.gallery
Edgartown Public Library, 26 W. Tisbury Rd., edgartownlibrary.org
Old Sculpin Gallery, 58 Dock St., oldsculpingallery.org
Louisa Hufstader is senior writer for the Vineyard Gazette.